The time has come again for Los Angeles to embrace the love for Italian Cinema with "Cinema Italian Style 2011". A combined effort between Cinecitta Luce and the American Cinematheque, the Cinema Italian Style series aims to bring the best Italian movies to Los Angeles as well as films that have received recognition at international film festivals. The series is held from November 10th to the 15th at the American Cinematheque.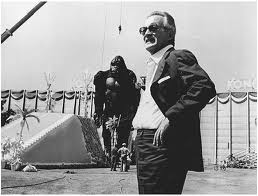 The 2011 series is dedicated to legendary producer Dino De Laurentis, who passed away in 2010. De Laurentis' career spanned more than 60 years in the film industry, producing acclaimed films on a global scale that included Woman Trouble (1948), La Strada (1954), Nights of Cabiria (1957), Menage Italian Style (1965), Serpico (1973), King Kong (1976), Manhunter (1986), and Hannibal (2001). To celebrate De Laurentis' career a special tribute will take place preceding the opening night of the series premiere film, Terraferma, Italy's 2011 Academy Awards entry for Best Foreign Language film.
In addition to the De Laurentis tribute, Acclaimed Director Terry Gilliam will be honored with the CIS BVLGARI Award. "Every year Cinema Italian Style bestows the prestigious Cinema Italian Style Award upon representatives of Italian cinema and US cinema industry representatives who have unique ties to Italian cinema."
Terry Gilliam will be in attendance to meet the audience after a screening of his 1985 Oscar-nominated film Brazil, and to introduce his latest short film The Wholly Family which was shot on the streets of Naples, Italy.
The U.S. premiere of Terraferma, directed by Emanuele Crialese and starring Donatella Finocchiaro, Filippo Pucillo, and Giuseppe Fiorello.
Terraferma won the Special Jury Prize at the 2011 Venice International Film Festival. The synopsis of the film, courtesy of the TIFF program: A tight-knit family living on the island of Linosa south of Sicily find their ties stretched to the limit when a group of illegal immigrants from Africa appears in their community. Used to making their living from the ocean, the world is now encroaching in the form of tourism and the illegals forcing each member of the family to make choices.
Additional films screening during the series are:
Director Nanni Moretti's Habemus Papam (We Have a Pope)
Mario Martone's Noi Credevamo
Cristina Comencini's Quando la Notte (When the Night)
Gianni di Greogorio's Gianni e le donne (The Salt of Life)
Paolo Genovese's Immaturi (The Immature)
Sergio Castellitto's La bellezza del somaro (Love and Slaps)
Francesco Bruni's Scialla (Easy!)
Giuseppe Gagliardi's Tatanka
Alba Rohrwacher's Corpo Celeste
Ricky Tognazzi's Il Padre e lo Straniero (The Father and the Foreigner).
Each film will feature an introduction and Q&A led by La Repubblica correspondent Silvia Bizio.
For more information on the Cinema Italian Style series please visit the American Cinematheque's website here.