In the late 60's, the Alice Cooper band invented the musical genre of "shock-rock," with their in-your-face music and horror-themed stage antics. It seemed like a logical progression that, once his musical career cooled off, Cooper would go into acting, and the natural place for him was in a horror film. In 1984, after a string of unsuccessful experimental albums, Alice found himself cast as the lead in a cool little werewolf movie called Monster Dog.
In Monster Dog
, Alice plays Vince Raven, a big-time rock star who is coming back to his rural hometown to shoot a music video, accompanied by his girlfriend/director Sandra (Victoria Vera from School of Death
) and her crew.
They are stopped on the way into town by Sheriff Morrison (Ricardo Palacios from Alone Against Terror), who warns them about a rash of killings in the area that look to have been done by a pack of wild animals. The Sherriff remembers Vince, and seems to let on that he knows something about the star's family and past. Sherriff Morrison lets the group go on their way, but not far down the road Vince hits a dog with their van. The dog is mortally wounded, and Vince puts it out of its misery while the crew looks on. While they mourn the animal, the group is accosted on the side of the road by an old man in bloody clothes who warns them that they are all going to die. He runs off into the woods, with Vince and Sandra following, and it is there that the pair first meets the monster dog, a giant werewolf beast with a taste for blood. They are chased back to the van by the creature and continue on to Vince's childhood home, but soon enough a posse shows up claiming that Vince's father was a werewolf, and, therefore, he is one, too. They suspect him of the recent killings, and terrorize him and his friends with guns and knives. Vince and his friends grab guns and decide to fight back, but not only do they have to deal with the angry mob of locals, but there's still a pack of wild dogs (made up of German shepherds and one big terrier-type dog?) with a supernatural werewolf leader roaming around killing people, and Vince has to save himself and his crew from all threats, human and canine.
Monster Dog was written and directed by Italian legend Claudio Fragasso (billed as Clyde Anderson), the same director who brought the world the "best worst movie" of all time, Troll 2
(billed as Drake Floyd…interesting that he never wanted to use his real name). The plot is a clever reboot of the werewolf mythos, keeping the full moon and silver bullet components but adding a younger, rock and roll element. With its mixture of men and beast antagonists, the well-written story is compelling and the action is consistent.
With its complete devotion to Alice Cooper as the hero and its gratuitous inclusion of two of his original songs, it is an obvious vehicle for the rocker. Shot in Spain with Cooper as the only American on the set, it was seen as a way to get him working again after the long-time alcoholic had cleaned up.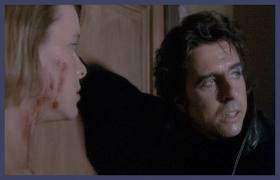 Despite what seems like a perfect role for him, Cooper comes off as stiff and uncomfortable on camera, mainly because there are huge difference between Alice Cooper and Vince Raven. Onstage, Alice Cooper is a wild man, smeared in blood and doing anything to shock, while Vince Raven is more of a serious musician, soft spoken and mellow. In the film, Cooper delivers his lines in a monotone voice with very little emotion or volume, and his whole performance appears coerced. On the other hand, just about every other actor in the picture overdoes it, shrieking and jumping around the set, seemingly trying anything to get some energy out of their leading man.
The makeup and visual effects were handled by Carlo De Marchis, a consummate professional who brought life to both the alien in Alien and the slugs in Slugs: The Movie.
The monster dog creature is mostly just a head, but its combination use of puppetry and animatronics is pretty scary for such a silly big-bad-wolf looking thing. Shot in as much blue light and fog in which cinematographer José García Galisteo can bathe it, it comes alive as it ferociously attacks its hapless victims. It's a great example of practical visual effects, and could only be improved upon if it were shown more in the film.
The two Alice Cooper songs in the film (called "Identity Crisis" and "See Me in the Mirror") are forgettable, both examples of the wimpy, saccharin synthesized pop that Cooper was making at the time. After the film was finished, Cooper went back to his hard rock roots with a heavy metal comeback album that included the theme song to Jason Lives: Friday the 13th Part VI. While Cooper continued to contribute to horror movies, after his foray into acting in Monster Dog
, he wisely decided to stick to soundtracks and cameos.
**Watch Monster Dog now instantly on Netflix.**