Visual artist Hans Rudolf Giger is one of the most enigmatic of pop culture icons.  His distinct work is everywhere, from the production design for the sci-fi/horror movie Alien to his album covers for groups like Emerson, Lake & Palmer and Dead Kennedys, but few fans know much about the man himself.  And, after seeing Dark Star: H.R. Giger's World, they still won't know much about him.
Dark Star: H.R. Giger's World is kind of like an oral history of Giger's life and work.  Through archival footage and interviews with those who are lucky enough to be included in Giger's inner circle, documentarian Belinda Sallin provides the audience with a retrospective of the artist's long and storied career.  She also seems to crack into his inner circle a little bit and is given access to Giger's residence in Zurich, Switzerland, a place that, at first glance, looks like an overstocked thrift store or the house of a senile grandparent who never throws anything away.  Upon closer inspection, his home is actually a museum of sorts, the man having kept just about everything that he has ever drawn, sculpted, or painted in his life.  Even those who inhabit the house with him are given museum-employee sounding titles; instead of assistants or friends, they are curators and archivists.  Sallin's film takes the viewer on a tour of Giger's place, showing not only his artwork but the other weird eccentricities that surround him, like the rideable toy train that circumnavigates the property and Giger's personal collection of actual human skulls.  Yeah, the guy's a little weird.
In his own interviews, Giger seems hushed and guarded, not like he doesn't want to cooperate, more like he just wants to keep what is his to himself.  Sallin does manage to get him to open up a little bit about his philosophy on art, claiming that he is inspired by everything from the trauma of his own birth to his sleep-paralyzing nightmares.  Fans will happy to know that he also briefly discusses his dealings with Twentieth Century-Fox during the making of Alien.  Perhaps the most poignant moment in the film comes when Giger is discussing relationships and opens up about the suicide of actress/model Li Tobler, his girlfriend and muse at the time of her death in 1975.  It's a heartbreaking and revelatory interview, but Giger cuts it short and the film goes back to being a by-the-numbers biography.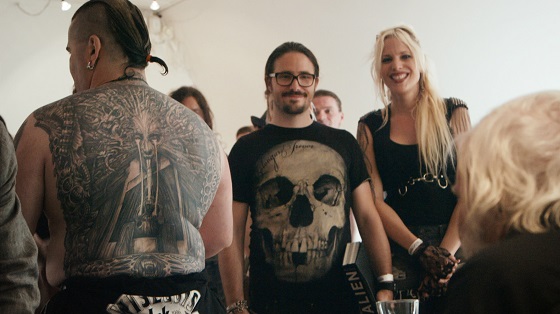 There is one other deep moment in the film when Giger reflects back on his life and says, "I've seen everything I wanted to see, everything I wanted to do or show, I've done it."  He goes on to say that he doesn't want to plow through life again, implying that he is reaching the end of his life.  This moment becomes both inspiring and heartbreaking when put into context: Giger died shortly after his last interview for the film.
Over the course of his career, H.R. Giger has combined the world of high art and popular culture, and it would be great to hear more about his thought processes and experiences.  Unfortunately, there's not that much of it in Dark Star: H.R. Giger's World.  It's full of interesting commentary about his art, but not much is revealed about the man himself, and what is revealed seems to have been carefully planned out so as not to tip the artist's hand too much.  Dark Star: H.R. Giger's World serves as a good primer for those who have never been exposed to the vision of H.R. Giger, but it doesn't give the hardcore fan all that much that they haven't already heard.  As a whole, the film is an insightful look into the mind of a fascinatingly strange man.  It's just a shame that it isn't a little more insightful.