Synopsis: In Pittsburgh, accomplished pathologist Dr. Bennet Omalu uncovers the truth about brain damage in football players who suffer repeated concussions in the course of normal play.
Release Date: December 25, 2015     MPAA Rating: PG-13
Genre(s): Drama, Sport
Film Review

A big "point of emphasis," as they call it, in the National Football League as of late has been concussions, with players who have been suspected of suffering a head injury being inserted into the league's "concussion protocol" before they can re-enter a game. Much of this is because of the work of one man: Dr. Bennet Omalu. Dr. Omalu's research has been extremely important to the health and safety of the players in the NFL. It's a shame that the movie that Hollywood made about him, simply called Concussion, is so bad.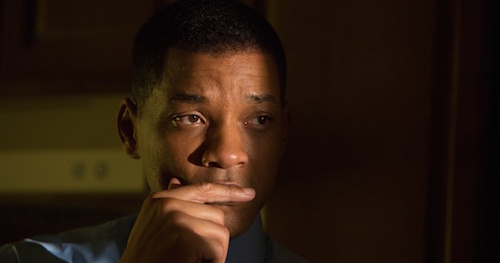 Concussion stars Will Smith (I Am Legend) as Dr. Omalu, a neuropathologist who is called upon to perform an autopsy on former Pittsburgh Steelers center Mike Webster (David Morse from "Treme"). Although the official cause of death is ruled a heart attack, Webster had been suffering from depression and confusion in the years since retiring, and after Dr. Omalu gets a look at his brain, he learns why: Webster suffered from Chronic Traumatic Encephalopathy, a condition that stems from, well, getting hit on the head too many times. After Omalu performs a few more autopsies on former NFL players, he finds a disturbing pattern of CTE. With the help of a former NFL neurologist named Dr. Julian Bailes (Aloha's Alec Baldwin) and the families of former players, Dr. Omalu goes up against the NFL – one of the most powerful corporations in the free world – to bring his findings to light.
The first thing that one should know about Concussion is that it's not about football. Well, it is, but it's more about medicine. And that may be the problem. Writer/director Peter Landesman (Parkland, Kill the Messenger) tries so hard to make the movie medically accurate that he forgets to make it entertaining. Even the attempts to create suspense that occur as Omalu is racing against time to hold the NFL accountable for covering up his reports fall flat. The movie is one long, drawn-out medical drama, only minus the drama.
The big thing that football fans everywhere are wondering is how Concussion, a movie that calls the NFL out on some shady and seedy stuff, can get away with using real NFL team names and logos. Well, the legal reason is that the logos are not misrepresented and, therefore, are fair game to be shown onscreen. The real reason, however, is that Concussion doesn't really make the modern NFL look all that bad. Sure, there's some cloak-and-dagger stuff, but the film puts the blame on the old regime under former commissioner Paul Tagliabue (Satan's Little Helper's Dan Ziskie); the film basically ends where fans think it does, with new commissioner Roger Goodell (Luke Wilson from The Skeleton Twins) instituting the concussion protocol and, therefore, looking like the hero. The NFL comes through the film smelling like a rose.
Concussion had a chance to be a very important film, and in some ways it is. But the message gets lost in the mumbo jumbo, and the whole thing becomes whitewashed in the end. It probably would have made a fascinating documentary, but as a dramatic film, not so much.

Peter Landesman based his screenplay for Concussion on an article written by Jeanne Marie Laskas called "Game Brain" that was published in GQ magazine. Although it's a very gripping article, it is, in fact, a non-fiction article, which explains why the material in the film is so dry. To his credit, Landesman did seem to realize that it needed something to spruce it up, but instead of adding some dramatic action or suspenseful tension, he shoehorned in an uncomfortable, forced love story between Bennet and his future wife, Prema Mutiso (Belle's Gugu Mbatha-Raw). The romantic angle is very out of place within the context of the medical drama, so the whole film starts to feel like a bad Lifetime Network movie. The entire movie feels like padding; the real story was published in GQ, the fluff can be found in Concussion.
Cast and Crew
Director(s): Peter Landesman
Producer(s): Elizabeth CantillonRidley ScottLarry ShumanDavid WolthoffGiannina Facio
Screenwriter(s): Peter Landesman
Story: Jeanne Marie Laskas
Cast: Will Smith (Dr. Bennet Omalu)Alec Baldwin (Dr. Julian Bailes)Gugu Mbatha-Raw (Prema Mutiso) David Morse (Mike Webster)Albert Brooks (Dr. Cyril Wecht)Arliss Howard (Dr. Joseph Maroon)Adewale Akinnuoye-Agbaje (Dave Duerson)Richard T. Jones (Andre Waters)Matthew Willig (Justin Strzelczyk)Bitsie Tulloch (Keana Strzelczyk)Britanni Johnson (Rachel Green)Luke Wilson (Roger Goodell)
Editor(s): William Goldenberg
Cinematographer: Salvatore Totino
Production Designer(s):
Costume Designer: Dayna Pink
Casting Director(s): Lindsay GrahamMary Vernieu
Music Score: James Newton Howard
Music Performed By: 
Country Of Origin: USAUK