Italian director Mario Bava is considered to be one of the pioneers of both the giallo and the slasher subgenres of horror movies. With films like A Bay of Blood, Hatchet for the Honeymoon, and Kill Baby, Kill to his credit, Bava's work is usually seen as bloody and gruesome, but there was another side to the filmmaker. Bava could make movies that teemed with subtle suspense, such as his 1963 classic Evil Eye.
Evil Eye is about a young American woman named Nora Davis (Letícia Román from G.I. Blues) who travels to Rome, Italy to visit her sick Aunt. Nora's first night in Rome is a bad one; not only does her Aunt die, but she witnesses a murder on the street outside her apartment. She tries to tell her Aunt's doctor, Dr. Marcello Bassi (John Saxon from Black Christmas and A Nightmare on Elm Street), what she saw, but he chalks it up to a hallucination caused by the stress of the trip and her Aunt's untimely death. Marcello starts to believe her when it is discovered that Nora is being stalked by a serial killer who has been killing women in alphabetical order by last name – the killer has gotten up to the letter D, and Nora Davis is next on the list.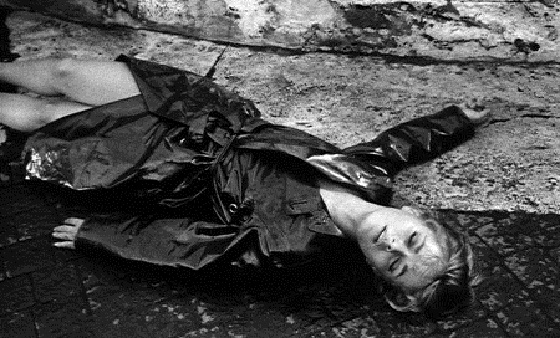 Written by Bava and his usual army of co-writers (Enzo Corbucci, Ennio De Concini, Eliana De Sabata, Mino Guerini, and Franco Prosperi), Evil Eye is a tense and purposeful mystery, sort of like Alfred Hitchcock directing an Agatha Christie story. From a narrative standpoint, Evil Eye is one of Bava's strongest outings, full of suspense and intrigue. From a filmmaking point-of-view, there are noticeable seams in the production, particularly within the editing, with strange sound cues and disorienting jump cuts all over the place. Even with its flaws, however, Evil Eye still touches on brilliance, both in its storytelling and in its aesthetic approach.
Like Mario Bava's Lisa and the Devil a decade or so later, Evil Eye went through some changes for American audiences that subtly altered the film. In a probable nod to Hitchcock, the film was originally called The Girl Who Knew Too Much, and that title makes much more sense, both as a wink to the Master of Suspense and as an attention-grabbing device. For its American release, distributor American International Pictures not only changed the name, but cut out a handful of references to marijuana and replaced them with some awkwardly placed humorous scenes that, frankly, are not entirely successful (John Saxon does a Nazi impression in one, and Saxon and Román roll into the water on a beach á la From Here to Eternity in another). While the differences don't exactly kill the mood of the picture, for the most part, they seem strange and unnecessary.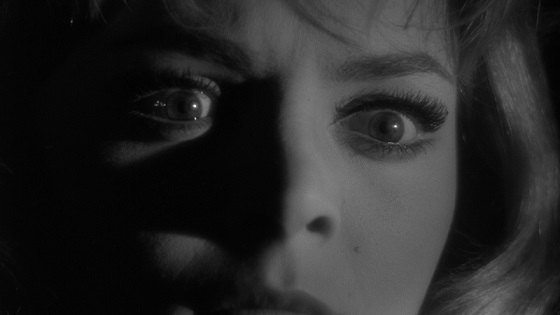 Another difference between the American and Italian releases of Evil Eye is the score. The original Italian version of the film featured a jazzy soundtrack by regular Bava collaborator Roberto Nicolosi (Black Sunday, Black Sabbath). For the American release, the score was re-done by Les Baxter (Pharaoh's Curse, The Black Sleep), who kept the jazz vibe, but also introduced an increased cinematic style to the music, so the score is more triumphant and moving, switching from light and whimsical to heavy and brooding at the drop of a hat. Interestingly enough, Evil Eye was not the only 1963 film for which Baxter was asked to replace a Nicolosi score – he also did the American version of Black Sabbath – nor was it to be the only film of Bava's that he re-scored – he also supplied to American score for 1972's Baron Blood. So, there must have been something about Baxter's music that Mario Bava liked.
In addition to being a director, Mario Bava was an accomplished cinematographer, and he was more than comfortable shooting his own films – in fact, more often than not, he did work as his own director of photography, whether he was credited for it or not. Bava chose to shoot Evil Eye in black and white, which goes against the brightly colored giallo style, but the decision reinforces the Hitchcockian vibe of the picture. The lack of color does not mean that the film has a lack of visual character, however; Bava uses plenty of borderline-campy camera motion and snap zooms to turn the camera into an active observer of the action. Bava also sets up his shots with interesting and creative angles and, therefore, is able to make full use out of the frame, with both background and foreground subjects equally visible – and important – in each scene. Mario Bava knew how to shoot a movie, and with Evil Eye, he shows off that fact a bit.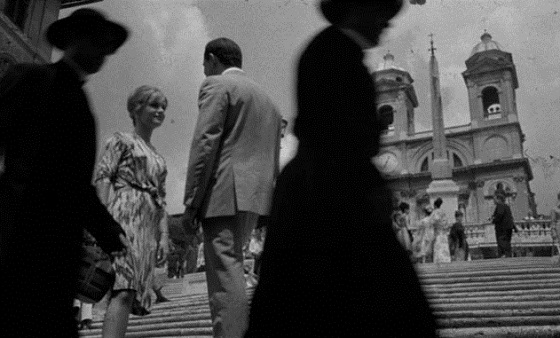 Mario Bava influenced many of the modern Italian Masters of Horror, guys like Lucio Fulci and Dario Argento who were (and are) known for their shocking gore. His son, Lamberto Bava, followed in his footsteps and ended up becoming a successful fright filmmaker in his own right. But Mario Bava was much more than a slice-and-dice director, and movies like Evil Eye prove it.