Russell's "Best in Film" 2011
1. The Descendants
When Sideways
came out in 2004 I must have gone out to see it in theaters at least three times. It wasn't The Lord of the Rings
, Harry Potter
, or Batman
and so it was a mystery to everyone including myself as to why I was so drawn to a movie about wine. The answer was Alexander Payne; he had crafted a film that blended both comedy and sadness so finely that the two simply became human experience.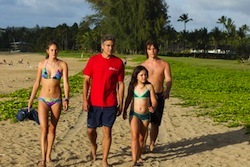 Now, about seven years later with The Descendants, Payne continues to direct human imperfection to perfection. In the wrong hands the story of a man who must finally become a father to his daughters after his wife falls into a coma could have played out as a ridiculous soap opera. But insincerity is nowhere to be found, with each frame more real than the last, full of real themes and unrestrained truth. Payne is aided in his quest to make art from seriousness and comedy by a fantastic cast led by George Clooney. Just as the Hawaiian backdrop of the film is stripped of its postcard friendly lighting, Clooney as Matt King is stripped of his cool, composed, celebrity charm leaving behind the actor's most vulnerable performance to date. The cast also includes a heartbreaking Robert Forster, a matured Matthew Lillard, and nothing short of a breakthrough performance from Shailene Woodley as the no-nonsense teen daughter. What makes these performances and the film resonate is the individual attention given to each character, how no one person reacts to tragedy and life's unexpected sucker punches the same way. Whether it be infidelity or the passing of a loved one, we all have our own personal coping mechanisms. We can laugh or we can cry, what The Descendants reminds us of is that we're allowed to do both.
2. Drive
Going by the trailer alone one may initially believe Drive
to simply be some kind of weird The Fast and the Furious
knock off, but I assure you that this movie's resemblance to a mainstream action flick is little to none. From the opening credits of the film, one has no idea what to expect as hot-pink cursive print is displayed and the French electro song, "Nightcall", plays loudly. What we do know is that we're oddly hooked, eagerly awaiting what happens next, and thanks to director Nicolas Winding Refn, what follows never disappoints.
There are only a handful of Quentin Tarantino's in this world, or David Fincher's, directors who truly understand the concept of "cool." I am uneducated in the rest of his work, but Nicolas Winding Refn has surely directed the "coolest" piece of filmmaking to come out in years. Drive is by no means fast-paced and edited for those with attention deficit disorder, but rather a deliberately slow paced art film, full of substance and style with it's mood more similar to Taxi Driver
than The Transporter
. Although the film can be classified as a dark noir, a heist gone wrong crime caper, it also finds its self in the territory of karaoke video romance and even Halloween
at one point. Drive is so many movies at once and yet it remains completely unique, think Pretty in Pink
as directed by GoodFellas
Scorsese and you'll have some idea of the film's tone. Add the increasingly impressive Carey Mulligan, Albert Brooks as the hilarious yet terrifying mob boss, and Ryan Gosling in a fantastic performance quietly dissecting the nature of man and Drive
becomes some kind of strange masterpiece. Both smart and visceral, full of quiet tension and ultra violent release, Refn's stylized Los Angeles will be one to visit countless times in the future.
3. The Tree of Life
"What the f*#% is this movie?" So many people walked out of showings and asked for their money back that theater owners eventually had to post signs stating that no refunds would be given. The Tree of Life
was surely the most divisive film to come out in years and I'm proud to say that I'm on the side of director Terrence Malick.
I can fully sympathize with frustrated audiences in that although Emmanuel Lubezki's cinematography is without a doubt beautiful, the film itself is completely abstract and in no way easily digestible. It's a challenging piece of work that requires time to grasp and truly appreciate. It took me a week to even decide if I liked the film and now after seeing it three times I'm still not sure if I even understand it. The secret is to accept the movie as anything, but a movie; it has been described by critics as a "poem", a "symphony", and I agree, Terrence Malick's latest work is a true piece of art probably more suited to a permanent museum spot than a commercial movie theater. No mainstream film would ever contain a 17-minute sequence portraying everything from the big bang to evolution, but The Tree of Life does and Malick's running theme that our lives, human beings and all of surrounding nature, are connected to a massive spiritual continuum has never been more magnificent. Yet despite the grand cosmic element of this opus, it somehow remains extremely personal by focusing on a 1950s family with Brad Pitt in a fine performance as its strict patriarch. From birth to death to the afterlife, the camera invites us to observe the most intimate moments of this family, to share in the experience of their memories. As awe-inspiring as it is tiring, both Darwinian and religious, love it or hate it, this is ambitious filmmaking that transcends the medium, reminding us of film's potential as well as that of our very existence.
4. Midnight in Paris
If you could choose any decade throughout history to be alive when would it be? In Woody Allen's latest film, his best comedy in years, the ideal time and place according to protagonist Gil is Paris in the 1920s. Gil, played wonderfully by Owen Wilson, is magically transported there after taking a stroll through the city and the clock strikes midnight.
Before this fantasy element of the film occurs, Gil is introduced as someone like us, someone unsatisfied with his life. He's unsure of his relationship with his fiance, he desires to write novels instead of screenplays, and he's generally just not a fan of the present. Gil's trip to 1920s Paris serves as a temporary antidote to his misery and it's where Woody Allen allows himself, his cast, and his audience to really have fun. Just to name a few, the fantasy world Allen creates is inhabited by the likes of F. Scott Fitzgerald, Zelda Fitzgerald, Cole Porter, Pablo Picasso, and a very serious Ernest Hemingway, played hilariously by Corey Stoll. For anyone with an ounce of love for art and literature, Allen makes it impossible to not be swept away in his playful romanticism of the city of lights. There's definitely something wrong with you if you don't find yourself laughing when Adrien Brody shows up as Salvador Dali. And yet despite how much fun the movie allows us to have, we're still somehow reminded of the danger of nostalgia, no matter how alluring it may seem. Sure you can swap ideas with the guy who wrote "The Great Gatsby", but do you really want to live in a world without penicillin and die because of a cold? Midnight in Paris
shows that people are unsatisfied with the present because it's the present; just as Gil desires to live in the 20s, people in the 20s dream of the 1890s, they of the Renaissance and so on. At one point in the film Gil describes the present as "a little unsatisfying because life's a little unsatisfying." That's okay because Woody Allen has created a beautiful film full of charm, whimsy, and so much fun that an unsatisfying life has never been this easy to enjoy.
5. Melancholia
Putting how I truly feel about this film into words is impossible. Any critic can dissect a painting, but his/her words will never amount to the actual experience of having a piece of art right smack in front of you. In almost as abstract a form as Terrence Malick's Tree of Life, Danish director Lars von Trier creates more of an experience in mood and cinematic artistry than an actual movie. This is not to say that an actual plot is altogether missing; the subject of the film is the end of the world.
Shortly after Justine's (Kirsten Dunst) failed attempt at a wedding, it's discovered that a planet named "Melancholia" was hiding behind the sun and now heads into an orbit than could send it into a direct collision with earth. Most end of the world movies have the human race defending themselves against an alien invasion, the army is involved, the government, and every nation unites as one. Von Trier has no desire to make a summer blockbuster and scales down the usual Hollywood dramatics of an apocalyptic film in favor of small moments and intimate interactions primarily between Justine and her sister Claire (Charlotte Gainsbourg). Much of the power of the film is derived from Kirsten Dunst's and Charlotte Gainsbourg's amazing performances as sisters in complete contrast to each other. Claire fears the end, desperately trying to hold on to everything while Justine simply embraces it, literally basking naked in the blue light of her impending doom. The fact that Justine is severely depressed is another facet of the film's appeal; Melancholia
serves as a beautiful metaphor for the psychological disorder. Depression hides behind a thousand sunny smiles, only to reveal itself and engulf all possible life, making one feel like the end of the world is indeed near. Still above the diametrically opposed sisters, the metaphor for depression, is Lars von Trier's overall vision of the end of the world as something beautiful. From the almost still images at the beginning of the film set to the music of Wagner to every lushly photographed scene that follows, gloom has never been portrayed with such an uplifting aesthetic. The result is an experience not soon forgotten, one that may haunt you until our very own end of days comes out of hiding.
6. Martha Marcy May Marlene
Almost as difficult as it is to say Martha Marcy May Marlene five times fast, it remains a challenge to believe that this is Director Sean Durkin's first feature film. The fact that its wonderfully creepy tone can already be compared to the work of Roman Polanski proves that a major talent in the filmmaking world has emerged. The movie begins with a young woman named Martha fleeing from a cult after living with them in a farmhouse for two years.
Through various flashbacks, the studied subject is revealed to be a disturbing paradox. With its hippie philosophies of only using what is necessary and sharing everything, cults act as rebels against the greed of a capitalistic society, but this comes at the price of easily manipulating young, confused, and insecure girls into accepting deplorable acts and living submissively in completely backwards, patriarchal communes. More interesting than the inner workings of a cult though and the real reason the film succeeds is the way Durkin utilizes technique masterfully to trap the audience inside the mind of Martha as she attempts to assimilate back into the normal world. The flashbacks serve not only as a narrative device, but also as traumatizing memories of someone inflicted with a serious mental disease. At one point in the film I felt genuine dread at the simple sound of rocks sliding off a rooftop and it was at that moment that I realized Durkin's combination of clever editing, eerie wideshots, use of sound, and overall direction had seeped into my subconscious, terrifying me from the inside out. Of course, as brilliant as his direction may be, much credit must be paid to Elizabeth Olsen in a breakthrough performance as Martha. Elizabeth Olsen, the younger sister of Mary Kate and Ashley, steps completely away from her sisters' "Full House" personalities, delivering one of the most haunting and emotionally powerful performances I've seen all year. Sean Durkin's Martha Marcy May Marlene is a psychological horror film that doesn't rely on gore or surprise, but rather skillful dissection of identity loss, intense character study, and so much instilled paranoia that even a ring of the doorbell could end up triggering an anxiety attack.
7. Margin Call
The award for second best feature film debut goes to J.C. Chandor, whose Margin Call is not only the best dramatic account of the 2008 financial crisis I've seen, but maybe the best Wall Street movie I've seen period. Oliver Stone's Wall Street: Money Never Sleeps
(2010) pulled its punches leaving the audience instead with a sappy family drama, and HBO's "Too Big to Fail
" (2011), although well done, still felt a little phony with such well known actors playing real members of the U.S. Treasury Department.
Chandor's Margin Call is clever in that it is devoid of a movie version Henry Paulson, Ben Bernanke, or Timothy Geithner, instead favoring completely fictional characters over the course of an intense twenty-four hour period. Without the distraction of trying to compare performance to actuality and with a well-written screenplay refusing to over-explain any causes or repercussions, the result is a haunting drama that could have taken place inside the offices of any of the failed financial firms. The narrative's compressed timeframe, taking place mainly in the wee hours of the night, recreates a moody atmosphere combined appropriately with stressful urgency. And of course the unraveling world Chandor creates is inhabited by one of the best acting ensembles of the year: Kevin Spacey, Paul Bettany, Jeremy Irons, Zachary Quinto, Penn Badgley, Simon Baker, Stanley Tucci, and Demi Moore. For a few of these actors, this is the best work they've done in years. Feeling sympathetic for anyone in the world of high finance may be asking for too much, but it's impossible to not be compelled by any of these actor's performances. From everyone between Zachary Quinto's engineer choosing Wall Street over rocket science, to Jeremy Irons's ruthless billionaire eating steak on a high rise overlooking the world of the less fortunate, every character offers an exciting insight into the minds and personalities of the nation's richest one percent. Whether it's the impressive ensemble, J.C. Chandor's screenplay and direction, our still shaky financial ground, or the mere image of Kevin Spacey's Sam Rogers burying his dead dog in the aftermath of selling his soul, Margin Call
is a film about our history that sticks. Long after the credits fade to black we're left with the unsettling feelings of the past, and worse yet, the certainty that all of this will happen again and again.
8. Hugo
Most people tend to associate Martin Scorsese with violent R-rated films about gangsters, low-life boxers, and taxi drivers living in New York; what they tend to forget is that he's one, big, fat, movie geek. Don't get me wrong, Hugo is indeed a touching children's film about the bond formed between a boy trying to stay connected to his deceased father and a famous filmmaker who has abandoned his talents in exchange for a life of solitude and anonymity.
It's a melancholy tale that invites us to have fun at a train station in 1930s Paris along with all it's amusing characters including a comedic station inspector played by Sacha Baron Cohen. But actual kids may end up falling asleep because this is a movie made for lovers of film, fans of film history, for geeks like Scorsese, geeks like myself. The fallen filmmaker in the story, played by Ben Kingsley, is Georges Melies, a true-to-life silent film director that did in fact lose almost all of his work due to World War I and a fit of rage causing him to burn his own films. Some of his most famous works including A Trip To The Moon
(1902) can be credited as being the original science fiction and fantasy movies. Hugo is an homage to Melies, as well as other pioneers of the cinema such as the Lumiere brothers
, Buster Keaton, and Charlie Chaplin. Standing in for Scorsese in Hugo is actor Michael Stuhlbarg, who plays Rene Tabard, a film preservationist in love with the movies ever since he was a little boy. Being an avid supporter of film preservation himself, this is very much a personal project for Martin Scorsese as well as a love letter to the magic of filmmaking. His song to the early years of cinema is ironically filmed, paying respect to the old days by using the newest of technologies. Second only to James Cameron's Avatar
, Hugo is by far the best use of 3D technology, immersing the audience deep into the world of a train station and inside the huge clocks in which young Hugo Cabret resides. I'll be the first to admit that 3D is mostly a waste of money, but rare movies like Hugo continue to make me a believer in it's potential for complete audience immersion and escape. Film students are often quick to criticize the overly praised, but there's no way they can take away Scorsese's passion for the art form, his desire to both preserve it and advance it, and above all, they'll never be able to say he's not enough of a nerd.
9. The Artist
The Artist is another film that pays homage to classic cinema, but unlike Hugo that employs the very latest of technological technique, The Artist pays respect to the silent film era by being a silent film itself. Making a feature length silent film in the twenty-first century sounds like a crazy film-school assignment or a simple gimmick to sway members of the Academy, and that would be the case if this movie wasn't so damn charming. French Director, Michel Hazanavicius, is completely sincere in his affection for the bygone era, showing his love in every frame beginning to end. Combining plot points from the classics, A Star Is Born
and Singin' in the Rain
, The Artist revolves around a budding relationship between a veteran actor and a young rising star just as Hollywood talkies start to eliminate silent films all together.
Some of the only sound in the movie is utilized in a brilliant nightmare sequence where silent film star George Valentin actually hears everything from his alarm clock to broken glass. With The Artist's focus on the dawn of the sound era as well as the friendly reminder that any celebrity can be replaced, the movie does dabble a bit in film history and cautionary parable. But where Hazanavicius's adoration is truly felt is in the pure enjoyment of watching the movie. It's a delightful pleasure to witness actors Jean Dujardin and Berenice Bejo win over hearts without the use of a single word. And that dog! How can one not fall in love with Uggie after he saves his master from a fire in true Rin-Tin-Tin fashion? Silent films were successful internationally because despite one's native tongue, anyone could enjoy action, marvel at a dance number, and laugh at a sight gag. Michel Hazanavicius is fully aware of this, returning the cinema to its universal fundamentals and successfully transporting his audience to a seemingly more innocent and more romantic time. The Artist may not necessarily qualify as high art, but what it does do well is make its audience smile.
10. Super 8
The best summer movie of 2011 was undoubtedly J.J. Abrams's latest sci-fi offering, Super 8
. This was not a movie based on a comic book or a sequel, but rather an original screenplay full of mystery, excitement, heart, and lots of swearing by middle school kids. This is not to say Abrams doesn't borrow a few things from Reagan era films such as Stand By Me
, The Goonies
, and of course Spielberg's E.T.: The Extra-Terrestrial
.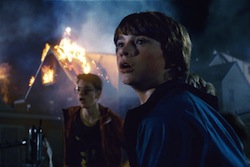 Just like those movies, the stars of Super 8 are an incredibly gifted band of child actors. Even if one doesn't quite buy into the science fiction element of the film, or if one's cold heart feels the story's emotional core to be a bit cheesy, there's no denying that this young group is extremely hilarious. It's the kids that really make the film enjoyable; everything from their exchange of insults to their sheer imagination provides for a very entertaining experience. The short zombie film they shoot throughout the movie, which plays during the final credits, is actually funnier and better than a lot of real movies studios choose to produce. By setting Super 8 in 1979 Suburbia, where Abrams himself would have been thirteen years old, modeling the film after one of his hero's best movies (Steven Spielberg is actually an executive producer), and showcasing such a playful cast, it's easy to feel like a kid again while watching the events unfold. For most of us, the days of hanging out with friends, simply spending an entire summer up to nonsense are over. Super 8
reminds us of that time, that with a snap of the fingers the most mundane could be transformed into a mysterious government cover up. It's comforting to know that filmmakers like J.J. Abrams exist, that for some imagination never disappears, it grows.
The Rest of the Best: Beginners
– Moneyball
– Bridesmaids – Harry Potter and the Deathly Hallows Part II – The Girl with the Dragon Tattoo – A Dangerous Method – Shame – Young Adult – The Help – Rise of the Planet of the Apes