Synopsis: A behind-the-scenes look at the life of author A.A. Milne and the creation of the Winnie the Pooh stories inspired by his son C.R. Milne.
Release Date: October 20, 2017     MPAA Rating: PG-13
Genre(s): Biography, Family
Film Review

Goodbye Christopher Robin is about British writer A. A. Milne (Domhnall Gleeson from Ex Machina), who, after returning home from the front after World War I, struggles to find his place in the world. With wife Daphne (Suicide Squad's Margot Robbie), son Christopher Robin (newcomer Will Tiltson), and nanny Olive (Trainspotting's Kelly Macdonald) in tow, Milne relocates from London to the English countryside for some peace and quiet. After spending time with Christopher and his stuffed animals (which include a bear, a piglet, a tiger, a rabbit, and a donkey), Milne writes a series of stories based upon his son's adventures with the toys as a sort of therapy for his PTSD. With the help of illustrator E.H. Shephard (Stephen Campbell Moore from Season of the Witch), the stories are collected into the best loved children's book Winnie-the-Pooh.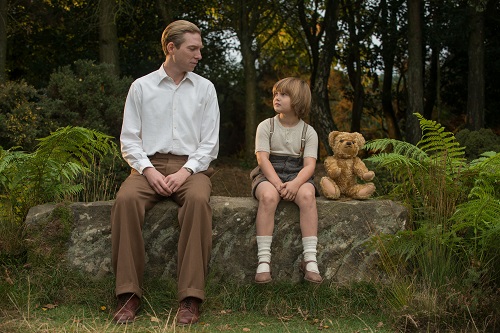 So, basically, Goodbye Christopher Robin is the story of how everyone's favorite children's book was conceived. The film was directed by Simon Curtis (My Week with Marilyn, Woman in Gold) from a script written by children's novelist Frank Cottrell Boyce (who also wrote the screenplay for 24 Hour Party People before penning a couple of Chitty Chitty Bang Bang sequel books) and producer Simon Vaughan (who was already somewhat familiar with the subject matter from writing the TV movie A Bear Named Winnie). The story is interesting enough, but Curtis' direction is stale. The production lacks the kind of wonder and electricity that a movie about the creation of a beloved children's icon should have. It's stripped of all of its fun, so it seems like it's just a series of events without any jubilance.
Granted, the story itself isn't a fun one, with little Christopher growing up in the shadow of his father's creation, eventually even being forced to do promotional work for the book since he is, after all, the main character – the REAL Christopher Robin. But there's no sense of childhood or innocence to be found in Goodbye Christopher Robin, so there's none of it to lose once Christopher starts getting in over his head. Little Christopher's character arc is over before it begins.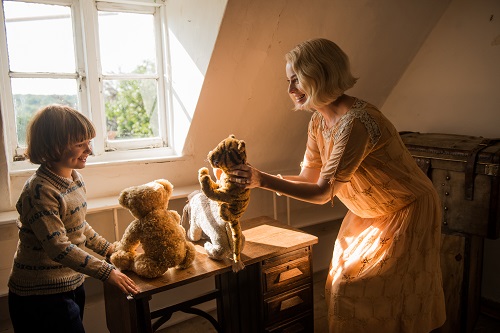 That leaves Milne and Daphne. Milne himself has healing to do, but it comes at the expense of his son's upbringing, which is a bit infuriating. And Daphne, as a mother, is even less invested in Christopher than Milne is. The most sympathetic character in the movie is Olive the nanny, which is good, because Kelly Macdonald gives the best performance. But Olive is too small of a part to carry the whole movie.
Goodbye Christopher Robin isn't going to ruin anyone's opinion of Winnie-the-Pooh. It's not a dark and disturbing tale like that. But it's not a shiny happy origin story, either. It's somewhere in the middle, and it's stuck there like Pooh bear in Rabbit's hole.

For as big as some of the names in it are, the acting in Goodbye Christopher Robin is sub-par. The usually dependable Domhnall Gleeson looks awkward and uncomfortable with what should be a simple role as A. A. Milne. Margot Robbie is wasted in the throwaway part of Daphne Milne. Will Tiltson is wooden and stiff as Christopher Robin, as if he is reading cue cards instead of memorizing his lines. The one good performance in the movie is that of Kelly Macdonald. She portrays Christopher's nanny with love and sensitivity, and hers is the only emotional connection that the film makes. Whenever anything happens with Christopher, it is Olive the nanny that immediately earns the audience's sympathy, even when it should be his parents. Kelly Macdonald is the shining star in an otherwise mediocre-at-best cast.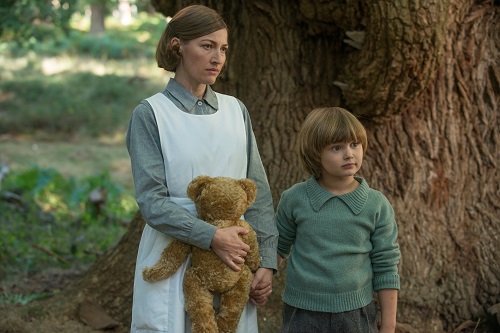 Cast and Crew
Director(s): Simon Curtis
Producer(s): Steve ChristianDamian Jones
Screenwriter(s): Frank Cottrell BoyceSimon Vaughan
Story: 
Cast: Margot Robbie (Daphne Milne)Domhnall Gleeson (Alan Milne)Kelly Macdonald (Olive) Will Tilston (Christopher Robin Age 8)Alex Lawther (Christopher Robin Age 18)Stephen Campbell Moore (Ernest)Richard McCabe (Rupert)
Editor(s): Victoria Boydell
Cinematographer: Ben Smithard
Production Designer(s):
Costume Designer: Odile Dicks-Mireaux
Casting Director(s): Alex Johnson
Music Score: Carter Burwell
Music Performed By: 
Country Of Origin: UK