Synopsis: A look at the life of an aging insult comic named Jack Burke.
Release Date: February 3. 2017     MPAA Rating: PG-13
Genre(s): Comedy,
Film Review

For such an accomplished actor, Robert De Niro has made some interesting choices with his more recent career. Sure, he started out with schlock like Bloody Mama, but he quickly graduated to a run of classics like Taxi Driver, The Deer Hunter, and Raging Bull, and that's not even mentioning The Godfather: Part II. Modern De Niro, however, has been throwing his pearls to swine in disposable comedies such as Dirty Grandpa and Last Vegas. The newest of the new De Niro movies, a filthily fun romp called The Comedian, isn't as bad as those throwaways, but it's no Goodfellas, either.
The Comedian stars De Niro as Jackie Burke, an aging stand-up comic who is trying to get his career back on track while escaping from the shadow of a successful television sitcom that he was on years earlier. His agent, Miller (Edie Falco from "The Sopranos"), books him on a nostalgia show at a dive club, and Jackie ends up assaulting a heckler. He is sentenced to do some community service, and while helping out at a soup kitchen, he strikes up an unlikely friendship with a young woman named Harmony Schiltz (Knocked Up's Leslie Mann) that winds up making his forced volunteer work a little more tolerable. With Harmony's help, Jackie has to learn to control his temper and forget his past so that he can get his comedy career back on track.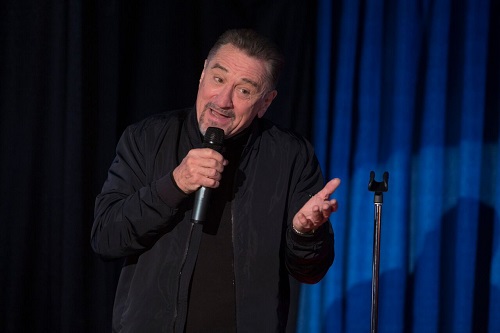 It took a veritable army of writers to come up with the screenplay for The Comedian. The concept for the story came from De Niro and Art Linson (American Hot Wax), with Linson enlisting the help of comics Jeff Ross ("The Man Show") and Lewis Friedman (BASEketball) to come up with the raunchy stand-up jokes. The dramatic aspects of the plot were fleshed out by Richard LaGravenese (The Last Five Years), and the whole shebang was sorted out narratively by director Taylor Hackford (An Officer and a Gentleman, Ray). Despite all of the cooks in the kitchen, The Comedian is a pretty coherent, albeit uneven, little movie.
If there's a weak spot in The Comedian's game, it's when the jokes stop coming. De Niro's salty and bitter standup man anchors the movie, and Leslie Mann provides the heart and soul that's supposed to balance it out. There's a point in the film, however, where the drama takes over, and that's when it loses a bit of steam. Luckily, things get reeled in again by the end, but for a while at the beginning of the third act, The Comedian forgets its title, and the viewer just longs for De Niro to either tell a joke or punch someone out.
Despite its flirtation with failure, The Comedian is an enjoyable movie. De Niro's standup routines are hysterical, and there's enough of them sprinkled throughout the film to drown out the tedious dramatic stuff. The Comedian will not stand out on De Niro's resume, but it's a whole lot better than Grudge Match.

The crazy thing about Robert De Niro is that he elevates the level of any movie that he's in, so even his questionable modern output is better because of him. These roles are not a stretch for the talented actor, so there's a natural comfort and believability that comes with them. The Comedian is no different. De Niro is right at home as Jackie Burke, both on stage and off, portraying the aging shock comic as a vulnerable guy with an arrogant streak a mile wide. There's a wacky chemistry at work between De Niro and Leslie Mann, kind of a will-they-or-won't-they, do-they-or-don't-they sort of give and take that really brings out the best in both actors. De Niro and Mann are a lot of fun to watch together.
The support cast is notable as well. As Jackie's agent, Edie Falco is the perfect sounding board to reel Jackie in when he goes off the deep end (a role which Falco mastered during her years on "The Sopranos"). Harvey Keitel (Youth) is Harmony's possibly mob-affiliated father who gets off on the wrong foot with Jackie, and he plays the part with the same gangster sensibility for which he's become known (and typecast) over the years. Danny DeVito ("It's Always Sunny in Philadelphia") and Patti LuPone ("Life Goes On") show up as Jackie's brother and sister-in-law, and they're exactly what's expected – the parts were seemingly written for them. And, driving the whole aging comic theme of the movie home, a number of rough old comedy stars like Jimmy Walker, Grace Butler, and Billy Crystal make appearances as themselves, just to punctuate how difficult the life of a washed-up comic can be. After all, the movie is called The Comedian in the same way that Darren Aronofsky's wrestling movie was called The Wrestler.

The musical score for The Comedian is made up of cool old-school jazz, written by Terence Blanchard (Red Tails) and performed by a great ensemble that includes saxophonists Ravi Coltrane (son of John and Alice Coltrane) and Khari Allen Lee, pianist Kenny Barron, bassist David Pulphus, and drummer Carl Allen. The bebop-infused soundtrack would be right at home in a Woody Allen movie like Café Society or Irrational Man, or maybe even in one of the clubs frequented by Ryan Gosling's character in La La Land. The score for The Comedian is not as in-your-face as the music from these other jazzy movies is – it's definitely background stuff. But, it's great background stuff, and it works much better than a traditional orchestral film score would for such a minimalistic movie.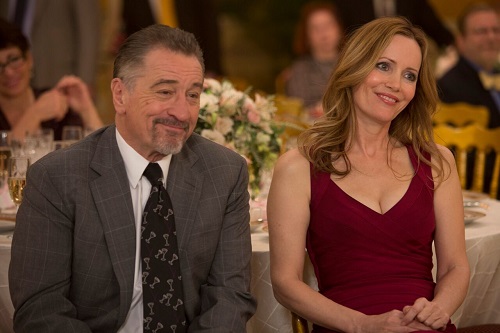 Cast and Crew
Director(s): Taylor Hackford
Producer(s): Mark CantonTaylor HackfordArt LinsonJohn LinsonCourtney Soloman
Screenwriter(s): Richard LaGraveneseJeff RossLewis Friedman
Story: Art Linson
Cast: Robert De Niro (Jackie Burke)Leslie Mann (Harmony Schiltz)Edie Falco (Miller) Harvey Keitel (Mac Schiltz)Cloris Leachman (May Conner)Danny DeVito (Jimmy Berkowitz)Patti LuPone (Florence Berkowitz)
Editor(s): Mark Warner
Cinematographer: Oliver Stapleton
Production Designer(s):
Costume Designer: Aude Bronson-Howard
Casting Director(s): Melissa BraunCathy Sandrich GelfondAmanda Mackey
Music Score: Terence Blanchard
Music Performed By: 
Country Of Origin: USA