Ah, the good old days. The birth of hip hop music. Back when it was possible to judge a book by its cover – or, as the case may be, a person by his fat-laced Adidas sneakers, baggy sweatpants, and Kangol bucket hat. This is the time period in popular culture that is explored by music journalist Sacha Jenkins' new documentary Fresh Dressed.
Fresh Dressed documents the history of hip hop fashion, from its roots on the streets of New York to its mainstream success in the suburban malls across Middle America. It's more of an oral history than a traditional documentary, telling its story almost exclusively through interviews with musicians, clothing designers, and collectors who were there at the beginning. The words of tastemakers like Big Daddy Kane, Kanye West, and Pharrell Williams are heard while archival photographs and video footage are shown onscreen alongside sporadic cute animations, so the effect is that of a museum exhibit being narrated by present-day curators. And it's fascinating to watch.
The movie doesn't function as simply a documentary about fashion. It shows, quite articulately, the social factors behind the fashion trends. It tells about how, historically, in the African American culture, clothes have always been important, to the extent that, even if one was poor, they'd find a way to dress so that they would stand out. The film draws parallels between hip hop fashion and the dress of African native chiefs, explaining how both are flamboyant and colorful in an attempt by the wearer to look important and impressive. The film also shows how the gang culture of New York in the seventies influenced hip hop fashion paradoxically through both the uniform appearance of hip hop crews' wardrobes and the customization of the clothing of each individual member. On the surface, Fresh Dressed is about apparel, but on a deeper level, it's about society and its classes.
There are, throughout the light-hearted fabric talk in Fresh Dressed, occasional pockets of darkness. For example, more than one interviewee talks about the always-present threat of robbery, telling stories of criminals who were willing to kill for someone's jacket and shoes. Rappers Christopher "Kid" Reid and Christopher "Play" Martin talk about how the worst question one could be asked on the street is "what's your size?" to which the answer was to either run in the other direction or, if one was feeling particularly like a badass, to say "your size" and see if the thug was up for the fight. Even though the gang fights were replaced by rap battles and dance-offs, the violence was still there, especially for those who had something that someone else wanted.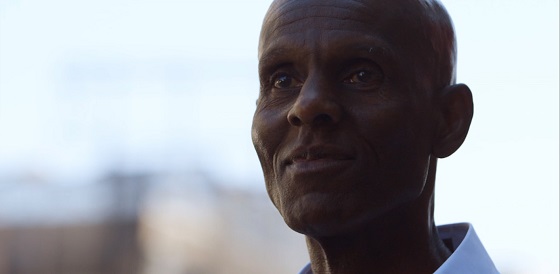 Predictably, Fresh Dressed is loaded with music, its soundtrack featuring mostly hip hop cuts from groups like Grandmaster Flash & The Furious Five, RUN-DMC, and DJ Jazzy Jeff & The Fresh Prince. The fashions depicted in the film went hand in hand with the music, with the musicians almost being expected to dress crazily because "he's a rapper!" The music helped the clothing become a huge industry, and the clothing in turn let the kids identify more closely with the music. Towards the end of the film (and the tail end of the hip hop apparel trend), clothing designers lamented the fact that every musician was starting a clothing label, which meant more competition for floor space in retail shops. Kanye West hammers the point home, saying "(with clothing) I have to do what I did in music, it's gotta be Ralph (Lauren) level." Yes, this is the same Kanye West who made headlines a while back by selling a plain white T-Shirt for $120. But hey, as he puts it so succinctly in the movie, "bein' Fresh is more important than money!"