Italian Director/Screenwriter Lorenzo Sportiello has a very unique vision of the future, as seen in his debut feature film Index Zero. It is the year 2035, and gone are the European Countries we know so well; in their place is the United States of Europe. How this came to be we shall never know. It is accepted, as is the fact that the powers that be are not open and inviting to others. Nor is freedom an option any longer, or the ability to live your life as you wish. The new world order is bleak. The land perished by war and fathom. Gates suspend borders, and concentration-style prisons exist to sort those of worth versus those who are not. One cannot help but notice that many of the unwanted happen to be what we would refer to today as refugees—then again, everyone who is not already behind the walls is a refugee searching for a better life in this future. That life will likely never come for any of them. This is the stark reality of Index Zero; the future is not a place any of us would want to live.
Index Zero's future is one we should all experience through Sportiello's talented eye. Focusing on a couple, Kurt (Simon Merrells) and Eve (Ana Ularu from Serena), who have traveled far over the barren land to reach the United States of Europe's border, Index Zero is their story. They are searching for a better life, for themselves and their unborn child. But their existence in the new world is not acceptable because of their naturally conceived child. In this future, women are vaccinated against pregnancy. (It is perfectly acceptable to recall "Children of Men" here because how could you not?) Those who choose to have a child do so through scientific means and to make matters worse, their worth is lessened by their choice to procreate. It is all part of how people are measured in society, and Kurt and Eve are both at very different spectrums of the scale. All of this is explained throughout the course of the film while they are held in their respective prison camps—one is clearly much nicer than the other, and that is because either Kurt or Eve is considered potentially sustainable. I dare you to guess whether it is the anglo-looking male or the olive-skinned, more ethnic looking woman.
The majority of Index Zero takes place within the prison walls. It aims to show the methods at play in choosing who will be granted access to what is perceived to be the best place to live given the time. We are never told what life is like in other countries, or how the borders went up and people were divided. It would have provided more strength to the narrative had this been touched upon but after greater thought you realize it would have been part of a greater story. Index Zero is not interested in the why and the how; it is all about the now for Kurt and Eve. Their now creates more than enough for the viewer to ponder and find conjecture within. Kurt and Eve go through hell to try and grasp an unknown future, and their journey is moving with its desperation and moments of near defeat. You hope for a simple solution, only to discover there isn't one coming for either of them. Index Zero manages to play human emotion and force of will against politics in an astute manner. It is the politics that will have you thinking about the story long after the credits have rolled.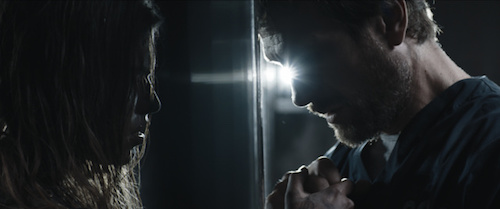 For a U.S. native, Index Zero is an especially intriguing watch. The tunnels used to try and break-in to the U.S. of Europe remind us of those burrowed between our country and Mexico. The use of holding cells for refugees are common when dealing with Cubans who have managed to make their way to our coast, amongst others. The processing of a person's worth is very similar to how the U.S. picks and chooses who can move to the country and gain employment. What of the Obey-like poster that hangs in an abandoned house outside of the U.S. of Europe? Or the strict sign upon entering the country: "Follow The Rules." It stands that these things exist in other countries, too, under different circumstances, but when a film specifically calls out the U.S. as being the all-powerful, you tend to consider the world view of the country. The U.S. has long been known as the "police of the world," but are we also the coldest and most calculating? Index Zero paints such a picture—and it is quite fascinating to walk away from and consider just how this future could come to be given the state of politics today. Exactly what would have to happen, or what needs to change, to avoid an Index Zero type future?
Political allegory is definitely at play in Index Zero, and it's well deserved. To critique government, societal norms, stereotypes, and hierarchies is important—and film has always been an art form that does so very well. Sportiello definitely has strong opinions about the U.S., and the future. But much of what is envisioned in Index Zero can be seen as a warning, even if there is not a solution provided. The ending does try to give hope, if not in a very cliche method. It would have been better served to end a few minutes earlier, with the darkness. Understanding why Sportiello does not is very easy to do. We all dream of a better future, and Index Zero is not it. To see the world come to this, and find no course of change or possibility for reform would be beyond tragic. For that, you can accept the less than perfect ending, but only because everything that led up to it was exceptionally crafted.
__________________
Index Zero was screened at the 2015 Edinburgh International Film Festival as part of the New Perspectives section. More information on the film may be found at the festival's respective film page: Index Zero.