In a post-The Blair Witch Project world, it's difficult to fool the public with a faux-documentary, but before 1999, people were gullible. Orson Welles caused panic with his radio adaptation of H.G. Wells' The War of the Worlds back in 1938. In 1980, Cannibal Holocaust was so convincing that director Ruggero Deodato was brought up on murder charges. And in 1992, the BBC scared the hell out of an entire country by broadcasting the simulated news report Ghostwatch.
Ghostwatch is a live news-style special report show that purports to be visiting a real live haunted house. In a studio, presenter Michael Parkinson (playing himself) and parapsychologist Dr. Lin Pascoe (Gillian Bevan) set the stage by explaining to the viewer that the house upon which they will focus their paranormal investigation has been plagued with supernatural activity. Another host named Mike Smith (also playing himself) takes phone calls from viewers recounting their own ghostly experiences, and a pair of reporters are on the scene: Craig Charles gets interviews with neighbors and crew from outside the home, while Sarah Greene has the unenviable job of broadcasting from within the haunted house (Like Parkinson and Smith, both reporters play themselves).
At first, the night goes smoothly, with Sarah spending time with the owner of the house, Pamela Early (Brid Brennan), and her two daughters, Suzanne and Kim (real-life sisters Michelle and Cherise Wesson). The cast and crew joke about the "haunting" while bobbing for apples and munching on candy, but before too long, the laughter stops as frightening things start to happen in the house, and the television viewers at home are along for the entire horrifying ride.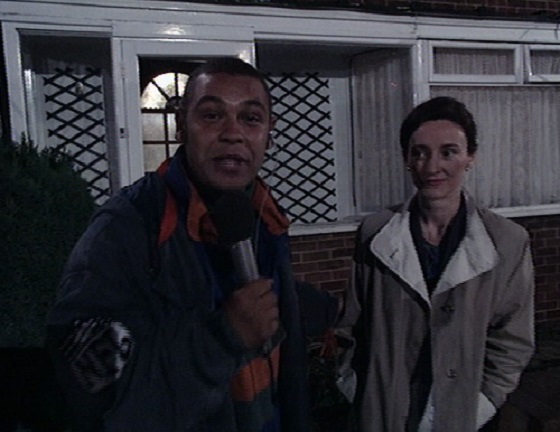 Ghostwatch was written by Stephen Volk (Gothic, The Awakening) and directed by Lesley Manning (Leila, The Agent). Broadcast as a supposedly live program on Halloween of 1992, it is a loose retelling of the events of the famous Enfield Poltergeist Haunting, the same case which inspired The Conjuring 2. Street and house segments were recorded weeks before and enhanced with visual effects, then the studio sequences were taped with the hosts interacting with the remote footage. This method of production gives Ghostwatch a found-footage, Paranormal Activity-type of an aesthetic combined with a stuffy, "Ghost Hunters" vibe.
And it was convincing. Even though there was a writer's credit in the opening roll of the film, Ghostwatch terrified naïve viewers all over England who thought that they were witnessing a real paranormal investigation that had gone bad. Afterwards, several children and a handful of elderly citizens reportedly suffered post-traumatic stress disorder symptoms for weeks. One developmentally challenged eighteen-year-old boy even committed suicide after hearing the pipes in his house knocking, believing that, like the home in the movie, his had a ghost. Although the BBC admitted no wrongdoing, they still refused to air Ghostwatch again in reruns, and it remained archived and unseen until its home video release ten years later in 2002.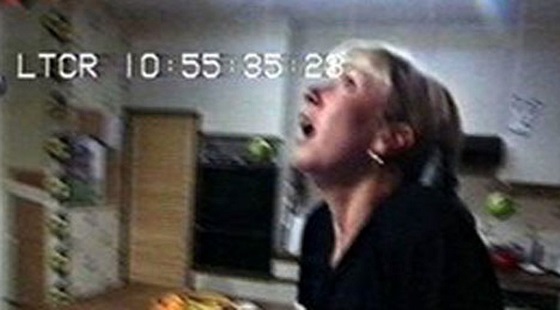 Part of what made Ghostwatch so convincing to its early-nineties audience is the live news report aesthetic of the program. Of course, it had the appearance of being a television special event program, being shot on video with handheld and studio cameras. When it was released on VHS and DVD in 2002, audiences noticed little visual bits that were put into the movie, finally getting to analyze and discover the subtle ghost effects that were sneakily hidden throughout the film, details which are barely noticeable in real time and are only discernable upon a rewind or two. Much of it is never acknowledged in the movie, but to attentive and undistracted viewers, the "ghost" can be seen everywhere from window reflections to crowd scenes. From a subliminal standpoint, it's no wonder people freaked out.
Another element of Ghostwatch that helped make it so realistic is the sound design. Done by Winston Ryder (The Shining, Orca), the audio is full of squeaking pipes and knocking walls, exactly the kind of soundtrack that one would expect from a bump-in-the-night ghost movie. There is hardly any music at all in the film, so the silences are deafening when they occur, and the audience really gets a chance to hear the creepily subtle sound effects. Ryder does everything from slamming doors to demonic voices in Ghostwatch, and his work is the stuff of nightmares.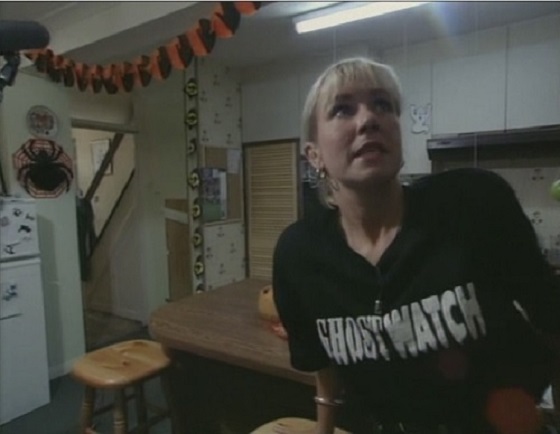 The concept of Ghostwatch was repeated in 2013 by WNUF Halloween Special, a movie that pretends to be a lost VHS tape from 1987. However, that movie relies more on kitsch and nostalgia, and it's not really trying to fool anyone. Now that audiences have been through The Blair Witch Project, there will never be another Ghostwatch.