As a horror movie device, the power of telekinesis has always been popular. Brian De Palma made two films about it, Carrie and The Fury, before he even grew out of his Hitchcock phase. As overused as it is, the ability to move things with one's mind is still an understated and misunderstood skill, and that combination opens doors to frightening situations. In 1978 (The same year that De Palma released The Fury), Australian director Richard Franklin (Psycho II) put an interesting spin on the subject by having his psychokinetic antagonist be a comatose young man named Patrick.
Patrick begins with Patrick (Thirst's Robert Thompson) in his bedroom listening to his mother and her lover having sex in the next room. When they finish, they draw a bath and have some more fun splashing around.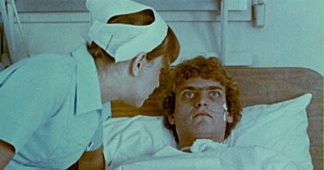 Patrick walks in on them and calmly tosses a heat lamp in the tub. The couple is electrocuted and the traumatic experience puts Patrick in a coma, and he lies that way for three years in a hospital. The doctors have all but given up on Patrick, who is being kept alive by machines but shows no signs of life. A young nurse named Kathy (Susan Penhaligon from The Land That Time Forgot) is assigned to be what the hospital staff refers to as "The Gardener," meaning that her job is to take care of the vegetable, Patrick. Since there is substantial down time to this duty, the administrators put a typewriter in the room so that Kathy can write up requisitions and reports while keeping an eye on her patient. As she works in the room with Patrick, Kathy starts to believe that he actually can see, hear and feel. He begins to communicate with Kathy, first by making clicking sounds to answer her questions, then by using his mind to type on the typewriter.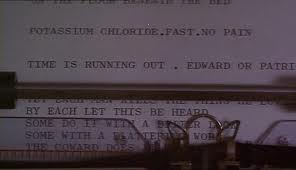 Soon, Patrick falls in love with Kathy, and begins using his psychic powers to assault her ex-husband Ed (Breaker Morant's Rod Mullinar) and her new boyfriend Brian (Bruce Barry from "Skyways"), the latter of which is a doctor at the clinic. The compassionate nurse in Kathy wants to try to heal him, but the self-preserving woman in her has to find a way to save herself and the men in her life from the psychic vegetable.
Patrick is a fairly clever revision of the psychic thriller. It was written by Everett De Roche (Razorback) as Australia's entry into the psychokinetic killer craze. As a horror film, Patrick is every bit as effective as Carrie or The Fury, with a nice, suspenseful buildup and just enough red-herring scares to keep the audience on its toes. As a psychological thriller, Patrick has just enough medical science explanation in it to make it sound realistic to a layman, even if it isn't. Either way, one thing is for certain; after seeing Patrick, coma patients will never seem innocuous again.
As an antagonist, Patrick works pretty well. Aside from the first scene, where he kills his mother and her lover, he spends the entire movie in a hospital bed, yet the viewer never gets the feeling that he is helpless.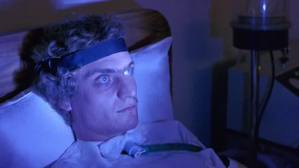 Robert Thompson does a surprisingly good job at pretending to be in a coma, with his eyes showing just a flicker of life, enough to make the characters and the audience uncomfortable. Patrick is a capable killer, and he shows off this fact on the members of the hospital staff who try to end his "suffering," once they realize that he is sentient. Patrick is cold and calculating in his assaults on Ed and Brian, exhibiting his growing confidence in his deadly power. Patrick even completely destroys Kathy's apartment without even being there, with results that are so angry that she blames the act on her jealous ex, Ed.
For a character who barely moves, Patrick is a scary guy.
A big part of the buildup and payoff of the scares in Patrick is the music. Written by legendary Australian composer Brian May (who did the scores for Mad Max and The Road Warrior), the music in Patrick is a schizophrenic mix of soft, orchestral pieces that hammer into loud, dissonant Bernard Herrmann-like stabs at the exact place to scare the hell out of the audience. The dynamic score works wonders in tandem with the suspenseful imaging, making Patrick one of the most genuinely terrifying films to ever come out of Australia.
As overused as the psychic killer motif may be in horror films, there are still instances of creativity in the sub-genre. Patrick is a frightening example of how a common theme can be effective in the hands of the right writer and director.