The seventies gave the horror world a ton of classic movies. Jaws scared people into not going into the water. Halloween struck fear into the hearts of babysitters everywhere. The Exorcist made people afraid of demonic possession. But, for every Jaws, Halloween, or The Exorcist, there were a dozen other movies that fell along the wayside. Made in 1977, Ruby is one of these movies.
Ruby begins in 1935 with a mob boss named Nicky Rocco (Sal Vecchio from The Last Hurrah) being betrayed and executed in front of his pregnant girlfriend, Ruby Claire (Carrie's Piper Laurie). Sixteen years later, Ruby owns a drive-in theater located on the swampland near where Nicky was killed and employs several of her dead lover's associates to help her run it. When her employees start dying in mysterious and supernatural ways, Ruby enlists the help of a parapsychologist named Dr. Paul Keller (Roger Davis from "Dark Shadows") to help her figure things out. The situation worsens when Ruby's mute daughter, Leslie (Janit Baldwin from Humongous), becomes possessed and suddenly begins speaking in her dead father's voice, vowing revenge on those who have wronged him.
Ruby was directed by Curtis Harrington, the man behind such fun titles as Whoever Slew Auntie Roo?, How Awful About Alan, and What's the Matter with Helen? The screenplay was written by George Edwards (The Attic) and Barry Schneider (Class of 1984) from a story by Steve Krantz (Jennifer). Although Edwards and Schneider did write together on Harper Valley P.T.A., Ruby has the definite vibe of a movie that was written by two different screenwriters who are not quite in sync. The first half comes off as a creepy paranormal gangster revenge flick. Once it turns the corner, it becomes a flat-out occult possession movie. It's a campy enough melodrama that it pulls it off, but the inconsistencies are a bit baffling.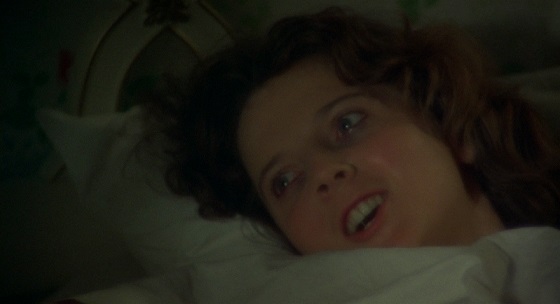 One of the most obvious aspects of Ruby is the overwhelming influence that The Exorcist, made just a few short years before, had on it. Leslie's character arc is fairly consistent with that of Regan MacNeil, with her starting off as a wide-eyed innocent teenager and ending up a spitting, cursing demon. When the film enters its third act, Leslie even starts looking like Regan, strapped to a bed with the bullet scars of the father who possesses her replacing the holy-water streaks. There's even a shot that is a direct rip off of the deleted "spider-walk" scene from The Exorcist. There were more obvious imitations of The Exorcist made in the years after its release, but Ruby wears its influence like a badge of honor.
Shot by director of photography William Mendenhall ("James at 16"), Ruby is a prime example of low-budget seventies cinematography. The color palette is bright and primary, even during the nighttime shots. The flashback parts of the film are presented with very soft focus, giving those sections a romantic, vintage look. There is a voyeuristic aspect to the photography as well, with Ruby and her associates always keeping an eye on the drive-in through a telescope that peeks out her bedroom window, and the camera often goes into a POV shot to show exactly what the characters are seeing through the telescope's lens. There are very few "perfect shots" in Ruby, but as a whole, the cinematography tells the story as well as it can.
The deaths in Ruby are positively slasher-ific. Ruby's drive-in employees are killed in mysterious and ghostly ways, and the theater itself plays a substantial role in most of the deaths, from the projectionist who is garroted by pieces of celluloid film to the employee who is impaled by a wired car speaker stand. Of course, there are some more straight-forward murders, just shootings and stabbings and such, but the really cool ones are the paranormal attacks, the ones where the confused and helpless victims are being whipped around, beaten and slaughtered by unseen forces. And whether they're ghosts or demons, those unseen forces in Ruby get the job done.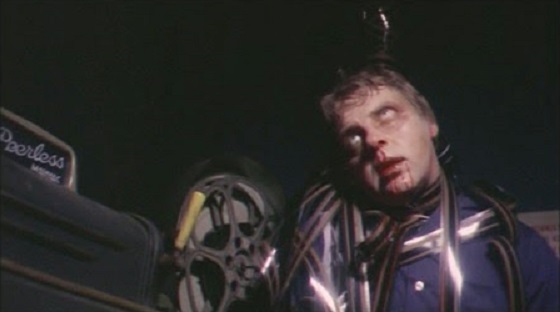 There are a couple of different versions of Ruby in circulation. When Curtis Harrington turned in the finished film, executive producer Steve Krantz suggested a different ending. Both Harrington and Piper Laurie refused to cooperate, but Krantz had director Stephanie Rothman (Blood Bath, The Velvet Vampire) shoot some more footage and Harrington's romantic ending was traded in for a more abrupt, horror-centric (yet hokey) conclusion. When Ruby was broadcast on television, it included even more of Rothman's footage to fill out the time slot. So, although there was a director/producer dispute, the situation with Ruby is more of a theatrical vs. television cut kind of a thing than a director's cut deal.
In its time, Ruby did well enough to be considered the most successful independent film to date, at least until Halloween shattered its box office take and stole the crown the next year. In spite of its success, however, Ruby still remains a buried jewel in the horror world, right next to Cathy's Curse and Xtro.