Synopsis: In 1892, a legendary Army captain reluctantly agrees to escort a Cheyenne chief and his family through dangerous territory.
Release Date: December 22, 2017     MPAA Rating: PG-13
Genre(s): Adventure, Drama
Film Review

In his relatively short Hollywood career, writer/director Scott Cooper has tackled the music drama (Crazy Heart), the revenge movie (Out of the Furnace), and the crime biography (Black Mass). Even though the genres are all markedly different, each of his movies has bared his distinct cinematic thumbprint. The same can be said for his newest movie, the revisionist western Hostiles.
Hostiles is about a legendary retiring U.S. Cavalry officer named Captain Joseph J. Blocker (Christian Bale from American Hustle and American Psycho) whose last orders are to transport a dying Cheyenne Indian prisoner named Chief Yellow Hawk (Wes Studi from The Last of the Mohicans) from his New Mexico prison to a reservation in Montana. Under threat of losing his pension, Blocker reluctantly agrees, and his platoon sets off on the long journey with Yellow Hawk and his family in tow. Along the way, the expedition meets up with a young woman named Rosalie Quaid (Gone Girl's Rosamund Pike), the last survivor of a Comanche massacre who saw her entire family slaughtered and scalped. Blocker convinces her to join up with them as they make their way through the hostile Comanche territory.
Cooper adapted the screenplay for Hostiles himself from an unpublished manuscript by the late screenwriter Donald E. Stewart (who wrote a few of the old Jack Ryan movies like Patriot Games and Clear and Present Danger). As a revisionist western, it's a pretty solid movie, full of cowboys and Indians on both sides of the law. It's a story of unlikely alliances being forged out of the ashes of hatred, with some of the subject looking for revenge while others just want to survive the mission.
And there's plenty of conflict in the movie. Of course, there's the outward conflict between the Comanche war parties and the small platoon of soldiers who are tasked with protecting Yellow Hawk. But there's also infighting amongst the soldiers, as many (including Blocker) don't feel that Yellow Hawk is worth their time. Then there's Rosalie, who just sees an Indian being transported and doesn't care if he's Comanche or Cheyenne, she just wants to even the score for her dead husband and children. Finally, there's the internal struggle with Blocker, who is at odds between what he has spent his career doing (killing Indians) and what his final orders are (protecting an Indian). It all makes for a surprisingly layered storyline, considering it's basically a point-A-to-point-B plot.
It's kind of strange that there isn't a harder awards push for Hostiles. Scott Cooper is a competent and compelling filmmaker. Christian Bale is a bona-fide movie star, and the support cast includes current Hollywood It-boy Timothée Chalamet (Call Me By Your Name) and new Spielberg regular Jesse Plemons (The Post). Not that it would win any, as there are better movies out there this season, but at the very least Hostiles could pick up some technical nominations. As it is, Hostiles will probably become one of those good movies that is quickly forgotten.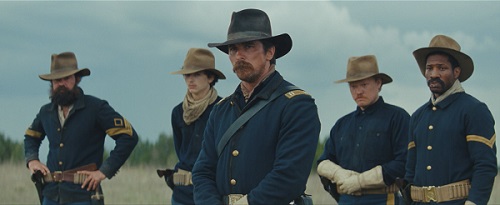 Like any western, the photography in Hostiles is breathtaking. The film was shot on location in New Mexico, Arizona, and Colorado by cinematographer Masanobu Takayanagi, and the natural landscape really emphasizes the isolation of the expedition. They are out in the middle of nowhere, with no one to save them if a pack of Comanche ride up on them, and the photography expresses that desperate loneliness. It's a deceptive trick, because the landscape is stunningly beautiful, lulling the audience into thinking that they're watching a tourism film, and once their guard is down, danger strikes. Takayanagi is great at making the savage land look inviting, only to have it prove itself savage again. It's a thin line, and Takayanagi's cinematography walks it skillfully.
Cast and Crew
Director(s): Scott Cooper
Producer(s): Scott CooperKen KaoJohn Lesher
Screenwriter(s): Scott Cooper
Story: Donald E. Stewart
Cast: Christian Bale (Capt. Joseph J. Blocker)Rosamund Pike (Rosalie Quaid)Wes Studi (Chief Yellow Hawk) Jesse Plemons (Lt. Rudy Kidder)Timothée Chalamet (Pvt. Philippe DeJardin)Bill Camp (Jeremiah Wilks)Rory Cochrane (Master Sgt. Thomas Metz)Jonathan Majors (Corp. Henry Woodsen)John Benjamin Hickey (Capt. Royce Tolan)Stafford Douglas (Corp. Molinor)Stephen Lang (Col. Abraham Biggs)Scott Shepherd (Wesley Quaid)
Editor(s): Tom Cross
Cinematographer: Masanobu Takayanagi
Production Designer(s):
Costume Designer: Jenny Eagan
Casting Director(s): Jo Edna BoldinRene HaynesFrancine Maisler
Music Score: Max Richter
Music Performed By: 
Country Of Origin: USA