Synopsis: George seeks refuge at Bellevue Hospital, a Manhattan intake center for homeless men, where his friendship with a fellow client helps him try to repair his relationship with his estranged daughter.
Release Date: November 6, 2015     MPAA Rating: PG-13
Genre(s): Drama,
Film Review

Time Out of Mind is a line from a Warren Zevon song and the title of an album by Bob Dylan. And now, it's a movie by writer/director Oren Moverman (Love & Mercy, The Quiet Ones). The film stars Richard Gere (Pretty Woman, An Officer and a Gentleman) as a homeless man named George who wanders the streets looking for a phantom person named "Sheila." What George really wants is to reconnect with his estranged daughter, Maggie (Jena Malone from Sucker Punch), and he spends much of each of his days standing outside of the bar at which she works staring in at her through the window. When he's not creeping on Maggie or searching for "Sheila," George bounces from shelter to shelter, always trying to find a warm place to sleep at night. Day after day, the pattern repeats.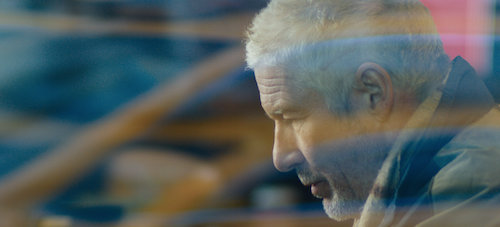 Written by Moverman and Jeffrey Caine (Exodus: Gods and Kings), Time Out of Mind seems really natural and unrehearsed, yet it also gives the impression that it's very tightly scripted. As one can guess, Richard Gere carries the movie; Jena Malone pops in and out a few times, and big names like Ben Vereen, Kyra Sedgwick, and Steve Buscemi show up in small supporting roles, but they all eventually hand the film back to Gere. And it's in capable hands. Gere is as likeable and affable as a homeless protagonist can be, under the circumstances.
But Time Out of Mind is more than just George's story. In fact, George's story isn't the engaging part of the movie at all. His routine is actually pretty repetitive and, well, routine. The technical aspects of the film are what make it so engrossing – the sound, the cinematography, the editing, they're all first rate. In the end, Time Out of Mind is just an extremely artsy, highly stylized indie movie about nothing; it just follows George around and documents his trials and tribulations. But, it documents those trials and tribulations in a way that makes them hard to stop watching.

The cinematography in Time Out of Mind is fascinating. The movie was shot by director of photography Bobby Bukowski (Infinitely Polar Bear), and it's got a cinema vérité, fly-on-the-wall look and feel to it. Time Out of Mind is full of long takes and interesting camera angles that seem as if Bukowski just set his camera up on a rooftop or a fireplace mantle and let it run while Oren Moverman yelled "Action!" Most of the shots are from great distances away – there's not one close-up in the entire movie, and there are hardly even any medium shots – and much of the time, the subject is shown through a window or a fence, with the foreground object obscuring the real action. This voyeuristic approach to the film's photography helps the viewer feel as if they are passive observers, emphasizing how big and vast the city really is. Bukowski knew exactly what he was doing when he shot Time Out of Mind.

Like the cinematography, the sound design in Time Out of Mind is incredibly well done. The audio editing, supervised by Pam DeMetruis-Thomas (True Story), features a complex and layered soundscape of street noises. There is no film score; all music in the film is diegetic, either supplied by radios, busking singers, or piped-in music overflowing from shops or clubs. The soundtrack is mainly the sounds of the street – sirens, car engines, construction noises, snippets of passing conversation – mixing with the musical seepage into a cool urban sonic landscape that puts the viewer right into the alleyways with George. The photography may keep the audience at a distance, but the sound in Time Out of Mind sticks the viewer right into the thick of things.
Cast and Crew
Director(s): Oren Moverman
Producer(s): Miranda BaileyRichard GereLawrence IngleeCaroline KaplanBill PohladEdward Walson
Screenwriter(s): Oren MovermanJeffrey Caine
Story: 
Cast: Richard Gere (George)Jena Malone (Maggie)Ben Vereen (Dixon) Steve Buscemi (Building Manager)Kyra Sedgwick (Karen/Fake Sheila)
Editor(s): Alex Hall
Cinematographer: Bobby Bukowski
Production Designer(s):
Costume Designer: Catherine George
Casting Director(s): Jodi AngstreichLaura Rosenthal
Music Score: 
Music Performed By: 
Country Of Origin: USA