Synopsis: The story of 1970s TV reporter Christine Chubbuck.
Release Date: November 4, 2016     MPAA Rating: PG-13
Genre(s): Biography, Drama
Film Review

Filmmakers Sean Durkin, Josh Mond and Antonio Campos take turns directing, writing, and producing under the collective name of Borderline Films. The trio has been responsible for some of the most interesting indie films of the last few years, titles like Martha Marcy May Marlene, James White, and Simon Killer. Now, it's once again Campos' turn behind the camera with Christine.
Based on a sad-but-true story, Christine stars Rebecca Hall (The Gift, Closed Circuit) as Christine Chubbuck, a Florida television news reporter who committed suicide on the air in 1974. Campos' film essentially follows the title character around for the last days of her life, showing the pressures put on her by her bosses, co-workers, and herself, until she can't handle it anymore. The film also shows her carefully and meticulously planning out her suicide.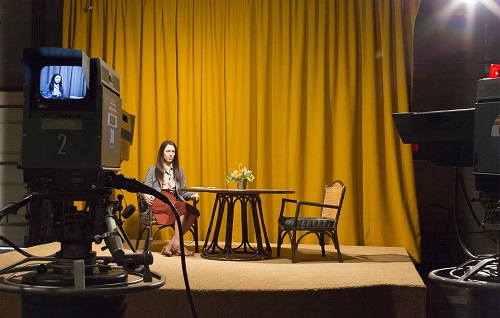 The tough thing about tackling a biopic like Christine is that the audience pretty much knows how it's going to end before it even starts, so the filmmaker's job is to make the hero's journey engaging and memorable. Campos does this by humanizing Christine and juxtaposing her with the inhumanity of those around her, creating a fragile ecosystem of dark comedy with a very disturbed lead character right at the epicenter.
That's not to say that Christine is a sympathetic character; on the contrary, Hall's portrayal of the jaded reporter makes her look a bit like an entitled brat. Sure, she volunteers at a children's hospital on her days off and suffers from intense abdominal pains, but the combination of Christine's ruthless career drive and her no-nonsense insensitivity don't win her any friends – not with the audience, nor with her co-workers.
The one thing that saves the character of Christine from being made of stone is her refusal to pander to the "if it bleeds, it leads" manifesto that her boss (played by Tracy Letts from The Big Short and Elvis & Nixon) puts forward. Although Christine starts listening to police scanners to try and find the sensationalistic stories (sort of like Lou Bloom in Nightcrawler), she reports on the human interest aspects of them rather than exploiting the blood and guts (totally unlike Lou Bloom in Nightcrawler). It's only when her life and career simultaneously implode that she decides to give in and deliver the most shockingly horrifying news story that she possibly can.
What Christine boils down to is this; it's a cool kitschy seventies period piece that happens to end in a high-profile suicide. It's part thriller, part drama, and part black comedy, so there's really something for everyone. Just don't expect to feel good after it's over.

Rebecca Hall's performance in Christine absolutely makes the movie. Hall nails the subtle insecurities masked as overconfidence that Chubbuck expresses while trying to figure out her place in life, slyly walking the fence between making the audience love and hate her. The rest of the cast, a group which includes Michael C. Hall ("Dexter"), Maria Dizzia (True Story, While We're Young), Timothy Simmons (Goosebumps), and Kim Shaw ("Saving Hope"), is, whether intentionally or unintentionally, cheesily hilarious in a way that is reminiscent of the news crew on "The Mary Tyler Moore Show" or, more accurately, Anchorman: The Legend of Ron Burgundy. The support cast provides the campy vibe, but Hall's performance is what brings the title character, and thus the movie, to life. Rebecca Hall owns Christine.

A big part of the seventies charm of Christine can be traced directly to the soundtrack. The movie is full of groovy lo-fi mono AM radio tracks, not really household hits but not deep cuts either, songs like John Denver's "Annie's Song," Dave Loggins' "Please Come to Boston," and Olivia Newton-John's "Everything I Own." As an added bonus, most of the pop music in the film is organic and diegetic, coming from Christine's car radio or an LP that she tosses on her turntable, all of which adds to the time capsule appeal of the film. The soundtrack for Christine almost seems like one of the records that's advertised on those late night, sounds-of-the-seventies infomercials. And from a nostalgic point of view, that's the highest compliment.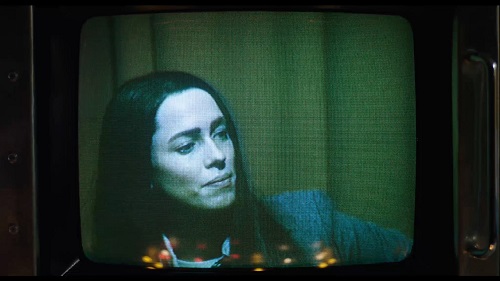 Cast and Crew
Director(s): Antonio Campos
Producer(s): Melody C. RoscherCraig Shilowich
Screenwriter(s): Craig Shilowich
Story: 
Cast: Rebecca Hall (Christine)Michael C. Hall (George)Tracy Letts (Michael) Maria Dizzia (Jean)J. Smith-Cameron (Peg)Tim Simons (Steve)Kim Shaw (Andrea)John Cullum (Bob Andersen)Morgan Spector (Doctor Parsons)Jayson Warner Smith (Mitch)Kimberly Drummond (Gail)Lindsay Ayliffe (Capt. Frank Basil)
Editor(s): Sofia Subercaseaux
Cinematographer: Joe Anderson
Production Designer(s):
Costume Designer: Emma Potter
Casting Director(s): Douglas AibelStephanie Holbrook
Music Score: Danny Bensi & Saunder Jurriaans
Music Performed By: 
Country Of Origin: UKUSA