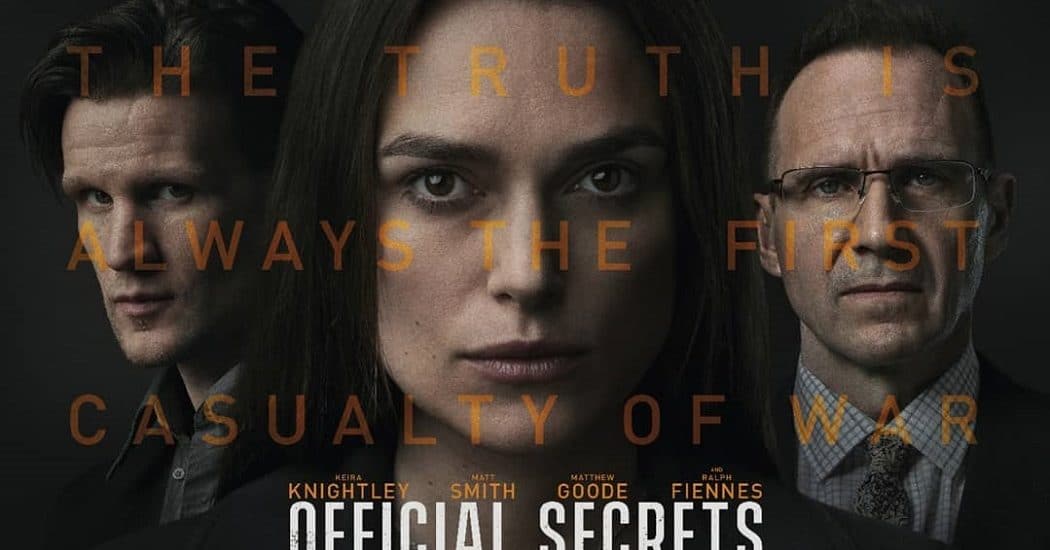 Official Secrets Review
Writer/director Gavin Hood tells the true story of whistleblower Katharine Gun in 'Official Secrets.'

Release Date: September 13, 2019
The true story of a British whistleblower who leaked information to the press about an illegal NSA spy operation designed to push the UN Security Council into sanctioning the 2003 invasion of Iraq.
Director: Gavin Hood
Screenwriters: Gavin Hood, Gregory Bernstein, Sara Bernstein, Marcia Mitchell, Thomas Mitchell
Producers: Ged Doherty, Elizabeth Fowler, Melissa Shiyu Zuo 
Cast: Keira Knightley (Katharine Gun), Ralph Fiennes (Ben Emmerson), Matt Smith (Martin Bright), Matthew Goode (Peter Beaumont), Rhys Ifans (Ed Vulliamy), 
Editor: Megan Gill
Cinematographer: Florian Hoffmeister
Production Designer: Simon Rogers
Casting Director: Kate Dowd
Music Score: Paul Hepker, Mark Kilian 
Filmmaker Gavin Hood seems to have two modes. One is him making pop movies out of fantasy novels and comic books, like Ender's Game or X-Men Origins: Wolverine. The other is engaged when he dives into heavy social and political issues, as he does with Tsotsi or Eye in the Sky. You can probably guess which category Official Secrets falls into.
Official Secrets is the true story of Katharine Gun (Keira Knightley from The Imitation Game and Colette), a translator who works for a British intelligence agency known as the Government Communications Headquarters. One day, an email comes through her inbox detailing how the United States needs Britain's help blackmailing a handful of on-the-fence UN member nations into voting for an invasion of Iraq. Sensing something fishy (and illegal), Kat leaks the memo to newspaper reporter Martin Bright (Matt Smith from Pride and Prejudice and Zombies), whose usually pro-war newspaper, The Observer, runs with it.
Although he tries, Martin can't keep his source secret, and Kat is arrested and charged with violating the Official Secrets Act of 1989 (hence the film's title). The country is split, half hailing her as a hero while the other half believes that she is a traitor. Famous human rights attorney Ben Emmerson (The Grand Budapest Hotel's Ralph Fiennes) takes up her case, but proving her actions justified will be an uphill battle.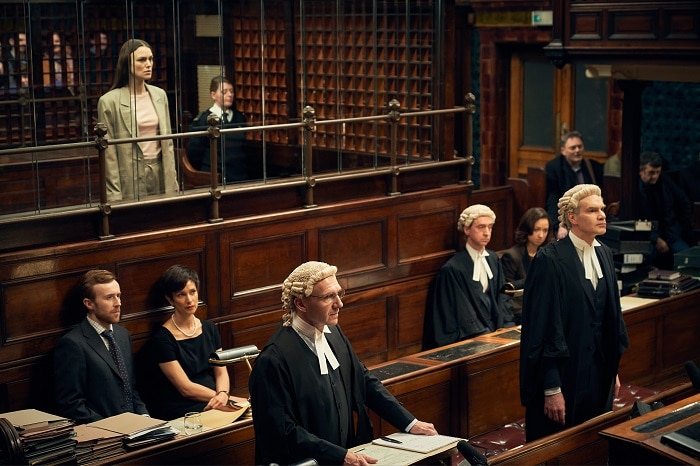 Because Official Secrets is based on a true story, it's the kind of movie that holds few surprises as to where it ends up. Even American audiences who may not be completely familiar with the Katharine Gun story are tipped off by the fact that the movie begins with Kat in a courtroom and her story is told chiefly through flashbacks. Hood adapted the screenplay with Gregory and Sara Bernstein (the husband-and-wife team behind Trial and Error and One Day in Dallas) from the book The Spy Who Tried to Stop A War: Katharine Gun and the Secret Plot to Sanction the Iraq Invasion by Marcia and Thomas Mitchell. Hood, along with his cast and producers, also met with many of the people involved in the events, including Gun herself, so there's an air of authenticity to the real-life drama.
Truthfully, Official Secrets is more suspenseful than it has any right to be. Most of the intrigue of the movie comes from the newsroom of The Observer, as the reporters scramble to both break the story and defend their claims. Because of this, Official Secrets has the same vibe as movies like The Post or Spotlight. It's a whole lot of ordinary journalists becoming heroes.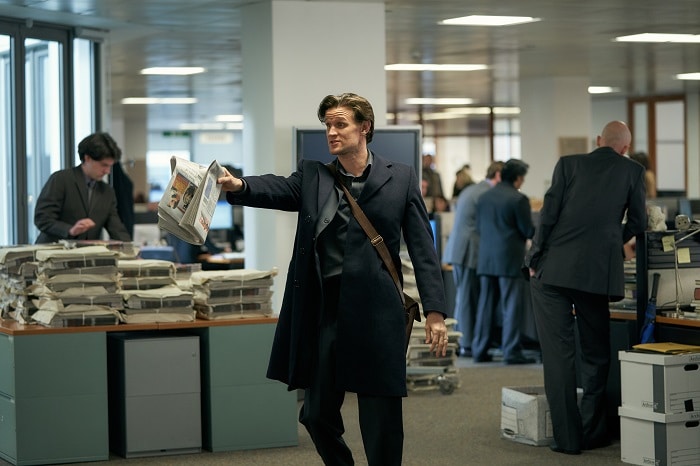 Of course, Official Secrets has a distinct viewpoint, and it's an easy one to take with the benefit of hindsight and knowing that the U.S. found none of then-President George W. Bush's fabled weapons of mass destruction in Iraq. But it's obvious who the heroes of the story are, and it's not the Americans. Still, there's enough truth in the story that even American audiences aren't going to be too offended by the angle.
So, Official Secrets is not as good of a movie as The Post or Spotlight. But for those who are into investigative journalists sticking their necks out, it'll satisfy the hunger just fine. Knightley and Fiennes are both terrific, and Hood's direction keeps even the most routine of scenes brimming with tension. For a movie where no one is getting shot at, Official Secrets is a highly effective little spy thriller.