Synopsis: A cover-up that spanned four U.S. Presidents pushed the country's first female newspaper publisher and a hard-driving editor to join an unprecedented battle between journalist and government.
Release Date: January 12, 2018     MPAA Rating: PG-13
Genre(s): Biography, Drama
Film Review
Production
Whether it's subtle, as in Duel, or more overt, like in Minority Report, director Steven Spielberg has never been afraid to poke the bear. However, his poking is probably never been as obvious as it is in The Post.
Set at the tail end of the Vietnam War, The Post stars Tom Hanks (Bridge of Spies, Sully) as Ben Bradlee, the executive editor of The Washington Post. Rival paper The New York Times scoops The Post on some leaked documents called The Pentagon Papers that prove that the U.S. Government falsified causes and conducts as they relate to the war. The White House sues the Times, preventing publication, and that's when the leak reaches The Post. Knowing that legal action may be taken against them, Ben and Washington Post publisher Kay Graham (Meryl Streep) must decide whether or not to publish the documents, knowing that they may be risking their freedom by doing so.
The screenplay for
The Post
was written by Josh Singer, who also wrote
Spotlight
, and first-time feature writer Liz Hannah. This makes sense, because
The Post
has a very
Spotlight
-esque feel to it, from the newspaper setting to the ensemble cast. For a Steven Spielberg joint, it's very minimalistic and restrained, but that only goes to show how well Spielberg can tell a story without any fluff.
But it's obvious that Spielberg had better reasons for making The Post than to just show off his storytelling abilities. Whether through fortuitous timing or by design, The Post is eerily similar to what is happening in today's America, with the White House trying to dictate what the press can and cannot publish, and the journalists fighting for their First Amendment right to print the news. This is Spielberg making a clear statement, and it's a statement that the Hollywood establishment is going to love, and one that the current White House is going to hate. It takes place in the seventies, but it seems as if it could have been ripped from today's headlines.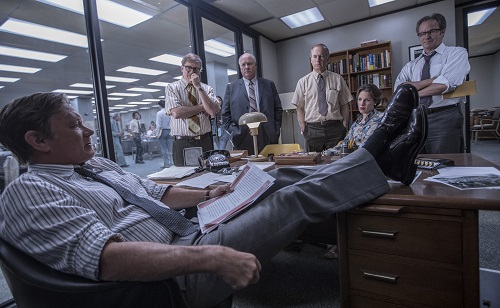 Many of the usual Spielberg accomplices are present in
The Post
, both in front of and behind the camera. Hanks and Spielberg are old cohorts. The Post features a score from John Williams (
Jaws
,
Raiders of the Lost Ark
), cinematography by Janusz Kaminski (
Schindler's List
,
A.I. Artificial Intelligence
), and was edited by Michael Kahn (
Jurassic Park
,
Saving Private Ryan
) and his assistant Sarah Broshar (
Lincoln
,
War Horse
).
The Post
is the Spielberg camp making a tight, economical movie with a higher purpose. And, just as one would expect, Spielberg and company pull it off admirably.
The Post is tense, anxious, and gripping. It's as exciting as a movie about a newspaper staff can be. It's intelligently written, yet it doesn't talk down to its audience. Most importantly, it lets that audience feel the pressure that its protagonists are under, and that's pure Spielberg. Oh, and even though Woodward and Bernstein aren't in The Post, it also serves as a pretty good prequel to All the President's Men, with its epilogue basically setting up the Watergate scandal. It took a different movie, but it would seem as if Ben Bradlee and Kay Graham eventually took care of their White House problem.
Acting
Tom Hanks and Meryl Streep are both terrific in The Post, but that's what audiences expect from a couple of multi-Oscar winning actors. The pleasant surprise in the movie comes from the performances of the supporting cast. Heavyweights like Tracy Letts (Lady Bird), Bradley Whitford (Get Out), Carrie Coon (Gone Girl), and Bruce Greenwood (Gerald's Game) all bring their A games. There's a mini-"Mr. Show" reunion with both Bob Odenkirk ("Better Call Saul") and David Cross ("Arrested Development") showing up as reporters.
And personally, I think it's totally awesome to see the talented-yet-under-the-radar Pat Healy (Compliance, Cheap Thrills) in a Spielberg flick. It may not have quite as accomplished of an ensemble as Spotlight, but the cast in The Post is absolutely top notch.
Cinematography
Janusz Kaminski's cinematography for The Post is remarkable. For such a straightforward movie, Kaminski utilizes a ton of camera motion to add to the story. Sometimes it's slowly shifting, other times it's twisting and spinning, but the photography is very fluid, always developing and focusing in, just like the controversial story that Ben Bradlee and his team are cooking up.
Lighting wise, Kaminski sticks to the neutral toned, bright and backlit look that lets the audience know that the story is taking place in the early seventies. The cinematography is subtle and restrained, and probably not inventive enough to win any awards, but it sure looks great. And at the end of the movie, that's all that matters.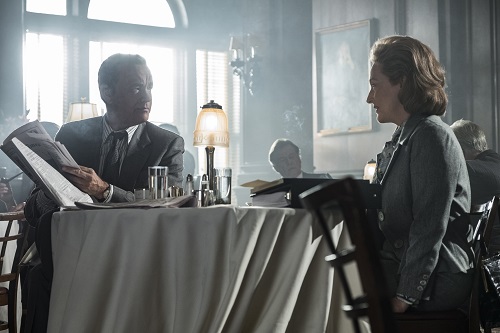 Cast and Crew
Director(s): Steven Spielberg
Producer(s): Kristie Macosko Krieger, Amy Pascal, Steven Spielberg
Screenwriter(s): Liz Hannah, Josh Singer
Cast: Meryl Streep (Kay Graham), Tom Hanks (Ben Bradlee), Sarah Paulson (Tony Bradlee), Bob Odenkirk (Ben Bagdikian), Tracy Letts (Fritz Beebe), Bradley Whitford (Arthur Parsons), Bruce Greenwood (Robert McNamara), Alison Brie (Lally Graham), David Cross (Howard Simons), Jesse Plemons (Roger Clark), Carrie Coon (Meg Greenfield), Pat Healy (Phil Geyelin)
Editor(s): Sarah Broshar
Cinematographer: Janusz Kaminski
Costume Designer: Ann Roth
Casting Director(s): Ellen Lewis
Music Score: John Williams
Country Of Origin: USA