It is nearly impossible to ever pass up a film from Argentina (or partially in this case as Las Malas Intenciones is a combined effort of Argentina, Peru, and Germany). Why? Because they are more times than not excellent. The Bad Intentions keeps up the momentum of Argentinian cinema, and Germany and Peru as well, by delivering quite an interesting look into the mind of a young girl of privilege and her emotional spiraling at the news of having a baby brother.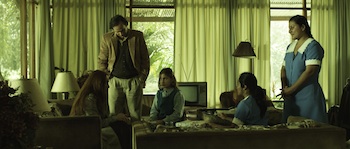 The year is 1982 in Peru. Cayetana (Fatima Buntinx) lives in a spacious home outside the city with caretakers. Her mother, and stepfather, are returning home after a long while away and Cayetana is not interested in seeing either of them. Buntinx makes the most disinterested, annoyed, and ultimately bothered facial expressions–this is an actress who does not need dialogue to convey emotion, it is written all over her face. Now Cayetana is a bit of an odd-ball; some may call her sinister. In reality, she is a child going through a great deal of emotional turmoil and unfortunately the good intentions she should have veer towards the bad.
The first hint that something is a bit amiss with Cateyana is her choice of toys. She is obsessed, to put it lightly, with historical figures from history that were made famous by their heroic deeds on the battlefield. She goes so far as to converse with said hero's, and the script provides an interesting explanation on what it means when a soldier is immortalized as a statue in a certain stance. If they are on their horse they died one way, on foot another–you get the idea. For Cateyana, these explanations do not make all that much sense; she sees things a tad bit differently when it comes to heroism in battle. Especially when one loses the battle. She also plays with dolls, by ripping their heads off. The hinting at disturbia is not so subtle all the time.
The Bad Intentions follows Cateyana over the course of the pregnancy for her mother, and it promises to climax with her own death for she believes that she must die since her brother is to be born. Dark, for sure; humorous coming from a confused and lonely child, definitely. Experiencing time with Cateyana and her twisted mentality is not frightful, or rooted in horror. This is a film about a girl experiencing a great deal of life in a very short time. It is thought provoking, funny, and at times hard to pin down exactly where Director and Screenwriter Rosario García-Montero is planning on going, and just how far she is willing to go with Cateyana.
Amidst the fantastic performance by Fatima Buntinx as Cateyana, the breathtaking cinematography of Rodrigo Pulpeiro (the tracking shots are amazing, the framing impeccable, and such a great hand with focus indeed), and creative writing of Garcia-Montero The Bad Intentions becomes an audacious delight. Cateyana is an intelligent, spirited, overly dramatic, twisted little girl full of curiosity and dark thoughts. It is an absolute pleasure spending time with her, as any viewer of this film will agree.
Synopsis:
Growing up in Lima during the '80s, Cayetana is an only child who spends her days taunting the housekeepers who look after her and communing with her imaginary friends – a host of long-dead Peruvian heroes. What upsets the nine-year-old girl most is not the threat of homegrown terrorism, but rather the news that her wealthy, valium-becalmed mother is going to have another baby. Convinced her sibling's birth will bring about her own demise, she begins to morbidly act out her resentments.
Deftly weaving socio-political themes into a seriocomic coming-of-age story, filmmaker Rosario García-Montero makes her feature debut with this unique film about childhood, family, history and the stories we tell ourselves about all three.
Credits:
(Argentina , Germany , Peru, 2011, 107 mins)
In Spanish with English subtitles
US Premiere
Directed By: Rosario García-Montero
Executive Producers: Monika Weibel, Juan Carlos Belaunde
Producers: Benito Mueller, Wolfgang Mueller, Paul Typaldos
Screenwriter: Rosario García-Montero
Cinematographer: Rodrigo Pulpeiro
Editor: Rosario Suárez
Cast: Fatima Buntinx, Katerina D'Onofrio, Paul Vega, Kani Hart, Melchor Gorrochátegul, Jean Paul Strauss
Music: Patrick Kirst, Rosario García-Montero