Horror movie titles can be confusing, and we're not just talking about the endless sequels, remakes, and movies that are called Don't (insert activity here). There are the completely different movies that share a common name like Stage Fright, Beneath, or The Boy. There are the very similarly titled movies that are often mistaken for each other, such as Trick or Treats, Trick or Treat, and Trick 'r Treat. It only adds to the quagmire when the same director makes two different movies with titles that are very much alike, such as what writer/director Kevin S. Tenney (Night of the Demons) did when he followed up his 1986 classic Witchboard with his 1989 offering Witchtrap.
Witchtrap is about a man named Devon Lauder (played by Tenney himself) who inherits a house from his dead Uncle Avery Lauter. The stipulations of the will state that the house cannot be sold, nor can it be torn down, so Devon has the idea to turn it into an inn. Unfortunately, Avery Lauter was both a witch and a suspected serial killer, and the house has earned the nickname "Slaughter House" (get it? Lauter House, Slaughter House?), because it is, of course, haunted.
To cleanse the house of evil spirits, Devon hires a paranormal researcher named Agnes Goldberg (Judy Tatum from Witchboard) whose team consists of a mental medium (and also her husband) named Felix (Perfect People's Rob Zapple), a renowned physical medium named Whitney O'Shay (Night Visitor's Kathleen Bailey), and a cute blonde video technician named Ginger Kowowski (legendary scream queen Linnea Quigley from Hollywood Chainsaw Hookers and Sorority Babes in the Slimeball Bowl-O-Rama). To keep them safe, Devon also sends along a team of armed security guards which includes a detective named Murphy (Peacemaker's Jack W. Thompson) and his henchmen, Tony Vicente (James W. Quinn, also from Witchboard) and Levi Jackson (Clyde Talley II, also from Peacemaker). But, when the team starts trying to contact the malicious spirit of Avery Lauter, all of the gun-toting goons in the world won't save them from his evil wrath.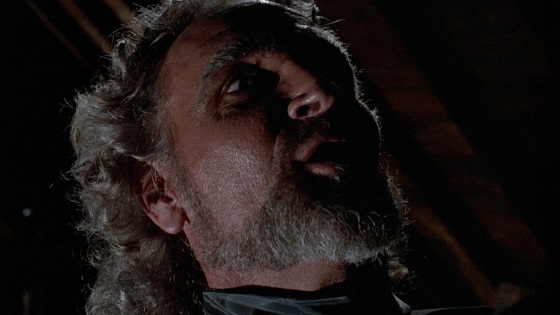 Witchtrap was written in six days and shot in seventeen days, with Tenney using many of his usual cast and crew in order to economize and streamline the production as much as possible. The speediness of the work is evident in the finished product; Witchtrap looks like a quick and cheap movie, with all of the clichéd situations and brainless dialogue that comes with the territory. It does rehash quite a bit of the plot and a handful of the gimmicks of Witchboard, but that's how Tenney was able to make it so fast and easy. It's almost as if he'd done it before.
There are plenty of similarities between the two movies, and not just in the storyline. Tenney used quite a few of the same cast members, including J.P. Luebsen, who plays both Avery Lauter in Witchtrap and Malfeitor in Witchboard – that's right, the two pictures essentially have the same antagonist. The films also share a similar photographic style, with lots of supernatural point of view shots and plenty of creepy looking bits of spirit photography. Also, as he's done with just about all of his movies, Kevin S. Tenney tapped his brother, Dennis Michael Tenney (who also scored Leprechaun 3 and Leprechaun 4: In Space for those keeping track at home), to compose the score to Witchtrap, so it's got the same combination of eerie synthesizer layers mixed with ambitious cinematic swells.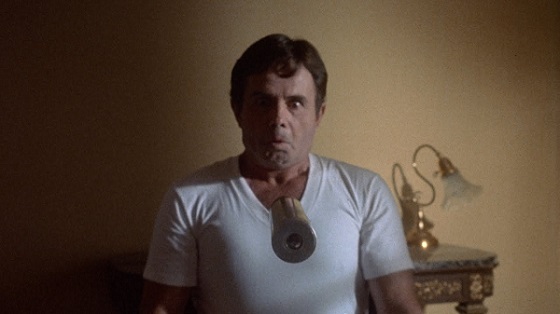 The kills in Witchtrap, however, are more inventive, and therefore more fun, than those in Witchboard. There's a little bit of everything in there; there's a The Matrix-style bullet scene, a Scanners-esque head explosion, even a Raiders of the Lost Ark kind of a face melting gag. Linnea Quigley's Ginger has the coolest death (that's not a spoiler, Quigley's a scream queen, she lives for dying). Her kill scene in Witchtrap rivals her deer's head antler impalement scene in Silent Night, Deadly Night – without giving anything away, let's just say that it may be the second best shower scene in the history of horror (interestingly enough, Tawny Kitaen's possessed bathroom in Witchboard may be the third).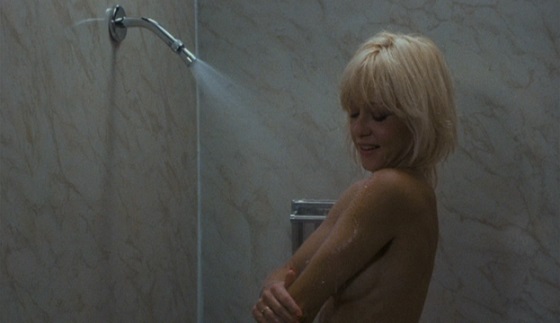 There's a theory bouncing around the internet that, with Witchtrap, Tenney was actually trying to satirize both himself and Witchboard. Indeed, there were plenty of chances for the filmmaker to avoid the title confusion – the working title for Witchtrap was The Haunted, and the film has also gone by the title of The Presence. The back of the VHS cover even emphatically states that Witchtrap is "Not a sequel to Witchboard" (that would come a few years later, in 1993). But even Tenney would probably admit that, while not a sequel to Witchboard, Witchtrap is, at the very least, a spiritual soulmate to his earlier, more popular film.