Eric Bana once played the Hulk, in the forgettable 2003 film Hulk, directed by Life Of Pi's Ang Lee.   Charlie Hunnam currently stars as Jax Teller on the hugely popular television show "Sons of Anarchy," and Olivia Wilde is on her way to becoming box office poison with the lack of success her last starring role films have had, namely Tron: Legacy, The Words, and The Change-Up.  Kate Mara (10 Years), well, she is someone you always wished had a better agent, but she never seems to get one.  Throw in Sissy Spacek, Treat Williams, and Kris Kristofferson for good measure, or because you can given their schedules are quite free these days, and you have the surprisingly talented cast of Deadfall.
Deadfall is one of many films that has been released On Demand prior to its theatrical run. To Deadfall's credit, as not getting a full theatrical release may make one weary on the quality of the picture, it is in fact an enjoyable thriller.  Sure, it's formulaic, and takes liberties with reality but overall its not terrible, it just won't make any sort of ripple or a lasting impression for the viewer.  But this is the type of movie you want to see on occasion.  A thriller that is not overblown with special effects or crazy scenarios.  It is a simple film, and belongs in a time when movies could be solely made for an audiences enjoyment.  Deadfall is a movie for a lazy afternoon, or evening in, with well-crafted performances all around and just enough suspense, twisted character histories, and action sequences to keep you entertained.  Charlie Hunnam and Eric Bana's faces don't hurt either to look at, or the nearly nude scenes with Hunnam and Wilde–if that's your thing.
The story takes place in no-mans-land Michigan, where a blizzard is headed into town.  Jay (Charlie Hunnam) has just been released from prison after being indicted over a boxing match fix.  He is headed home for Thanksgiving, if only to pick up the keys to his cabin because he and his father Chet (Kris Kristofferson) are not on good terms.  His mother June (Sissy Spacek) is more than happy to welcome him home, hoping to finally put family angst aside.  The family reunion is not going to happen as planned because Addison (Eric Bana) and his sister Liza (Olivia Wilde) have just robbed the local Indian Casino and are on the run in the blizzard because as luck would have it their car was in an accident–you can't trust animals to stay out of the road as they should.  Addison and Liza split up to keep the authorities off their trail and plan to meet across the border in Canada.  Addison takes the dangerous route, killing at will to protect himself while also playing at being the "good" guy on occasion, but always with his own benefit in mind.  Liza, using her looks and dow eyes, manages to snag a ride with Jay.  It is when the roads close and they are left to spend the night together at a bar/motel that their relationship changes from merely a man helping a woman in need to both of them discovering the other has in fact what they need.  Mingled of course with confessions over troubled childhoods and prison stints.  The formula works, as the Sheriff's are on the hunt for Addison, leading to chases through the snow on none other than snowmobiles, and plenty of gunfire to keep you interested.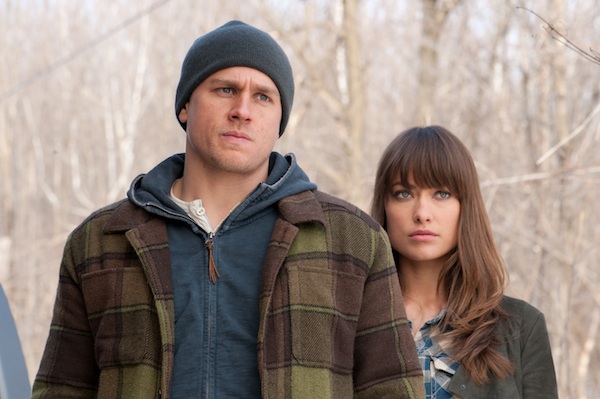 The finale plays out just as you expect, because everything has led up to it perfectly; fitting together in the neat little box that is Deadfall.  It is tense and suspenseful; people will die, others will bleed, and some will make it out alive.  But the film does not end on a note of closure; far from it actually.  While the main storyline regarding Addison is brought to a close the future of Jay and Liza is left open ended.  It makes for an ambiguous ending that happily breaks the formula for a small second, unless you examine it a little more closely based on one line that is spoken and then you can kind of discern what the future holds for them.  It is imperative that Deadfall not be confused with the Michael Caine starring Deadfall from 1968 featuring a jewelry heist that Roger Ebert commented, "the film should have either been about the burglary or about romantic intrigues, not about both," and the same could be said about the 2012 Deadfall.  It is not a remake of the 1968 film, even if they share similarities, but their downfalls are in line with one another.  Deadfall is entirely too focused on not being a movie about a casino robbery that it forgets to delve into the motivations of its characters from the heist standpoint.  Who are the crooks, and what is their endgame?  Crossing the border for a better life isn't enough, we want to know more, and while Deadfall does divulge past traumas for Addison and Liza it doesn't offer anything more as a reason for their devious lifestyle.  They also seem to be amateurs, being that they are unprepared for the cold and wintery weather they find themselves stranded in after their car breaks down.  Deadfall does leave a great deal of missed opportunities in its storyline, and tries to salvage it by adding familial strife, in the form of sexism in the workplace, with Kate Mara's Hanna and her father the Sheriff (Treat Williams).  An added B-story that is more infuriating for existing than interesting.  Eric Bana's Addison is the real engrossing figure in Deadfall, and the desire to know more about his immoral background ever present, if unfulfilled.
The Video On Demand pre-theatrical market continues to expand to include films that are worthy of the rental fee, and an evening on the couch with a bag of popcorn, and Deadfall is not a poor choice to make.