Film noir is a term coined by French critics writing in the Cahiers du cinéma to describe the distinctly dark films coming out of America during World War II; they noticed decidedly different shifts in tone from American Studio films of the 1930's. Film noirs were characterized by their pessimistic and cynical portrayal of people and society and their sombre style. Unlike the usual happy endings in American movies, these noirs often ended in defeat, with ordinary protagonists drawn astray by temptation and violence.
A hallmark of film noirs is the frequent use of non-linear time sequences, sometimes resorting to flashbacks within flashbacks. This jumbled presentation of time, however, supports the characterization of often spectacularly complex and deceitful protagonists. Noir films are deliberately convoluted, as the motivation and character of noir figures are typically oblique and misleading. The resulting film is a confusing jumble of events that serves to mirror within its structure the instability of the noir world. Voice-over narration frequently acts as an anchor in such unstable films (Sunset Boulevard, The Postman Always Rings Twice). In worlds where money and love end in disaster, disillusionment is central to the film noir psyche.
The Five Best Film Noir Movies That Are Emblematic Of The Genre
5.  Sunset Boulevard (Dir. Billy Wilder 1950)
As is common in director Billy Wilder's film noirs, Sunset Boulevard features a frame narration and a story told through flashbacks. However, Sunset Boulevard takes one step further outside the lines previously drawn by Wilder to have the main character Joe Gillis, played by William Holden, already dead and floating in a swimming pool at the beginning of the film. Gillis is a struggling screenwriter who is so desperate for money that he agrees to work for the forgotten silent film star, Norma Desmond (Gloria Swanson).
He ultimately becomes a kept man, stroking the ego of this fallen star in her attempts at a comeback. It is only when he realizes that he may be in too deep that he attempts to free himself from Norma's grip. Stylistically, Sunset Boulevard takes place in decaying, cavernous spaces, such as Norma's once-grand mansion, as well as the sunny streets of Hollywood, rather than the grim, cramped apartments and shadows typical of most noirs. This lends more emotional and psychological weight to Norma's manipulation of Gillis, as Gillis willingly resigns himself to the rotting world of Norma Desmond's remembered glory instead of retaining his dignity as a writer, albeit unemployed.
Sunset Boulevard is a cynical portrayal of the golden age of Hollywood, but its thoroughly dark material is cleverly offset by Wilder's black humor. The film ultimately asks the question: were the good old days really that good? In this sense, the film provides a commentary on the fate of stars past their prime. Norma's demise is merely an amalgamation of golden age stars waning fame after the spotlight turns to someone new.
4.  Laura (Dir. Otto Preminger 1944)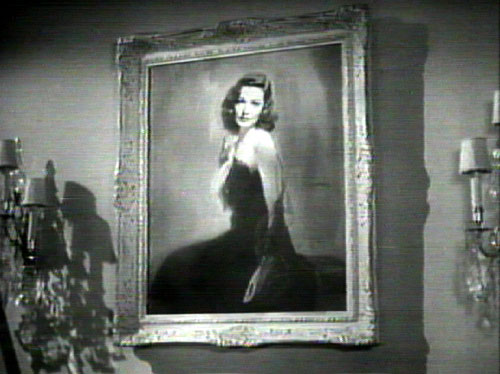 Otto Preminger's Laura is a film noir of deadly obsession. It follows detective Mark McPherson (Dana Andrews) as he investigates the horrific murder of advertising executive Laura Hunt (Gene Tierney). As McPherson gathers evidence from newspaper columnist Waldo Lydecker, who started Laura's career, and Laura's fiancé, Shelby Carpenter (Vincent Price), he becomes obsessed with the dead woman and is accused of falling in love with her.
After accidentally falling asleep in Laura's apartment (conveniently below her enormous portrait), she arrives home from the country, very much alive. McPherson's case is surprisingly thrown for a loop. Laura may not be dead, but someone was shot in her home and the murderer is still at large. With its complex plot and impressive cinematography, Preminger's film has earned universal praise. Its leisurely pace only serves to heighten tension and suspense once it is revealed that Laura lives.
This intensity only builds as the film delves into the characters' neuroses and motivations in the hunt for the killer. Laura leaves viewers contemplating the bizarre allure and charm that the haunting Laura commands.
3.  Double Indemnity (Dir. Billy Wilder 1944)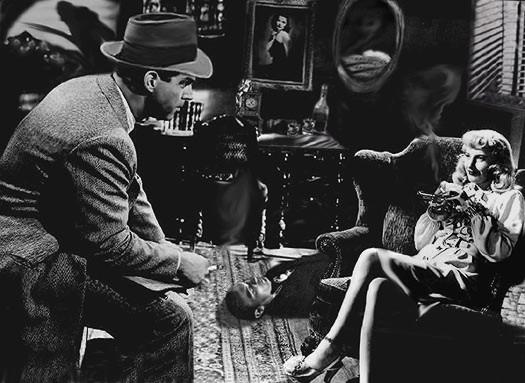 Billy Wilder's Double Indemnity is told completely in flashbacks, opening with insurance salesman Walter Neff (Fred MacMurray) breaking into his office in L.A. to recite his grim story into a dictaphone. Walter has suffered a bullet wound and is slowly dying, and through his narration, he reveals a gripping story of deception and betrayal that began during his affair with the married Phyllis Dietrichson (Barbara Stanwyck)–a housewife who wishes her husband were dead. Walter is a victim of fate, unable to escape temptation as his infatuation with the deceitful Mrs. Dietrichson leads him to obsessiveness, irrationality, and violence.
Stanwyck is the ultimate film noir femme fatale in her role as Phyllis Dietrichson and she convinces Walter to aid her in killing her husband in order to collect on his life insurance. They carry out his murder, contrived to look like an accident on a train, but the police soon track down Walter who then believes he was somehow betrayed. The look of the film was achieved by cinematographer John Seitz who, with Wilder, employed dramatic shadows in an attempt to evoke German expressionism. Interiors were also purposefully trashed with ashtrays turned over to heighten their foul look.
This gloomy interior atmosphere contrasted well with the bright exteriors of sunny California. There is little at fault in Wilder's film, but one glaring mistake is Stanwyck's wig. The obviously fake wig has since become infamous, with Wilder himself admitting that the mistake was caught too late in production to make a change. Even with the phony wig, Wilder's brilliant use of the femme fatale archetype and masterful plot twists have inspired countless film noirs.
2.  Out of the Past (Dir Jacques Tourneur 1947)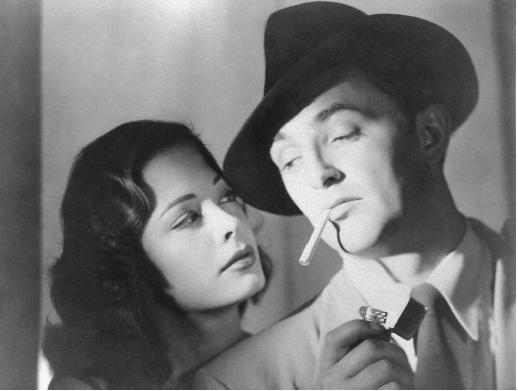 The chilling film noir Out of the Past is a perfect example of the genre, with its convoluted storyline, dark cinematography, and classic femme fatale. Jeff Bailey/Markham (Robert Mitchum) narrates most of the film, as he tells the story of his dark past to his current girlfriend, Ann (Virginia Huston), while on the road to meet with his former employer, gangland boss Whit Sterling (Kirk Douglas). Whit had previously hired Jeff, then a private detective, to find his mistress Kathie after she shot him and stole forty-thousand dollars.
As Jeff tells Ann, he found Kathie but began an affair with her and they ran away to San Francisco. They lived happily enough until one terrible murder caused Jeff to leave. When he meets Whit again, Kathie is surprisingly by his side. Whit offers Jeff a new job, as a sign of his forgiveness, and Jeff can no longer run from his past. With its intermittent flashbacks, Out of the Past reads like a series of incomplete recollections of a man's life.
Director Jacques Tourneur makes expert use of juxtaposition throughout the film, with the idyllic first shots of Jeff with Ann by a lake in the Sierras followed by the murky shadows surrounding Jeff and Whit in their subtly standoffish first meeting. Similarly, the juxtaposition of the loving Kathie of Jeff's past and the cold, secretive woman of the present is striking, transmitting Jeff's confusion to the audience. A moral tale, Out of the Past leaves the audience to decide whether Jeff's actions in the film's final scenes are unavoidable.
1.  The Big Sleep (Dir. Howard Hawks  1946)
Howard Hawks has been called "the most talented American picture maker" by none other than Orson Welles himself. A comedy genius, Hawks manages to meld comedy with an incomprehensible murder mystery in The Big Sleep. Based on Raymond Chandler's novel and adapted for the screen by William Faulkner, among others, the film follows private detective Philip Marlowe (Humphrey Bogart) as he uncovers blackmail, gambling debts, and murder on behalf of his clients, the Sternwoods. Characters in The Big Sleep are confined to only a few settings – the Sternwood residence, Eddie Mars' casino, and Arthur G. Geiger's home – enhancing the gravity of each movement and decision they make.
In effect, Marlowe uncovers much of the mystery surrounding the Sternwoods within Geiger's tiny, dark home amidst kitschy Chinese decorations and idols.  The complicated plot of The Big Sleep is rumored to have stumped Hawks and even Chandler himself, who reportedly could not identify exactly who killed the Sternwoods' chauffeur, just one of many murders Marlowe investigates.
The darker side of The Big Sleep is only alluded to, as per the Hollywood Production Code, and it may make it difficult for audiences to understand that the gambler Arthur G. Geiger is involved in an underground pornography ring and blackmailing the youngest Sternwood daughter, Carmen (Martha Vickers), for her nude pictures. All that is discussed in the film are images of Carmen wearing a "Chinese dress."  That plotline was cut down even further to prevent Vickers from overshadowing Lauren Bacall in her role as Vivian Sternwood.
This film was only the second collaboration of Bogart and Bacall and the first since their marriage in 1945. They would go on to make two more films, but The Big Sleep contains some of the greatest sexual chemistry captured on film between the two. Whether or not the story makes sense, The Big Sleep is an undeniable classic of the film noir genre.
There you have it, the five best, must-see film noir movies to get a grasp of the genre and phenomenal work of film noir directors.