There are horror movies geared towards children, like Paperhouse or Something Wicked This Way Comes, and there are horror movies that only adults should see, such as The Human Centipede or Irreversible.  But tucked in the middle are the movies for "tweeners," the (usually) PG-13 flicks that are too intense for little ones, but tame by adult standards, movies like Scream for Help or The Gate.  Lisa is one of these tweener movies.
Lisa stars Staci Keanan ("My Two Dads") as Lisa Holland, a fourteen-year-old girl who goes to Catholic school and lives under the watchful eye of her loving-yet-overprotective mother, Katherine (Cheryl Ladd from "Charlie's Angels" and Satan's School for Girls).  Lisa and her best friend, Wendy (Tanya Fenmore from Twilight Zone: The Movie), spend their days pretending that the men that they see on the streets are their boyfriends, even going so far as to steal polaroid photographs with them and to slyly convince the DMV to give them their phone numbers based off of their license plates.  Lisa's newest "crush" is a handsome restaurant manager named Richard (Falling Down's D.W. Moffett), with whom the underage girl starts up an anonymously flirtatious phone relationship.  Lisa doesn't realize that Richard is The Candlelight Killer, a serial murderer who has been stalking the city.  And he's planning for Lisa to be his next victim.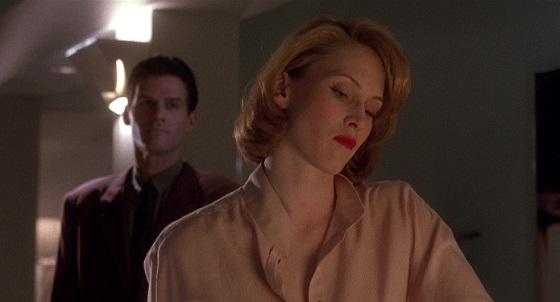 Director Gary Sherman (Dead & Buried, Poltergeist III) teamed up with cowriter Karen Clark (The Uninvited) to come up with Lisa.  The screenplay is a creepy cautionary tale about not talking to strangers and listening to your mother.  It could be just as applicable to the internet generation of today.  Hell, with how sneaky and tech-savvy today's teens are, the heroine probably wouldn't even need to con any DMV workers to get phone numbers.  Everything is a google search away.  Moving the anonymous caller concept to the internet would make more sense, anyway, since even when Lisa was made in 1989, Caller ID and Star-69 were on the horizon.  It kind of makes horror fans wonder if a modern remake of Lisa with updated technologies would be even more effective than the original.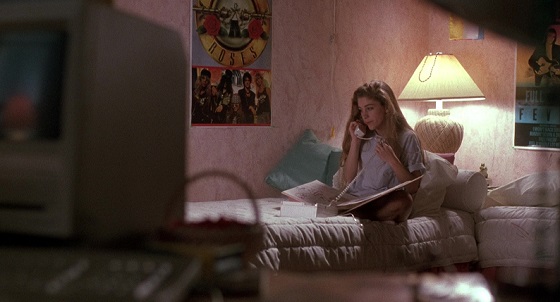 What makes Lisa so accessible to its target teen audience is its likeable lead character.  Staci Keanan's Lisa is a very relatable final girl.  Her clashes with her well-meaning mother will look familiar to anyone who has gone through the awkward high school years (and mom will be the relatable character to those who have kids of their own).  The slumber party prank phone call hijinks that Lisa and Wendy perform are the kinds of shenanigans that most teens have pulled at one time or another, but Lisa's impatience to grow up coupled with her poor judgement gets her into hot water.  Of course, there's no way for her to know that the man whom she is calling is a serial killer.  But, as moms everywhere have told their daughters, every man everywhere can be a serial killer, so trust no one.
For what is essentially a toned-down stalk-and-slash flick, Lisa is very well shot.  Cinematographer Alex Nepomniaschy (Never Been Kissed, The Education of Charlie Banks) uses light and color to distinguish between good and evil in a way that's a bit subtler than a classic western, but not by much.  Lisa and her mother are generally photographed with bright lighting, whether it's daylight or some other source of natural indoor light.  The Holland gals are also mostly dressed in soft, light colors that accentuate their lovely blond hair.  Richard, on the other hand, is usually shown in dimly lit rooms or out in the dead of night, often in a black tuxedo and wearing dark sunglasses, his image cut by horizontal blind shadows and clouded by cigarette smoke.  It's a simple trick, but Nepomniaschy uses his color palette to great effect in Lisa.
The score for Lisa, written by composer Joe Renzetti (Child's Play, Frankenhooker), is a schlocky good time.  Although the film has some typical cinematic music and spacy synth cues, the real fun is when Renzetti plays around with traditional orchestrations.  Scenes in which Richard is being seductive are accompanied by sultry, sexy saxophone wailing.  The suspenseful segments feature a screaming, dissonant electric guitar.  The music all sounds like a cross between new age jazz and power ballad hard rock, with the soundtrack being rounded out by some blues standards from the likes of Bo Diddley and Lightnin' Hopkins, because of course Richard listens to the blues.  Musically, Lisa sounds older and more refined than it looks, which fits the "differing age" morale of the story nicely.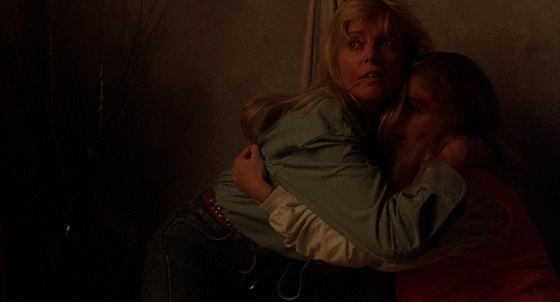 For the most part, Lisa is considered a lost gem of a movie, as it is not quite scary enough to appease the hardcore horror fans, but may be too intense to appeal to the typical teenage moviegoer.  It is remembered fondly by those who saw it at a particular time in their lives, though, so, like Gary Sherman's other films, it's probably destined to become a cult classic in a few years or so.