The classic novel "Madame Bovary" by Gustave Flaubert has been adapted for the stage and screen on numerous occasions, the latest for the screen being director Sophie Barthes' with screenwriter Felipe Marino. Madame Bovary is the story of a young woman who marries a country doctor only to discover the life she has been given is far from what she desires. The simpleness of country life does not suit Madame Bovary, and in order to gain fulfillment she looks elsewhere—in the beds of multiple men and in the all too inviting local merchant who tempts her with the splendors of the wealthy, regardless of cost and future detriment.
Barthes (Cold Souls, Happiness) is no stranger to dark drama, based on her previous filmic offerings. She takes a subtle approach with Madame Bovary, never enacting too much dramatic flare or allowing the actors to stand-out in a scene. That hinders Madame Bovary from being more than small scale in terms of a period adaptation. The sets are simple, the locations small and claustrophobic, the area without enchantment or the natural beauty of the French countryside enhanced upon. Madame Bovary keeps the viewer encapsulated in the simple country life that its main character is suffocating within, and the choice makes complete sense. Madame Bovary (Stoker's Mia Wasikowska) desires that which she cannot have, and as a viewer you desire to break free just as much. The hauntingly melodramatic piano-heavy score only assists in the unsettling misery that is Madame Bovary's life.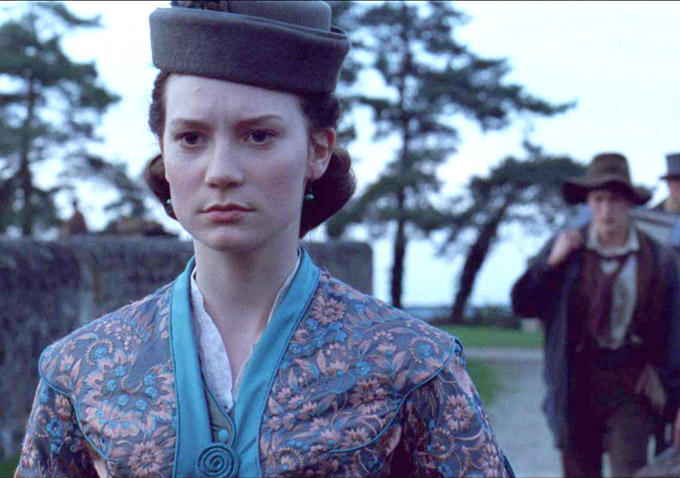 Madame Bovary is not a woman to admire or emphasize with, though. Her nearly immediate dismissal of her good-natured husband Charles (Henry Lloyd-Hughes from Anna Karenina) assures that all she does afterwards will be looked upon with detest by the viewer. There is no pity to be felt for Madame Bovary, as the local priest states, she has "fire, food, a husband"—that is all one should need. And indeed, they are the basic necessities of life at the time, and yet she cannot accept as much. She wants to go to Paris, or a similarly big city full of the finer things, and her husband obliges her as much on occasion. That is not enough. She wants to buy the nicest silks, clothing, rugs and furnishings, which she does behind her husband's back full well knowing he cannot afford to pay the bill. She is selfish, self-loathing, and altogether unlikable. How then is one to like Madame Bovary?
You don't, and that is part of the difficulty in watching the film. There is nothing redeeming about any of the characters, nor one to root for, so to speak. The entire production is bland and lifeless, and Wasikowska plays the unlikeable Madame Bovary with all of the feeling of a miserable woman without any real inclination on how to live a fulfilling life. Wasikowska's performance is dry and standoffish, her plain delicate features constantly set in a look of discomfort. She has in Madame Bovary perfected the angsty pouty unhappy face. There is nothing alluring about her and that makes it very difficult to believe she is to be considered desirable. It is without great shock then that the men she involves herself with in affairs choose to have nothing to do with her before long, especially as she becomes needy and desperate. Wasikowska would have been better served to charm, to deliver a line on occasion that made her eyes light up with pleasure instead of consistently looking like a lost puppy searching for someone to rescue her and place her in a guided kennel. One must consider whether the character written by Flaubert was altogether different, and whether she enacted a different feeling in the reader of the novel. She did, albeit without the added benefit, or detriment so it may be of actually peering into her cold selfish eyes.
The other characters play mercifully along with Wasikowska's Madame Bovary, showing certain signs of life she neglects. Leon Dupuis (The Perks of Being a Wallflower's Ezra Miller), is a young man who appreciates music, travel, and societal charm, in ways Madame Bovary can only dream. His excitement over life is very child-like, and the manner in which he constantly creeps around the room or stares too callously like an animal searching for prey takes away from the sensualness he is meant to display. Quite the opposite is The Marquis, played by Logan Marshall-Green (Prometheus). Here is a man to desire and tempt oneself with, no matter the consequences. When he looks at Madame Bovary you understand how she could want to leave what she has behind, break convention, and ruin herself, for a man such as him. The coldness that comes with such actions on his part only magnify the emotions one feels towards him—he is, essentially, the perfect lover to hate.
The most interesting and full of life character is found in the merchant peddler Monsieur Lheureux (Anonymous' Rhys Ifans). The temptations he offers by way of goods and the manner in which he convincingly manipulates Madame Bovary's deepest desires with a sly smile are altogether fun to watch. When his temperament changes from the smiling snake to one ready to take a bite he is full of a poison that jumps off the screen. His final words to Madame Bovary are given with such admonishment that your skin crawls. The role may appear to be small but in the world of Madame Bovary all of the adultery and brooding are merely cast to the shadows in favor of scenes where Lheureux makes an appearance.
For those who do not know the ending of Madame Bovary there is a desperateness while watching the film to witness how this woman's path shall end. To say she finds ruin is not to spoil anything, as any woman in this time period who acts as she does is sure to have an unpleasant ending. In the case of Barthes' Madame Bovary, the climactic ruining of Madame Bovary comes with the most flair of the entire film. Wasikowska appears to wake up suddenly from her haze and inflict life into the character, finally. Her desperation is clear, and the fact that she has lost everything quite obvious—to the viewer and the character. The final moments of the film actually breathe life into the story, after numerous occasions where it was overlooked and disregarded. Then it ends, with a mere whimper of a finish, and the woman Madame Bovary remains weak and immature.
The latest adaptation of Madame Bovary is unlikely to be remembered or admired for much, but it can be said to remind the viewer of the modern societal problem that continues to lurk behind doorways and within relationships. The feelings of inadequacy and unhappiness a woman or man may feel and the use of rampant consumerism to try and mend what cannot be fixed with the latest fashion. The use of another person to try and make yourself happy, only to have the entire affair fail miserably and you left even worse off than before. The list could go on and on as to how Madame Bovary is still very relevant today on a deeper thematic level. Perhaps that is the allure of the story, as no matter how many times it plays out before you, and regardless of how it may disappoint, in the end it remains a tragic portrait that you cannot manage to look away from.