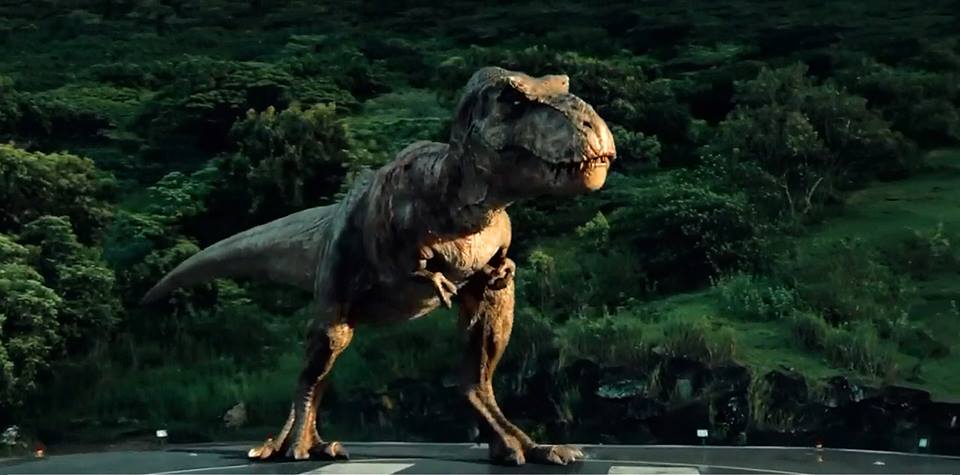 Jurassic Park movies always deliver when it comes to dinosaurs; here are the seven scariest dinosaurs in the franchise.
Jurassic Park may be 25 years old but Tyrannosaurus rex still looks fantastic, teeth and all. That's one reason why he made this scariest dinosaurs list.
The mere mention of dinosaurs in movies brings one franchise to mind: Jurassic Park. In 1993, childhood dinosaur dreams were brought to life with Director Steven Spielberg's film adaptation of Michael Crichton's novel, rousing awe and terror. Twenty-five years later, Jurassic Park is still revered for its amazing combination of practical and visual effects, continuously putting FX-heavy films to shame. And for featuring more than one of the scariest dinosaurs in movies.
The sequels don't hold the greatness of the original's "spare no expense" mentality, but they all provoke fear of prehistoric beasts that, should they exist today, would make humanity quiver in the face of its own extinction.
Jurassic Park celebrated its 25th anniversary in 2018, and while Jurassic World: Fallen Kingdom failed to impress or introduce a dinosaur worth remembering to Jurassic Park movie lore, we can still appreciate what came before. Let's take a look at the seven scariest dinosaurs ever to appear in Jurassic Park (and Jurassic World) movies that should make you run for your life.
7 Scariest Dinosaurs in Jurassic Park Movies
In Jurassic World, genetically modified Indominus rex could have been a great deal scarier. It is after all part Tyrannosaurus rex and Velociraptor — a deadly mixture to imagine, let alone see in the flesh. That's why Indominus rex makes the list: for its imaginative properties.
It's the perfect predator and the mere idea of it existing is terrifying. It's also an exemplary example of how mankind is capable of manufacturing its own demise in the quest for power, or profit. And as we've learned in Jurassic Park movies, there's always another embryo. We should all fear a potential return of Indominus rex, and its determination to prove just how destructive it can be.
Spine-chilling dinosaur nightmares usually involve a large carnivore chasing after you, desiring a snack. Consider this: A hoard of the tiniest dinosaurs on record stalking you, waiting to pounce. That's how Compsognathus toys with its prey in Jurassic Park movies. You may only see one at first, and it looks too small to do any major damage. Then its friends come out to play.
Compsognathus in The Lost World is considered a scavenger and no match for the much bigger human. Tell that to the little girl they attack on the beach — after she so kindly shared food with them! Her fate wasn't as bad as dino-tormenter Dieter Stark. He deserved to be hunted through the jungle, pounced upon and nibbled to death by dozens of Compsognathus'.
The lesson here: Thinking size matters in Jurassic Park is foolish. Little dinosaurs can be just as deadly as their larger brethren. That's why they make the list of the scariest dinosaurs in Jurassic Park history.
Those teeth! That tongue! Jurassic World paid a bit of homage to Jaws with Mosasaurus, a carnivorous, aquatic dinosaur that weighs up to five tons and is up to 60 feet long. The iconic warning to not go in the water reaches new depths after you get a glimpse of its massive snout taking a bite out of a shark. The Mosasaurus' confinement to a tank may appear to diminish its scare factor. Indominus rex begs to differ.
If Mosasaurus is hungry, it will venture on land for an available feast. And with its ability to jump out of the water, there is no safe location — assistant Zara and a Pteranodon learned that the hard way. You know the iconic saying: "Life Finds a Way." Mosasaurus will make you reconsider your Central America beach holiday, especially after Jurassic World: Fallen Kingdom's gate malfunction.

When Dilophosaurus appeared in Jurassic Park, it made a cutesy tweet-like noise. It was inquisitive, yet the striking resemblance to an evil Gremlin made you trepidatious. Dilophosaurus showed its true colors to Dennis Nedry when its massive red and green frill expanded, razor-sharp teeth came into view and a thick, black venom that causes blindness and paralysis spewed from its mouth.
If that's not enough to convince you this dinosaur is one of the scariest dinosaurs in Jurassic Park movies, consider how its hologram freaked out a Velociraptor in Jurassic World. Point made. Dilophosaurus is to be feared.
At the end of Jurassic Park, there were many unanswered questions. Such as, where were the flying dinosaurs? The brief tease at the end of The Lost World only made it worse that characters hadn't been threatened (yet) in Jurassic Park movies by an imposing wingspan, scary-strong grasping talons, and not-to-mess-with teeth.
That changed with Jurassic Park III — in horrific fashion. It wasn't the Pterodactyls capacity to swoop up an adult human or the razor-sharp end of their beaks that was solely frightening, but the awareness of prey in their midst. When a Pterodactyl turns its head to stare down Dr. Grant, your body shudders with terror. Then, like a scene out of Alfred Hitchcock's The Birds, Jurassic World brought the full force of Pterosaurs and Pteranodons down upon unsuspecting tourists in a beautiful — PG-13 appropriate — spectacle of carnage.
Now cage-free, the panic sets in because they could reach the mainland, making humankind's ultimate dystopian future involve living in an impenetrable cage.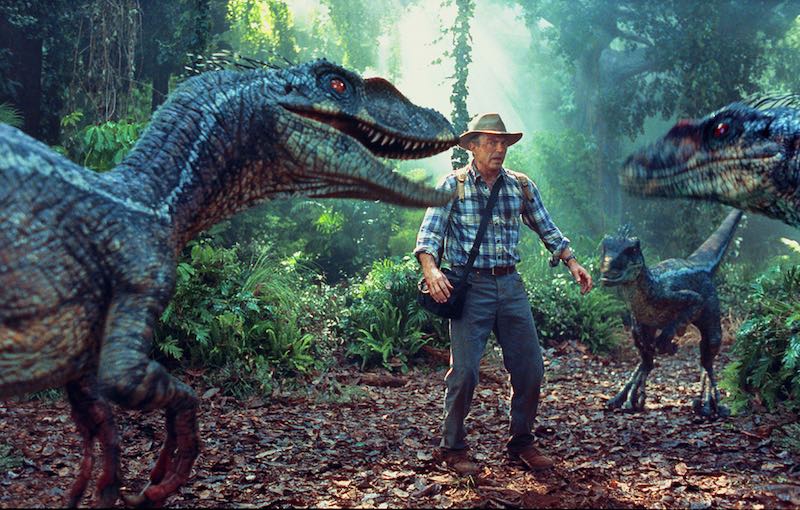 There have been many iterations of Velociraptors in Jurassic Park movies. They're all frightening. Their speed and the imposing claw of their middle toe are scary, but their high intelligence level and ability to communicate with each other to coordinate merciless attacks evokes pure terror. They can even open doors!
Dr. Grant upped the fear factor with his announcement that, if a cataclysmic event had not wiped out dinosaurs, Velociraptors would be the planet's dominant species. Every Jurassic Park film has highlighted the superiority of Velociraptors because the devastation they could cause to present-day Earth is indescribable. They make the list of scariest dinosaurs in Jurassic Park movies because, above all else, in the survival of the fittest game, they'd win.
It doesn't matter how many dinosaurs get cooked up in the Jurassic Park nursery, Tyrannosaurus rex will always be the most frightening. Practical-effects maestro Stan Winston is to thank for making Tyrannosaurus rex in Jurassic Park nightmare-inducing and beyond realistic because it was an animatronic. Its roar still makes you quake in your seat.
Tyrannosaurus rex's grand appearance in Jurassic Park — in the dark, rain pounding against its scale-filled body — is unforgettable. When its sharp-teeth filled mouth breaks through the jeep's moonroof, roaring desperately to devour the kids … your heart freezes and shivers run up your spine.
And when in pursuit of a jeep filled with tasty morsels, the warning that objects in your rearview mirror may appear closer than they are never made more sense. The sheer size of the Tyrannosaurus rex weakens your knees, even when it's playing hero (an interesting twist in Jurassic Park sequels). Friend or foe, ruler of the land Tyrannosaurus rex gets your blood pumping with excitement and fear flows through your veins, while waiting to see its jaws claim a new victim. He is the ultimate scary dinosaur found in Jurassic Park movies.
The Great Dino Disappointment In Jurassic Park Movies
Sadly, Jurassic World: Fallen Kingdom didn't feature a dinosaur to rival any on this list. The hybrid Indoraptor, featuring a genetic mix of the Indominus rex and Velociraptors, may have been more than 10-feet tall and feature a whip-smart brain but it never appeared terrifying. It was a big upset for Jurassic Park movie lovers, but perhaps Jurassic World 3 will deliver.
Until then, rewatch every Jurassic Park movie to enjoy the dino effects and see what dinosaur you find to be the scariest dinosaur in Jurassic Park history. After all, dinosaurs will be free in Jurassic Park 3 and your nightmares capable of coming to life.