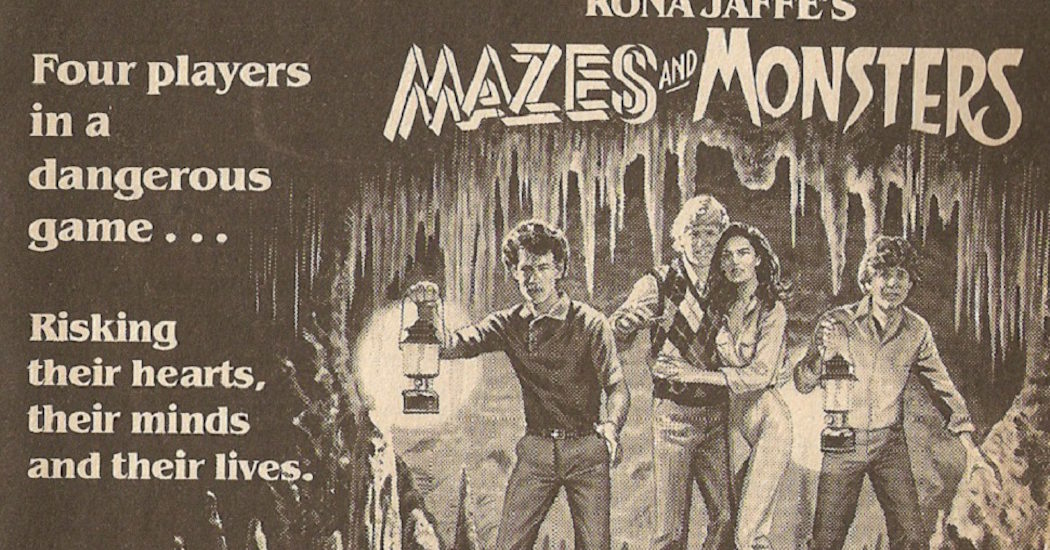 Cinema Fearité Presents 'Mazes and Monsters'
Satanic Panic hits the small screen with 'Mazes and Monsters.'
The Satanic Panic of the late seventies and early eighties was legendary.  Stuffy parents and politicians found references to Satanism and Devil Worship in just about everything fun, from rock music to computer games.  And when the smoke cleared, we got some great movies out of it, classics like Trick Or Treat, Evilspeak, and 976-EVIL.  There were even some not-so-classics made, too.  Like the 1982 TV movie Mazes and Monsters.
Mazes and Monsters is about a young man named Robbie Wheeling (Tom Hanks from Sully and The Post) who is forced to transfer to Grant University when he gets expelled from his old school for ignoring his studies to play a medieval fantasy role playing game called Mazes and Monsters.  Right when he gets to Grant, Robbie meets a misfit kid named Jay Jay (My Bodyguard's Chris Makepeace) who happens to also play Mazes and Monsters with his friends Daniel (David Wallace from The Babysitter and Humongous) and Kate (What Lies Beneath's Wendy Crewson), and as luck would have it, they need a fourth.
The new team plays the game, but the traditional method is too boring for Jay Jay, so he creates a campaign that can only be played in an underground cavern near the school.  Playing the realistic game in the caves proves too much for the fragile-minded Robbie, and he begins to believe that he actually is his character in the game, and that everyone around him is a monster that must be slayed.  Jay Jay, Kate, and Daniel need to stop the mentally unhinged Robbie from hurting someone – or himself.
It doesn't take a hardcore gamer to know that Mazes and Monsters is a thinly veiled indictment of the popular game Dungeons & Dragons.  D&D was already considered by many religious groups to be a pathway to hell, and when a young man named James Dallas Egbert III disappeared into his college's steam tunnels after a night of playing the game, novelist Rona Jaffe (The Best of Everything) hurriedly pumped out the book that would be adapted by screenwriter Tom Lazarus (Stigmata) and director Steven Hilliard Stern (The Park is Mine) into Mazes and Monsters.  As a movie, it's pretty corny.  It's only when one realizes that it is based on one young man's true experiences with the role playing game that it becomes a horrific experience.
For the uninitiated, Dungeons & Dragons is a game that was designed in the mid-seventies that allowed players to act as characters, performing tasks and completing quests while pretending to be those characters in the game.  Factors of probability and chance are determined by rolling dice.  Church groups believed that Satan was in control of the dice, so therefore, he was in control of the game.  The fact that so many impressionable kids took the game so seriously didn't help its cause, and once young people like Egbert started literally disappearing into the games, the religious zealots really started condemning it.  Because of the D&D tie-in and the unflattering portrayal of a possibly schizophrenic character, Mazes and Monsters was a very difficult movie to see for a while.  Or maybe it was because now-Oscar winning actor Tom Hanks wanted it buried.
Although Hanks was already on his way to comedic stardom because of his TV show "Bosom Buddies," and had even had a supporting role in the proto-slasher He Knows You're Alone, Mazesand Monsters was the actor's first lead role in a feature film.  His performance is alright, but it's obviously early on in his career; he's more the Splash or Bachelor Party Tom Hanks than he is the Forrest Gump or Saving Private Ryan one.  Chris Makepeace, David Wallace, and Wendy Crewson all enjoyed steadily working careers, but none of them attained the success or stature that Hanks did, so in retrospect, they're overshadowed.  There are also a handful of notable faces in the background of Mazes and Monsters, including Anne Francis (Forbidden Planet), Vera Miles (Psycho), Murray Hamilton (Jaws, The Amityville Horror), and Susan Strasberg (Scream of Fear, Bloody Birthday, The Manitou).  Professional monster Kevin Peter Hall (Without Warning, Predator, Prophecy) even shows up as, of course, a monster.  There's a bit of star power in Mazes and Monsters, but looking through a 21st century lens, Tom Hanks is easily the name above the title.
Speaking of monsters (it IS right there in the title, isn't it?), the beasts in Mazes and Monsters are just as ridiculous looking as one would expect from a 1982 television movie.  It fits the film's dynamic, though, since the monsters are manifestations of Robbie's mind and not real, so the fact that they look like guys in a monster costumes doesn't really detract from the film.  If anything, the silly looking monsters add to the campy enjoyment of the movie.  Mazes and Monsters is not a serious movie (even though it tries to be at times), so the dorky green reptilian hominoids are right at home.
Because Mazes and Monsters is a CBS television movie from the early eighties, there's a syrupy sweet soundtrack to it.  Luckily, it's limited to one song, but unfortunately, the movie launches into the song several times.  The tune is an AM Gold soft rock ballad called "Friends in this World" that was written by Hagood Hardy (who also scored the film) and Judith Lander (who performs the song).  It's exactly the kind of sugary song that permeated the radio waves in the late seventies and was allowed to carry over onto television.  And it feels very out of place in a movie about a kid who goes crazy playing a role playing game.
Looking back, Mazes and Monsters is a corny movie, even more so than the average Satanic Panic movie.  The kernel of "true events" were enough to sell the concept, though, and in its day, it was shocking enough to get banned after its first broadcast.  Lucky for bad movie fans everywhere, Mazes and Monsters is pretty easy to see now.