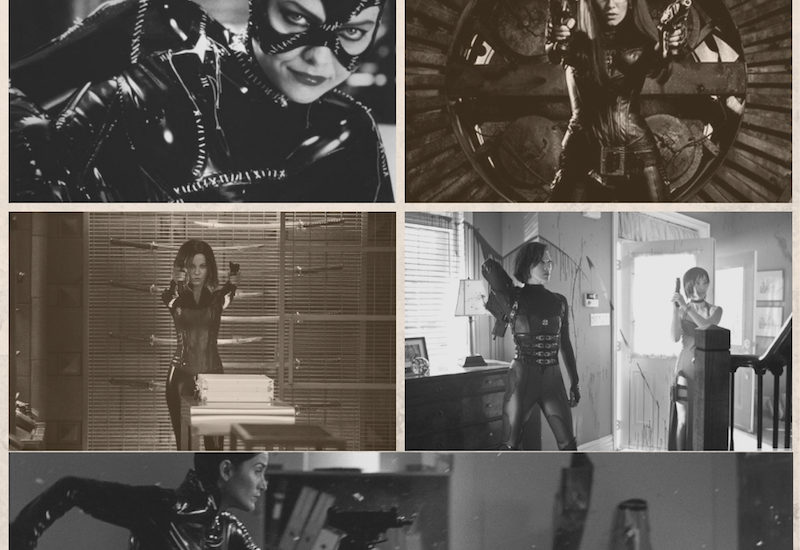 The women who wore the fiercest and sexiest catsuits in film history deserve recognition, as do the costume designers behind the skin-tight creations.
Everyone loves a catsuit: the form-fitting costume that hugs each and every curve without forgiveness. The catsuit has made its mark throughout film history, in various stylings and designs, and the women who slither their way into it are strong, sexy, and always commanding of attention. It has been sewn on or zipped around numerous unforgettable female bodies, and if you had to choose a costume that exemplifies fetishizing the female form, the catsuit wins. It's also one of the most empowering garments a female character can wear. You'll be hard pressed to find a year in modern-day cinema that doesn't include a catsuit sighting.
Behind every female character in a catsuit, there is the costume designer who created it specifically for them. Here's a look at some of the fiercest, most memorable catsuits in film history, and details on their creation and impact.
The Vampire Huntress
If you're going to slay lycans, you'd better prepare to be judged against Selene, the greatest vampire huntress of all time. Clad in a corseted catsuit-styled outfit that fits like a second skin with a flowing cape that glides through the air, Selene epitomizes ferocity in the Underworld franchise. And the way she manages to take down her foe with grace and agility makes her a force not to be reckoned with—one look in her cold blue eyes substantiates that claim.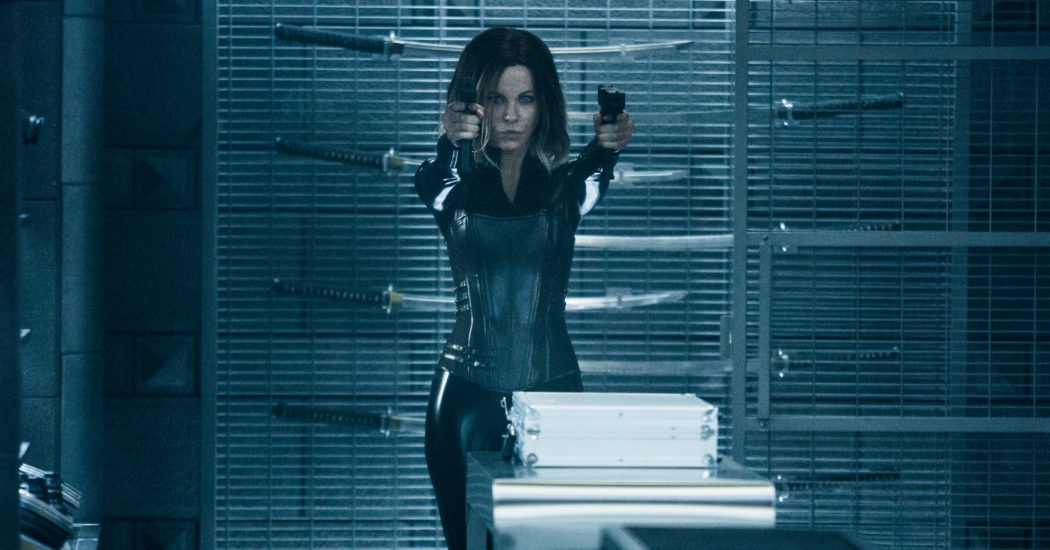 What does Kate Beckinsale think of the latex catsuit designed by Wendy Partridge?
"It's like a condom with sleeves," she told IGN, while also noting that she had to peel it off of herself when the weather was hot.
That didn't stop Beckinsale from taking the outfit home when filming wrapped, so she must like it as much as fans enjoy her in it.
Meooooowwww
When someone brings up portrayals of Catwoman in Batman movies who's the first actress you think of? The (correct) answer is Michelle Pfeiffer. Those eyes! That meow! The sultry moves! Sure, Catwoman in Batman Returns was slightly deranged, but that didn't make her weak; she had a larger purpose that made her a villain and heroine ready to take on the evil that lurks in Gotham City, with fragility and strength.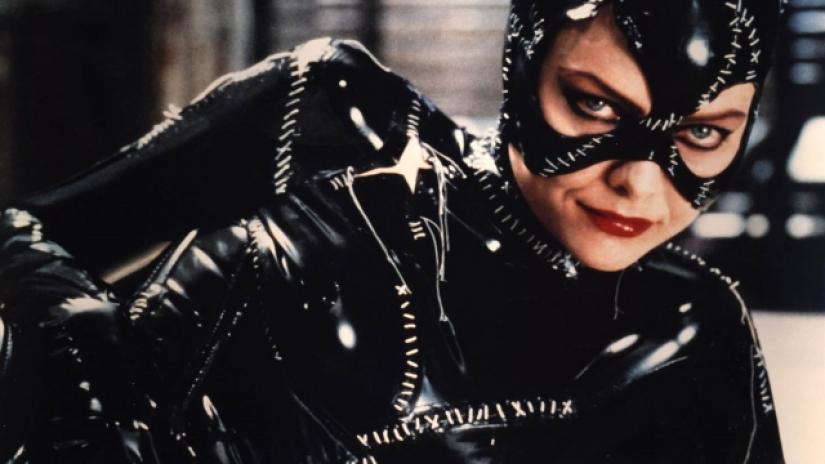 "Michelle moves beautifully, and she was just a perfect fit for that costume," Batman Returns costume designer Mary Vogt explained. "Because you can see everything – and the latex makes it look very fluid, and Michelle just has a beautiful, fluid way of working."
For a catsuit so tight, an unconventional item was needed during filming: "It was difficult to wear – we had to cover Michelle with baby powder before she got into the suit."
As for the unique stitches, the idea came from Director Tim Burton, but making it work was the job of the costume designers.
"…We decided to brush her in silicon, this thick liquid. After she had the costume on, we painted the silicon on her with big sponge brushes," Vogt said of her work with Bob Ringwood. "So she's dripping all over the place. But silicon, because it's so shiny, when it was lit all you saw was the shine. And since she was moving around at night, it looked really fluid. That costume is all about the light – and of course, all about Michelle."
The Villain and the Catsuit
If you're planning to take over the world, you need to wear something that demands attention. G.I Joe: The Rise of Cobra is memorable for one specific reason: the Baroness, played by Sienna Miller, and her uber-sexy, knock-you-off-your-feet catsuit.
"By creating a sleek and powerful silhouette, her power of seduction is irresistible," costume designer Ellen Mirojnick told me in an interview of the Baroness' catsuit.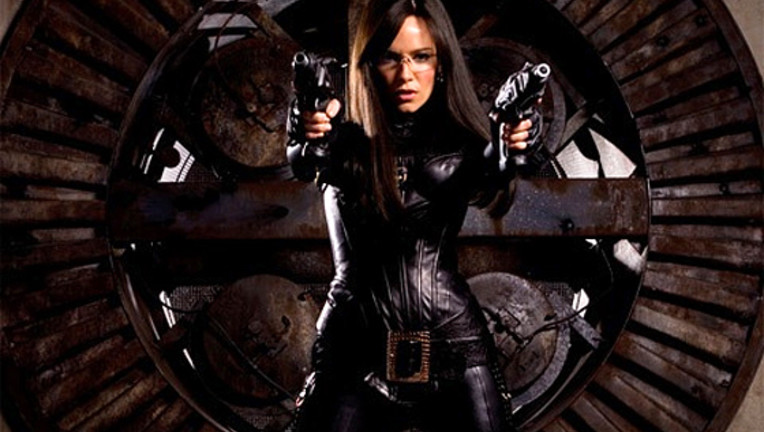 Mirojnick took a modern, fashionable approach with the Baroness' catsuit, and found it to be very suitable for an action character because the sleekness allows for full body movement. And she didn't opt for latex. The Baroness' catsuit is made from stretched leather, a very moldable choice of fabric, and it was made practically with zippers for everyday use (because who wouldn't want to be able to wear this outfit daily).
Now, about that conspicuously placed buckle—conscious choice?
"Absolutely!" Mirojnick exclaimed. "Every detail was designed to reflect fashion and seduction."
The Baroness is after all the "femme fatale," Mirojnick said.
Flying High
Trinity in The Matrix has it all—beauty, brains, and the ability to stand strong beside her male counterparts to fight on the ground and in the air. Costume designer Kym Barrett created Trinity's catsuit-like outfit, and was told by the film's directors that she had to look "like an oil slick." Trinity's outfit was made from cheap PVC, but that didn't stop it from looking amazing on actress Carrie-Anne Moss.
"When poor Carrie-Anne is wearing a harness and a fiberglass plate and we're wrapping her up in PVC, it's quite hard to convince her that she's going to look beautiful…which of course she does," Barrett explained to Matrix Fans.
Trinity stood out throughout the film because of her strong-minded and formidable character traits, and thanks to all the PVC.
"…No one else [but Trinity] wears PVC, so if we see something glistening in the dark, we know it's her," Barrett said.
If there were ever a time to thank PVC manufacturers, it's now, because it made Trinity a female heroine who commands the screen, and our movie memories.
What to Wear to the Zombie Apocalypse? A Catsuit.
The Resident Evil movies are always fun to watch because of Milla Jovovich's portrayal of Alice, the unfortunate soul who keeps waking up to a zombie apocalypse. Alice doesn't always wear a catsuit, but when she does, her sharp-shooting, aerial acrobatics that save the world are all the more exciting. When the zombie apocalypse hits, you'll want Alice leading the charge to save humanity, in a catsuit.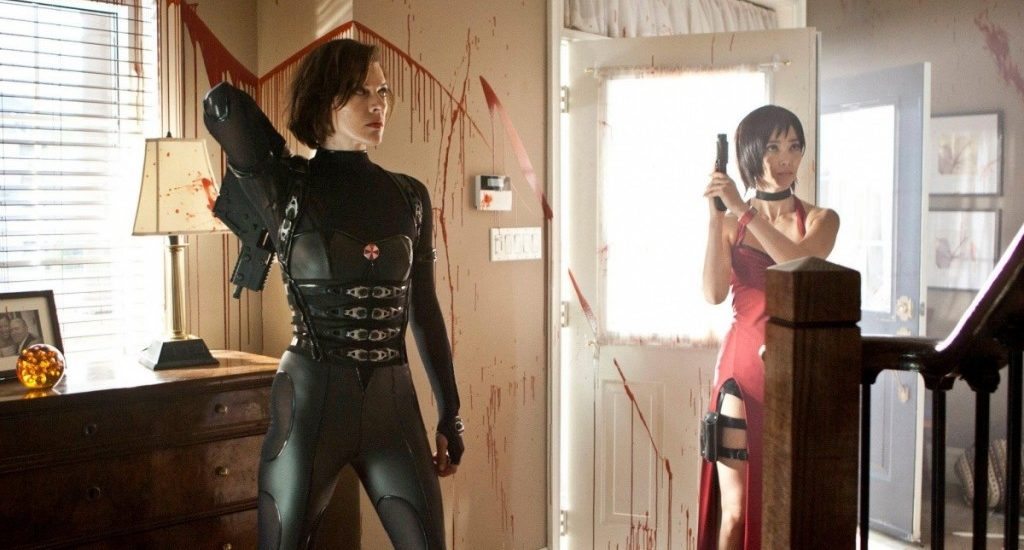 In Resident Evil: Retribution, Alice's catsuit was battle-ready with enhancements so she could attach her weapons, and costume designer Wendy Partridge didn't forget one very important detail: the Umbrella Corporation insignia. Its placement, right between Alice's corseted breasts couldn't be more obvious—Alice is powerful and tough, but she's still full of femininity and sex appeal.
The catsuit will continue to make its mark in film history as long as powerful women maintain their presence on screen, and costume designers keep producing unforgettable looks to adorn their ass-kicking characters bodies.
*A version of this article originally appeared at Crixeo.