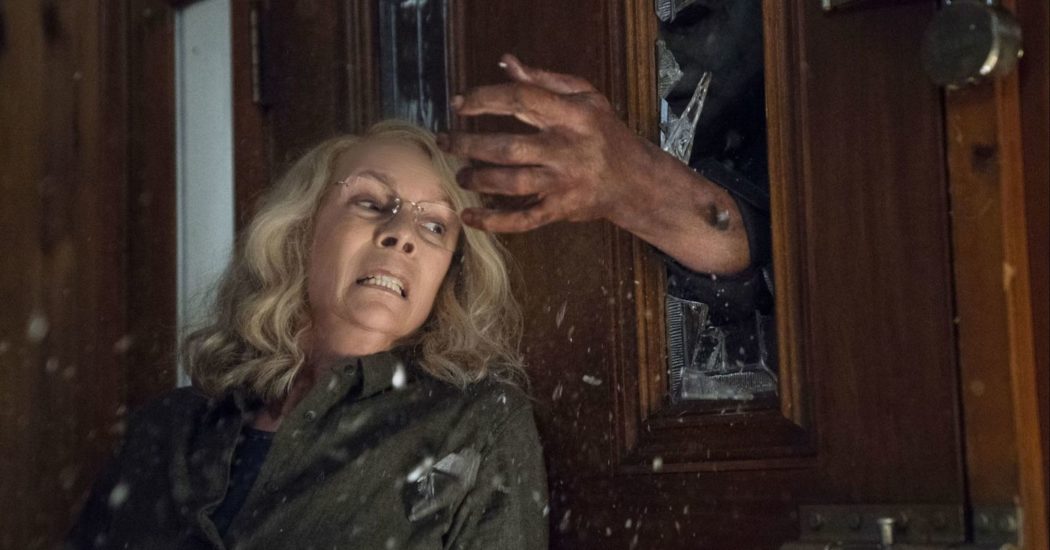 'Halloween' Review
The final confrontation between Laurie Strode and Michael Myers in 'Halloween' is drenched in blood and gore.
Release Date: October 19, 2018
Laurie Strode comes to her final confrontation with Michael Myers, the masked figure who has haunted her since she narrowly escaped his killing spree on Halloween night four decades ago.
Director: David Gordon Green
Screenwriter(s): David Gordon Green, Danny McBride, Jeff Fradley
Producer(s): Malek Akkad, Bill Block, Jason Blum
Cast: Jamie Lee Curtis (Laurie Strode), Judy Greer (Karen), Andi Matichak (Allyson), Haluk Bilginer (Dr. Sartain), Will Patton (Officer Hawkins), Rhian Rees (Dana Haines), Jefferson Hall (Aaron Korey), Toby Huss (Ray), Nick Castle (The Shape), James Jude Courtney (The Shape)
Editor: Timothy Alverson
Cinematographer: Michael Simmonds
Production Designer: Richard A. Wright
Casting Director(s): Sarah Domeier Lindo, Terri Taylor
Music Score: John Carpenter

Forty years ago to the month, John Carpenter changed the landscape of the modern horror movie with Halloween. The numerous sequels and remakes have been hit-and-miss over the years, so Writer/Director David Gordon Green (Joe, Manglehorn) and Cowriters Danny McBride ("Eastbound & Down") and Jeff Fradley ("Vice Prinicipals") decided to just forego them altogether with their new Halloween.
Halloween picks up 40 years after the events of Carpenter's 1978 masterpiece, with maniacal killer Michael Myers (portrayed by both the original movie's Nick Castle and stunt actor James Jude Courtney) locked up in a mental asylum and Final Girl Laurie Strode (Jamie Lee Curtis from the original film, as well as other slasher classics like Terror Train and Prom Night) living a paranoid survivalists life in Haddonfield with her daughter, Karen (Ant-Man's Judy Greer) and granddaughter, Allyson (Evol's Andi Matichak). Of course, Michael escapes custody, and heads straight for Haddonfield to finish the job he started decades ago, slashing anything that gets in his way. This time, however, Laurie is ready for him.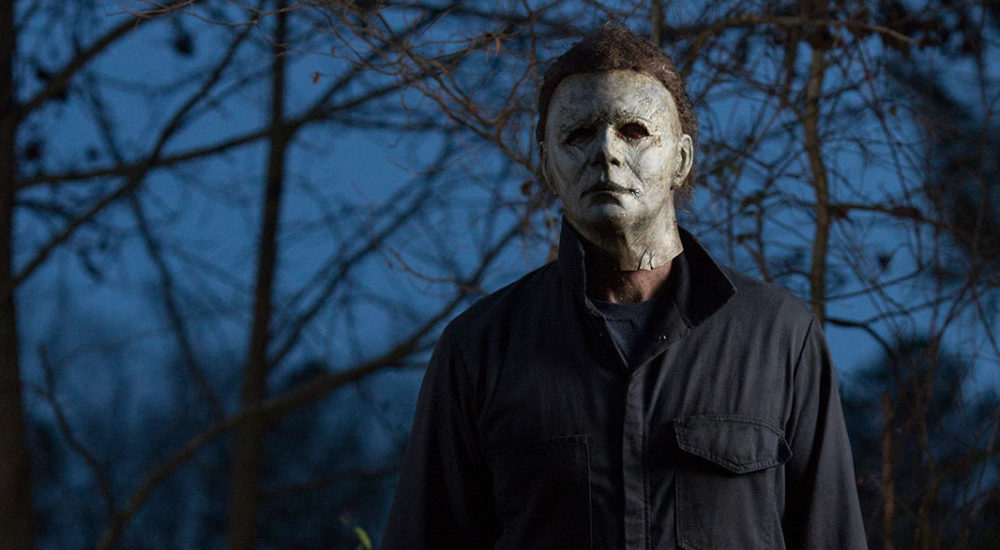 For the past decade or so, Blumhouse has had its finger on the pulse of American horror, so of course, they jumped at the chance to make a new Halloween movie. When Jamie Lee Curtis signed on to reprise her star-making role as Laurie Strode, it was game on. Following in the footsteps of funnymen-getting-scary Jordan Peele (Get Out) and John Krasinski (A Quiet Place), David Gordon Green approaches the sacred property with both respect for the original film and a desire to break new ground and make things his own. And while there's plenty of exactly what you'd expect there to be in a Halloween movie, Green also tosses in some cool surprises. He can't even help throwing some comedic elements in, mostly in the shape (see what I did there?) of a smart-ass little boy who loves to give his babysitter a hard time.
And then there's the new, improved Laurie Strode. Still traumatized from the events of 40 years before, Laurie has seemingly devoted her entire life to preparing for Michael's return, fortifying her home and stockpiling weapons and ammunition. She's transformed into a Sarah Conner/Ellen Ripley type of character: a badass fighter who will not back down from a fight. Jamie Lee Curtis does get to show a little sensitivity in her performance, as the relationship between her and her daughter is strained, with the only common thread left being her granddaughter. But, as the audience knows before the opening credits even roll, Laurie's paranoia is justified, and she'll need all of her survivalist instincts to protect herself and her family. And that's all the spoilery stuff you're going to get out of this review.
Halloween may skip over the original film's seven sequels and one reboot (with its own sequel), but it doesn't completely ignore them. There are plenty of cool Easter egg callbacks and loving tributes to the other movies, some overtly obvious and others blink-and-you'll-miss-them. This Halloween is quite obviously made for fans, by fans, and the respectful nods peppered throughout just drive that point home. And all of those fans will keep coming back for repeat viewings, not wanting to risk having missed something fun in this love letter to 1978. As a fan, I will be right there with them.

While Halloween was still in production, the announcement was made that John Carpenter, who not only wrote, produced, and directed the original film, but also did the music, would be providing the score. Fans everywhere instantly got even more excited than they already were. This proved that Carpenter was not just selling the rights to his baby, but was completely on board with the film (or at least as on board as he was going to get without being in the director's chair himself). Indeed, the musical score for Halloween is written and performed by John Carpenter along with his son, Cody Carpenter, and godson, Daniel Davies (son of The Kinks guitarist Dave Davies), with whom the master of horror has been touring around the world and playing selections from his movies as a trio for the past few years.
The score for Halloween is pretty close to what you'd imagine it would be; it's essentially a modernization of the classic, unmistakable Halloween theme. But not too modernized; with its analog synthesizers and electronic sounds, it still sounds eighties as hell. Carpenter and the boys also toss in a few new melodies, and re-harmonize the old melodies, so the score sounds familiar yet fresh. It's the perfect scenario, giving fans the classic theme that they want to hear, but doing it in a unique and creative way. Honestly, getting Carpenter and company to score Halloween is the smartest thing for Blumhouse to do, as they are guaranteed to sell a ton of soundtrack albums. Luckily, the music on those albums is top notch.

The original Halloween is all atmosphere and very little blood, while Rob Zombie's 2007 interpretation took things in the polar-opposite direction. The 2018 Halloween falls somewhere in-between the two. To its credit, Halloween includes very few cheap jump scares, letting Michael earn his screams doing what he does best. The kills are brutal and graphic, and that's what most of the nightmares that wind up being inspired by the movie will focus on – even when all that's shown in the aftermath of a murder, Michael's handiwork is enough to send chills down even the most icy of spines. Halloween may not be the most horrifying movie of the year, but it's got everything you could want from a twenty-first century Halloween movie.