For all the seriousness of film noir, its easily identifiable visual and narrative conventions lend themselves to parody. The genre's distinctive voice-over narration and recognizable archetypes become humorous caricatures on film, TV, and radio, providing predictable storylines that all viewers are familiar with.
These parodies range anywhere from downright silly mockeries of film noir and crime mysteries to great neo-noirs in their own right that merely indulge in slight self-parody. It is even conceivable that many people were first introduced to film noir conventions through such parodies. To show the lighter side of film noir, here is a list of five of the best film noir parodies.
5. Fatal Instinct (Dir. Carl Reiner, 1993)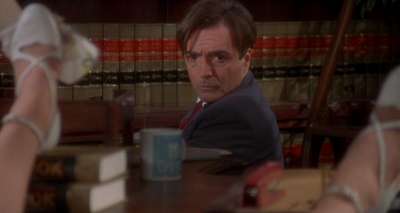 Carl Reiner's Fatal Instinct directly parodies the wildly successful thriller films Fatal Attraction (1987) and Basic Instinct (1992) (hence the title) in the story of Ned Ravine (Armand Assante), a police officer and lawyer. Ravine meets a seductive woman named Lola Cain (Sean Young) while on a stakeout. She asks him to look over some mysterious "papers," and the two of them have a one night stand.
Ravine's wife, Lana, meanwhile is plotting his murder, so that she can collect $9 million in insurance. The catch is that Ravine's accident insurance has a triple indemnity clause, stipulating that Lana will only receive the money if Ned is shot with a pistol, falls from a northbound train, and drowns in a freshwater stream. Lana's murder plans eventually cross with Lola's secret plot to avenge herself. Amidst Ravine's attempts to uncover this sinister plot are ingenious parodies and homages to classic film noirs and neo-noirs such as Body Heat, Cape Fear, Chinatown, Dick Tracy, Double Indemnity, Les Diaboliques, and The Postman Always Rings Twice.
Blending plot lines and famous scenes from these classic noirs, the film becomes a hodgepodge of the most recognizable characters and situations in the genre.
4. The Cheap Detective (Dir. Robert Moore, 1978)
Two years after the successful pairing of director Robert Moore and screenwriter Neil Simon for Murder by Death (1976), they reteamed to create The Cheap Detective, an affectionate parody of Humphrey Bogart films. Peter Falk stars as Lou Peckinpaugh, an approximation of Bogart's Sam Spade and Rick Blaine.
Melding the plots of Casablanca and The Maltese Falcon, the film follows Lou as he navigates an alternate-reality Nazi-occupied San Francisco, investigates the murder of his business partner, and joins a bizarre assortment of characters in the search for a valuable black bird. Troubling his investigation are a host of femme fatales, including his dead partner's wife (Marsha Mason),  a doe-eyed secretary (Stockard Channing), an ex-lover (Louise Fletcher), an identity-switching spy (Madeline Kahn), the wife of a Russian terrorist (Ann-Margaret), and a nightclub singer (Eileen Brennan).
The bulk of the film sees Lou move through a series of scenes blatantly lifted from the two Bogart movies while also referencing other Bogart classics like The Big Sleep and To Have and Have Not. Most amusing is the subplot where Lou's ex returns to San Francisco with her husband, a Resistance leader who is looking to open a French restaurant in Oakland.
3. The Big Lebowski (Dir. Joel Coen, 1998)
The Coen brothers have a tradition of re-appropriating the archetypes and plotlines of hardboiled film noir. As Blood Simple, Miller's Crossing, and The Man Who Wasn't There draw upon classic noirs, The Big Lebowski invokes the convoluted mysteries of Raymond Chandler in a deconstructed parody of The Big Sleep. The Coens effectively update private investigator Philip Marlowe to stoner Jeff "the Dude" Lebowski (Jeff Bridges) and mirror many of Chandler's other characters in the likes of the wheelchair-bound Jeffrey Lebowski and his daughter, the callous Maude Lewbowski (Julianne Moore).
The plot follows a case of mistaken identity where the Dude is mistaken for the titular "Big" Lebowski and is later hired to deliver the million-dollar ransom to the kidnappers of the "Big" Lebowski's trophy wife, Bunny. Everything falls apart when the Dude's friend, Walter Sobchak (John Goodman), decides that they should keep the whole ransom for themselves. The Big Lebowski not only parodies hardboiled crime fiction and film noir but also references Cheech and Chong comedies, Westerns, and Busby Berkeley musicals.
2. Who Framed Roger Rabbit? (Dir. Robert Zemeckis, 1988)
Robert Zemeckis' Who Framed Roger Rabbit? is the kind of film that will likely never be made again. There are many reasons for this, mostly stemming from the film's use of both live action and animation and the now-unfathomable participation of both Warner Bros and Disney. Although it is a set-up unlikely to ever be recreated, Roger Rabbit manages to embrace the tenets of film noir and the joyousness of cartoons and produce a genuinely enjoyable film. Set in 1947 Hollywood where cartoon characters ("toons") and people coexist in Toontown, the film follows toon-hating detective Eddie Valiant (Bob Hoskins) as he tries to clear the popular toon actor Roger Rabbit of murder charges.
Roger becomes the prime suspect in the murder of rival studio CEO Marvin Acme after photos surface of his wife, Jessica Rabbit, cheating on him by playing patty-cake with Acme. Valiant believes Roger is innocent but must contend with the mysterious Judge Doom (Christopher Lloyd) who has discovered a way to kill toons and has aspirations to control Toontown. Roger Rabbit is undoubtedly one of the most remarkable and visually unique projects of the 1980s. Although the film was aimed at family entertainment, the overall story is absolutely steeped in quintessential film noir.
1. Dead Men Don't Wear Plaid (Dir. Carl Reiner, 1982)
Dead Men Don't Wear Plaid may very well be the best parody film of all time. It incorporates clips from 18 different classic noir films, interspersing shots with black and white footage of Steve Martin and the other actors seamlessly. The result is a collage film wherein the original dialogue and acting of the classic noirs have become an integral part of a completely new and no less entertaining noir mystery. Private detective Rigby Reardon (Steve Martin) is hired by the seductive Juliet Forrest (Rachel Ward) to find her father.
The film sees Reardon square off against screen legends like Humphrey Bogart, Vincent Price, Ava Gardner, and Ingrid Bergman whose performances have been transplanted from classic noirs such as The Postman Always Rings Twice, White Heat, In a Lonely Place, Notorious, and the list goes on. The use of classic actors and scenes is not always what the audience expects, either. In an effort to gather information, Reardon goes undercover as a blond and temporarily assumes Barbara Stanwyck's role in Double Indemnity, at once incorporating the classic noir and mocking Stanwyck's terrible wig in the film.Director Carl Reiner approaches this concept with the perfect balance of tone, allowing the film to come across as both a fun parody and a loving homage to the noir films of the 1930s and '40s.