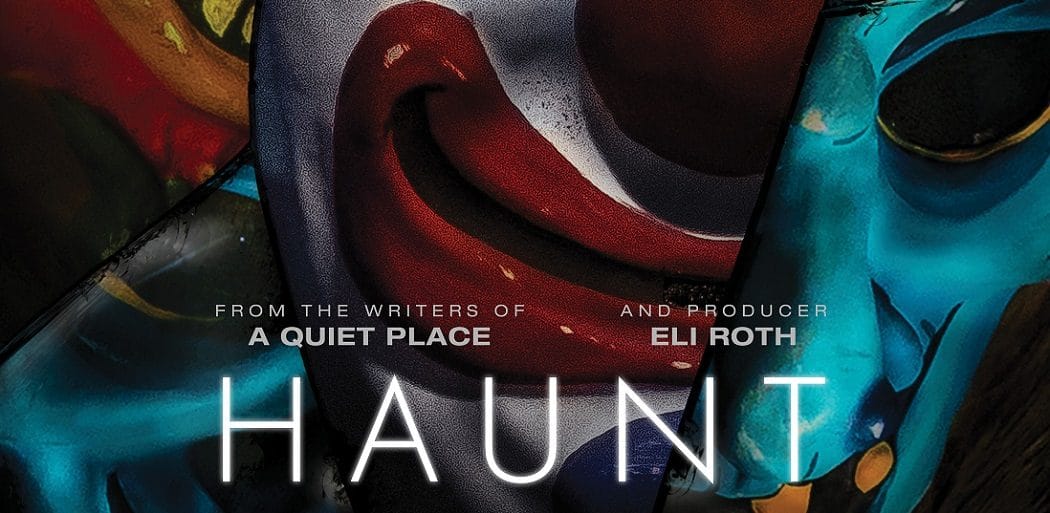 Haunt Review
It's 'A Quiet Place' meets 'Hostel' in 'Haunt.'
Release Date: September 13, 2019
On Halloween, a group of friends encounter an "extreme" haunted house that promises to feed on their darkest fears. The night turns deadly as they come to the horrifying realization that some nightmares are real.
Directors: Scott Beck, Bryan Woods 
Screenwriters: Scott Beck, Bryan Woods
Producers: Eli Roth, Mark Fasano, Todd Garner, Ankur Rungta, Vishal Rungta 
Cast: Katie Stevens (Harper), Will Brittain (Nathan), Lauryn Alisa McClain (Bailey), Andrew Caldwell (Evan), Shazi Raja (Angela), Schuyler Helford (Mallory), Phillip Johnson Richardson (Ty Hoffman), Chaney Morrow (Ghost), Justin Marxen (Clown), Terri Partyka (Witch), Justin Rose (Vampire), Damian Maffei (Devil), Schuyler White (Zombie), Samuel Hunt (Sam)
Editor: Terel Gibson
Cinematographer: Ryan Samul
Production Designer: Austin Gorg 
Casting Director: Nancy Nayor
Music Score: tomandandy

Question: what do you get when the duo that wrote A Quiet Place team up with the guy who made the Hostel movies? The answer: you get Haunt.
Haunt is about a college girl named Harper (Polaroid's Katie Stevens) who goes to a Halloween party with her friends Bailey (Lauryn Alisa McClain from "Step Up: High Water"), Angela (Shazi Raja from "God Friended Me"), and Mallory (Schuyler Helford from "Anger Management"). They meet up with an acquaintance named Nathan (Kong: Skull Island's Will Brittain) and his pal Evan (Andrew Caldwell from M.F.A.), and when the party turns dull, the gang decides to go to an Extreme Halloween Haunted House on the edge of town. At first, it's all fun and games, but when the group gets separated, the exhibits get a bit too convincing and the scares get a little too real.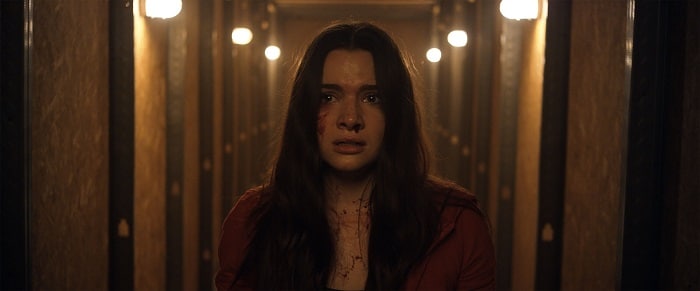 Writers/directors Scott Beck and Bryan Woods wrote Haunt while they were also writing A Quiet Place, and if the latter is an ode to subtle, elevated horror, then the former is their tribute to the splatter flicks of their youth. It's only makes sense that schlock king Eli Roth would step in to produce. In some ways, it's a throwback to the stalk-and-slice movies of the eighties, but it's also very modern and dark. It's presented without a hint of camp, which is unusual for what is essentially glorified slasher movie. But the lack of camp doesn't keep it from being fun. It's just that Haunt is a sadistic kind of fun.
Haunt seems like a simple enough setup, and it is. But once the kids get into the haunt, they discover that it is an elaborate den of torture, like something that would be right at home in a Saw movie. The building is full of mazes and escape rooms, tunnels and traps doors, and every turn reveals another ruthless masked maniac, ready to prey on the innocent customers. The fact that the extreme haunt is so vast and complex helps what should be a twenty minute ordeal stay fresh for a whole hour and a half.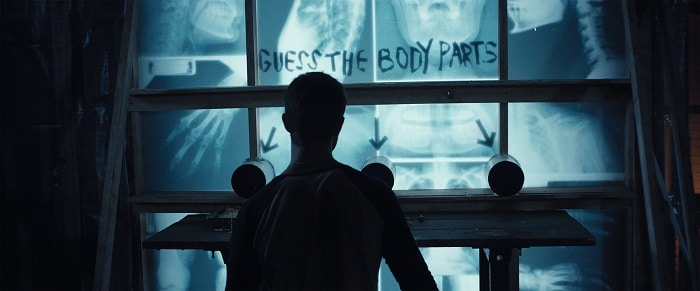 Halloween is easy pickings when it comes to horror movies, but few of the movies about the holiday actually become classics. For every Satan's Little Helper, there are a bunch of Hack-O-Lanterns. Will Haunt become a classic? Only time will tell. But it's got a better chance than most of the disposable cash-in modern Halloween movies, because it captures the spirit of the day without being a cookie-cutter-copy of anything else. And that's a win.

There are two types of fear at work within Haunt. There's tension, and there's gore. Scott Beck and Bryan Wood showed everyone that they were masters of suspense with A Quiet Place, and with Haunt, they prove that they can also do it within the confines of "lowbrow" horror. There's a constant sense of paranoia and anxiety surrounding the main characters of Haunt. The handheld camera work (courtesy of The Strangers: Prey at Night cinematographer Ryan Samul) follows the kids through the haunt, turning the viewer into another character. And as another character, the viewer is always wondering if they're being stalked or followed. The tension is unbearable at times.
Then, of course, there are the killings. The Eli Roth influence is felt heavily within the gruesome, brutal violence in Haunt. It can't really be considered in the same torture porn vein as many Roth-directed movies, but Haunt does manage to unflinchingly capture the horrifying ordeals of its victims in graphic detail. It's not exploitative at all. If there's such a thing as tasteful splatter, this is it. It's not senseless or gratuitous, it's just real. With its violence, Haunt's goal is to make the audience cringe. And it accomplishes that goal.