There's little doubt that Stanley Kubrick is one of the most influential directors in modern cinema. He revolutionized the science fiction genre with 2001: A Space Odyssey, the dystopian nightmare with A Clockwork Orange, the horror movie with The Shining, and the war film with Full Metal Jacket. He even invented the political satire with Dr. Strangelove or: How I Learned to Stop Worrying and Love the Bomb. But he wasn't always so…Kubrickian. Like most filmmakers (see David Cronenberg's Stereo), Kubrick started his career making cheap and simple films. His second feature, made way back in 1955, was the tidy little noir thriller Killer's Kiss.
Killer's Kiss is about a washed-up boxer named Davey Gordon (The Faithful City's Jamie Smith) who lives across an alley from a dancer named Gloria Price ("Irene Kane," the stage name of film critic/newswoman Chris Chase). One night after losing a fight, Davey is awakened by screams and, through their adjacent windows, sees Gloria being assaulted by her boss, a mobster named Vinnie Rapallo (Frank Silvera from Mutiny on the Bounty). Davey hurries over to rescue Gloria, and subsequently gets pulled into a world of extortion, kidnapping, and murder.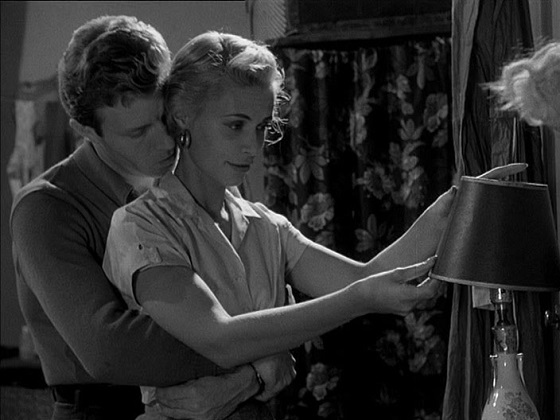 There's not much to the plot of Killer's Kiss, it's just a tight and economical little film noir thriller that clocks in at just over an hour. Kubrick himself came up with the story and enlisted the help of Howard Sackler, the writer of his first feature Fear and Desire, for the screenplay. Not satisfied, Kubrick rewrote much of the script, and took Sackler's name off of it. As a result, there is no screenwriter credit on most prints of Killer's Kiss.
The simple story allowed Kubrick to make Killer's Kiss on the cheap and dirty. Not only did he write, direct, and take a producer credit, but Kubrick also shot and edited the film himself as well. The production didn't have money for shooting permits, so all of the New York City street scenes were shot guerilla, run-and-gun style, manufacturing a very real-feeling sense of urgency and tension. To fill time, Kubrick muscled in an awkwardly long artsy ballet dancing scene (with Gloria providing voiceover narration, just to help it make sense) featuring his then-wife Ruth Sobotka. In many ways, Killer's Kiss shows off a very early version of the legendary Kubrick auteurism.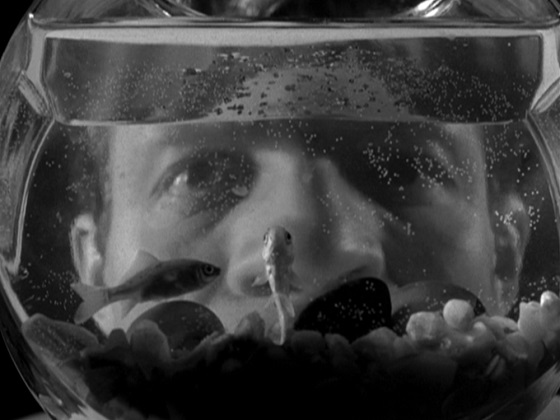 And, although it's hardly a cinematic masterpiece, Killer's Kiss also shows off the fact that Stanley Kubrick had an eye for the filmic, even at that young age. Kubrick's camera tells the story with long takes and interesting angles, letting the viewer get engaged without ever distracting them from the fact that they are watching a movie. The lens looks through fishbowls and down staircases in ways that could only be described as Kubrickian. The handheld cameras also allowed Kubrick to shoot the most visceral and electric boxing scene that had ever been done until Raging Bull came along, letting the audience become part of the bout. And, because he's Kubrick, he even snuck in a few tricky negative exposure and diopter shots. For a fifties noir film, Killer's Kiss is painstakingly photographed.
The musical score for Killer's Kiss was composed and conducted by Gerald Fried, who did most of Kubrick's early movies as well as horror classics like I Bury the Living, The Lost Missile, and The Baby. It's basically a minimalistic noir film score, full of blasting trumpets and slithering strings, but it really ramps up the tension and suspense in the movie. The soundtrack to Killer's Kiss sounds dated in the best possible way; it's a fifties hard-boiled score to a fifties hard-boiled movie.
So, Killer's Kiss is more of a film noir thriller than a horror movie, but that doesn't mean it doesn't have its share of horrifying moments. This first comes when a pair of thugs corner and kill Davey's manager, thinking that he is Davey. The crime is implied more than shown, with the shadows disappearing down an alley before any real violence can take place, but the film leaves no doubt as to what happened to the helpless and hapless manager. Equally terrifying, the climactic showdown of the film between Davey and Vinnie takes place in a mannequin warehouse, Vinnie with an axe and Davey with a spear, the men fighting it out to the death amongst a slew of plaster and plastic body parts. It's surreal…and scary.
There's a bit of a story surrounding the wrapped-with-a-bow ending of Killer's Kiss. Lead actress Irene Kane, aka Chris Chase, claimed that several endings for the film were shot, so by the time it hit theaters, even she didn't know how it was going to end. For a film noir, it wraps up a little too tidily. Although Kubrick's original idea for an ending is unclear today, the happy ending was forced upon the filmmaker by his distributor, United Artists. Actually, it was purchased from him – UA bought the film from Kubrick to slap on the rosy ending, and gave him an advance on his next picture, The Killing. So, in a very un-Kubrickian twist, what ended up onscreen is not what Kubrick had in mind for the conclusion of the film.
Killer's Kiss is hardly one of Stanley Kubrick's finest hours, from either a narrative or a technical standpoint. But the potential that would be realized later is clear, and for that reason, it's worth checking out for the historical value alone. And you just might get lost in the quick and dirty story.