Synopsis: Daisy is the all-American girl next door with a hunger for true love and an appetite for murder. Then one day Daisy meets the man of her dreams, only to discover that his own lust for killing might make her his next victim.
Release Date: August 4, 2015     MPAA Rating: PG-13
Genre(s): Horror, Thriller
Film Review

Appetites is a love story about a rock & roller named John Doe (Bret Roberts from Nightstalker and Alyce Kills) and a backwoods barmaid named Daisy (Avengers Grimm's Lauren Parkinson). What makes it interesting is the fact that John Doe is a serial killer who preys on young groupies, and Daisy is a cannibal who hunts people with her simpleton brother, Bubba (Scott Barrows from The Summer of Massacre). At first, both thinks that the other will just be another victim of theirs, but soon enough, the two fall for each other. Both try to keep their secrets from one another while simultaneously staying one step ahead of their feelings – and the law.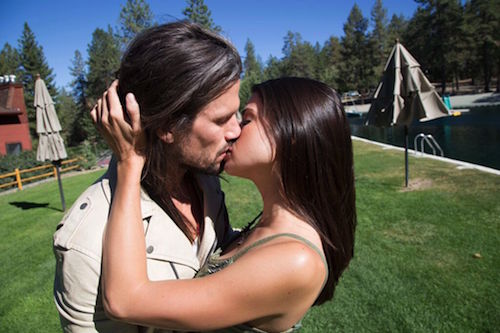 There's something weird going on in Appetites. At first, it seems like it would be a horror film along the lines of The Hills Have Eyes or The Texas Chainsaw Massacre, maybe even something a bit campy like From Dusk Till Dawn, and there are definitely aspects of those types of movies in it. However, it's much more of an outlaws-in-love story, kind of like Bonnie and Clyde or Natural Born Killers, but John Doe and Daisy are no Mickey and Mallory. Heck, they're not even Mickey and Minnie. There's very little danger surrounding the couple, so they end up just being another boring pair of puppy-dog eyed young people with their hands in all the wrong places. They're head-over-heels in love when they should be over-the-top crazy. The concept of the two psychopaths is intriguing, but the characters don't quite pull it off.
The guilty parties behind Appetites are director Cameron Casey and writers Darren Bevill and Brennan Freemantle. By the looks of things, what they've tried to do is create a seductive suspense movie, but Appetites isn't really seductive, nor is it suspenseful. Both seduction and suspense are all about subtlety, and there's nothing subtle about Appetites. For better or worse, Appetites is all just sex and violence. Which is fine, but it should be unabashedly unapologetic about it, like the Machete movies, or a good Troma picture. There's a hesitation that exists within Appetites, like it thinks it might be something more than a schlock film. It's not.
There's an audience for Appetites, it just probably won't be with horror fans. Horror geeks are way too stubborn and discerning to go for just any old movie that is built around blood, guts, and cannibalism. Movie fans with a fondness for classic exploitation films will embrace Appetites, however, once they get over the fact that it may be a bit tamer than some of their favorites.

There's a Morricone-esque cinematic score in Appetites, but the real musical punch comes from the soundtrack songs that John Doe performs, both diegetically and not. The tunes, written by Bret Roberts and his pal James Jewell, are performed by Roberts himself and have an acoustic, hippy jam-type of sound that is reminiscent of rootsy artists like Jack Johnson and Ben Harper. Some of the music just serves as soundtrack fodder, but much of it helps to tell the story, with Roberts actually singing songs with titles like "That's My Girl," "Bad Day for Daisy," and "I'm Sorry for Killing You" to the other characters. It doesn't feel awkward or inorganic in any way, but it appears as if Bret Roberts has gotten director Cameron Casey to let him use Appetites as a vehicle for his (and Jewell's) music. The music may seem a bit mellow for the type of movie that Appetites is trying to be, but because the songs are catchy and well written, and therefore one of the strongest aspects of the film, the soundtrack works.

Appetites is being classified as a horror movie, but that's doing the film a bit of a disservice. It may be full of serial killers and cannibals but, as mentioned earlier, it's more of an exploitation film than a horror movie; basically, it's more shocking than scary. There's quite a bit of gore, but it's the spaghetti western type of gore as opposed to the splatter flick type. The good news is that there is a refreshing lack of cheap jump scares, but the bad is that there's a lack of other scares as well. It's fine without them, though, because calling Appetites a horror movie isn't totally accurate. Whether it means to be or not, Appetites is more of a farce than a horror flick.
Cast and Crew
Director(s): Cameron Casey
Producer(s): Daniel S. FrischMachael Weiss
Screenwriter(s): Darren Bevill
Story: Brennan Freemantle
Cast: Lauren Parkinson (Daisy)Bret Roberts (John Doe)Scott Barrows (Bubba) Chris Cleveland (Detective Frye)James Duval (Paul)Travis Eberhard (Charlie)Bonnie Rotten (Veronica)Jake Allyn (Michael)Malice McMunn (Caroline)Joey Capone (Cashier)Brian McGuire (Walt)Jade Waters-Burch (Madame Lilly)
Editor(s): Adrian Morales Ramos
Cinematographer: Christopher Gosch
Production Designer(s):
Costume Designer: Christopher Paul
Casting Director(s): 
Music Score: Tristan Clopet
Music Performed By: Bret Roberts
Country Of Origin: USA