Synopsis: A portrait of Morrissey and his early life in 1970s Manchester before he went on to become the lead singer of seminal alternative rock band The Smiths.
Release Date: August 25, 2017     MPAA Rating: PG-13
Genre(s): Biography, Drama
Film Review

Pretty much any child of the eighties is familiar with The Smiths, the seminal alternative rock band from before alternative was a thing. And those same children of the eighties pretty much know that Morrissey was their singer. Well, England is Mine, the first feature film from director Mark Gill and his writing partner, William Thacker, tells the story of the pre-Smiths Morrissey.
Set mostly in Manchester in the year 1976, England is Mine is about the young Steven Patrick Morrissey (Dunkirk's Jack Lowden), a shy boy who spends his time writing savage music reviews and mailing them to the New Musical Express (better known as the NME) to be published in the letters section. His reviews are clever, but extremely negative, so his friend, Anji (My Cousin Rachel's Katherine Pearce), challenges him to form his own band and do better. The idea appeals to Steven, but he is painfully introverted. After meeting an artist named Linder Sterling (Jessica Brown Findlay from Victor Frankenstein), who encourages him to let his creative side fly, Steven forms his first band with guitarist Billy Duffy (Adam Lawrence from the upcoming The Last Witness), and from there, the shrinking violet chases his unlikely dreams of pop stardom.
In many ways, England is Mine is a typical teenage romp. Steven has girl problems and issues with his parents, and although he doesn't have high school dilemmas, he does encounter some stress and strife at his hum-drum job. There's very little rock and roll in this rock and roll movie. It takes place before the formation of The Smiths (guitarist Johnny Marr is in it, but only for a brief moment as a pal of Billy's), and Steven's musical aspirations had not yet hit their stride. So, he basically spends the movie moping around, waiting for stuff to happen and relying on the people around him to do everything. He's an extremely unmotivated protagonist, which makes him a very annoying one.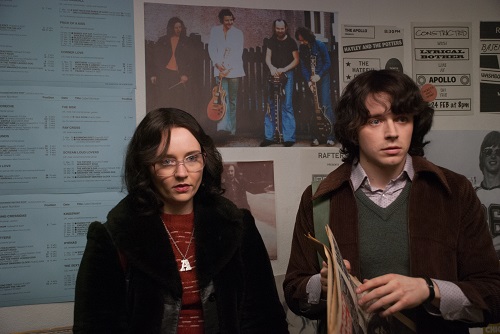 In fact, Steven is actually the least interesting character in the movie. Linder the free-spirited artist is a lot more fun to watch. A whole movie about Billy Duffy (who would go on to form the influential band The Cult) at this point in his life would be great. Even Anji, Steven's early friend, or Christine (Jodie Comer from "The White Princess"), the coworker who has a crush on him, are more colorful and well-drawn. At one point, while his friends are all trying to cheer him up, Steven asks "Why is everybody concerned with my happiness?" Because you're killing the movie, Steven. Buckle up and do something.
There are a few legendary pop culture events that are shown in England is Mine. One is the initial meeting between Steven Morrissey and Johnny Marr in a line to get into a busy nightclub (it is Billy Duffy that introduces them, because of course the most compelling character in the film would be the catalyst for such a huge inciting historical incident). Another is Steven sitting in a graveyard with Linder discussing poetry ("A dreaded sunny day, so I meet you at the cemetery gates, Keats and Yeats are on your side while Wilde is on mine"). But most of the movie just meanders along, with the audience knowing where it's going but not having any idea of how it's going to get there.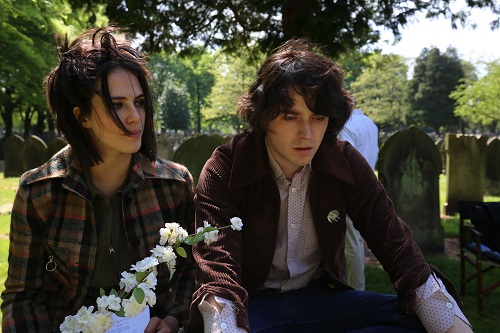 England is Mine will most likely be pretty disappointing to fans of The Smiths, but there is a bright side. It is an "unauthorized biography," so there's some serious doubt cast upon how much of it is true, and because of this, people's image of The Smiths should not be tarnished too badly. Hopefully, the real Steven Patrick Morrissey's life was a whole lot more interesting than what's depicted in England is Mine.

For a movie about an important musical icon, the soundtrack to England is Mine is disappointingly uninspired. Of course, the movie takes place before the formation of The Smiths, so the absence of any of their music is understandable (if a bit regretful). But even the songs by other artists are lacking. The soundtrack is made up of cool period stuff from the likes of New York Dolls, Sparks, and Roxy Music combined with older pop-soul tunes from artists such as Martha Reeves, The Marvelettes, and The Shangri-Las. It's all stuff that Morrissey most likely listened to in his youth, but the selections don't really have any bite. The soundtrack reeks of music licensing problems, with lesser hits included instead of the smashes ("Lonely Planet Boy" instead of "Personality Crisis" or "Trash," "You're the One" instead of "Too Many Fish in the Sea" or "Please Mr. Postman"). Even a scene where Steven ends up at a Sex Pistols gig uses their cover of "Steppin' Stone" instead of one of the Pistol's original tunes. The bottom line is that the unmemorable music in England is Mine doesn't function as an additional character in the film like it should; it's background noise in a movie that should, for all intents and purposes, place the music firmly at the forefront.
Cast and Crew
Director(s): Mark Gill
Producer(s): Baldwin LiOrian Williams
Screenwriter(s): Mark GillWilliam Thacker
Story: 
Cast: Jack Lowden (Steven Patrick Morrissey)Jessica Brown Findlay (Linder Sterling)Jodie Comer (Christine) Laurie Kynaston (Johnny Marr)Simone Kirby (Elizabeth Morrissey)Peter McDonald (Peter Morrissey)Katherine Pearce (Anji Hardie)Finney Cassidy (Darren)Adam Lawrence (Billy Duffy)Graeme Hawley (Mr. Leonard)Marc Graham (Gordon)
Editor(s): Adam Biskupski
Cinematographer: Nicholas D. Knowland
Production Designer(s):
Costume Designer: Yvonne Duckett
Casting Director(s): Oliver GarciaShaheen Baig
Music Score: 
Music Performed By: 
Country Of Origin: UK