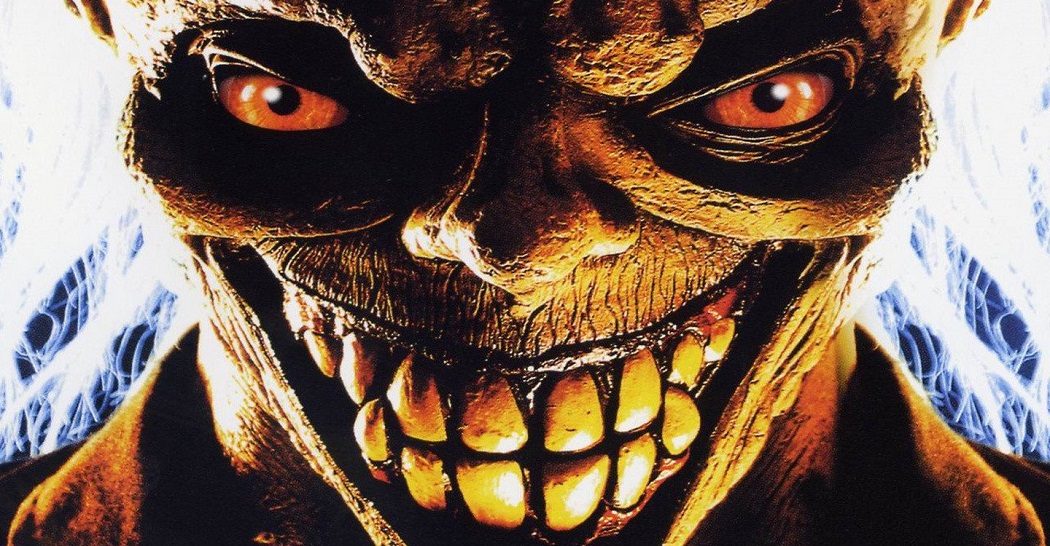 Cinema Fearité Presents 'Satan's Little Helper'
A Halloween movie that's not THE Halloween movie.
When it comes to Halloween movies, none is bigger than the original 1978 classic Halloween, so much so that a ret-conned sequel made forty years later still was able to conquer the box office.  But, for those that want a little variety, there are other movies centered around the horror holiday, movies that include the classic Night of the Demons, the modern anthology Tales of Halloween, the low-budget schlockfest Hack-O-Lantern, and even the gateway TV movie The Midnight Hour.  And that's not even counting the triple threat of Trick 'r Treat, Trick or Treat, and Trick or Treats.  And, for those who like really deep cuts, there's Satan's Little Helper.
Satan's Little Helper is about a young boy named Douglas Whooly (Alexander Brickel from Palindromes) who is obsessed with a video game called, of course, Satan's Little Helper, in which the player must assist the dark lord in committing his nefarious acts in a suburban neighborhood.  Douglas' mom (Pulp Fiction's Amanda Plummer) even makes the boy a Satan's Little Helper Halloween costume as he looks forward to trick-or-treating with his sister, Jenna (Katheryn Winnick from "Vikings").  When Jenna brings her new boyfriend, Alex (Whigmaleerie's Stephen Graham), home from college for the holiday, Dougie gets jealous and runs off by himself.  He stumbles upon a psycho killer dressed as Satan (the mysterious Joshua Annex), and decides to live out his video game fantasies by becoming Satan's Little Helper.  Only Satan is not playing games, and Dougie puts himself and his family in jeopardy by befriending the serial murderer.
Made in 2004, Satan's Little Helper is one of the later films from writer/director Jeff Lieberman, who was also the creative mind behind masterworks like Blue Sunshine and Just Before Dawn.  Lieberman has always had a reputation as a B-movie magnate, but Satan's Little Helper is especially low budget.  With its purposely cheap costumes (it's a Halloween movie, after all) and its Anytown neighborhood setting, the biggest expense on the books was probably the fees for Amanda Plummer and Katheryn Winnick – and even Winnick was a up-and-comer who probably didn't dent the payroll too badly.  Because of this, Satan's Little Helper has almost a student film vibe to it, but the aesthetic works in the context of the film.
Satan's Little Helper does a great job at capturing the Halloweeness of the season.  The neighborhood is packed with trick-or-treaters in costume, with houses decorated to the hilt and stores decked out with spooky displays.  Dougie gets picked on by bullies who are trick-or-treating on their BMX bikes.  There's even an adult party where the grown-ups don more risqué costumes and pound spiked punch.  Autumn is in the air in Satan's Little Helper, both for the kids and the adults.
The holiday also lends a certain campiness to the film, which Lieberman embraces whole-heartedly.  At one point, while Satan is dressing one of his victims to look like a Halloween decoration, some locals ask him to pose next to his display for a photo, and he happily complies.  In another scene, Dougie and Satan are shown pushing a cart through a parking lot, and Dougie keeps asking Satan "how many points for the pregnant lady? How many points for the old man?" referring to how each kill would be scored in his video game.  Lieberman made Satan's Little Helper with a wink and a nudge, packing the film with dark humor.
That does not mean that it's a kids' movie, though.  The man (or demon) dressed as Satan is a sadistic madman, and his killings are brutal and violent.  He slashes throats, crushes heads, strangles necks, even tapes noses and mouths shut.  He's playful with his murders, preferring to taunt his victims, and relishing in not showing them any mercy when they beg.  And this is why Dougie thinks that he's putting on an elaborate act.  The killer is not serious, so why should his helper be?  In Dougie's naïve eyes, it's all in good fun.  Good, bloody, gutsy, gory fun.
The score for Satan's Little Helper was composed by David Horowitz (Patient 001), and it's just as corny and cheesy as everything else in the movie.  It's an electronic score, but not one of those retro-eighties ones, more like one that was tossed together on a Casio keyboard using the built-in rhythm box.  And, given the cut-rate tone of the film as a whole, the soundtrack is perfect, full of overly dramatic church bell sounds and canned drum samples.  There's even a catchy little 8-bit theme for the Satan's Little Helper video game that was contributed by Jeff Lieberman's daughter, Erika.  Yeah, the music is corny, but so is the rest of Satan's Little Helper.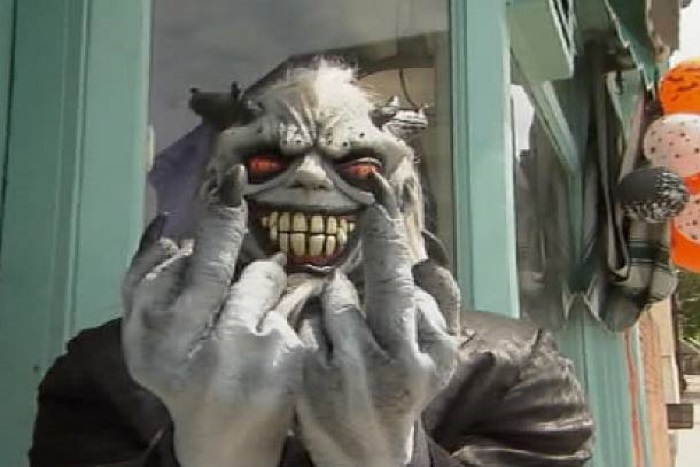 Next time you're at a party and someone wants to watch a Halloween movie, suggest Satan's Little Helper.  They'll never know what hit 'em.  You may lose a few friends, but any friends who can't appreciate this low-budget masterwork aren't worth having in the first place.