Synopsis: The Grand Budapest Hotel recounts the adventures of Gustave H, a legendary concierge at a famous European hotel between the wars; and Zero Moustafa, the lobby boy who becomes his most trusted friend. The story involves the theft and recovery of a priceless Renaissance painting; a raging battle for an enormous family fortune; a desperate chase on motorcycles, trains, sleds, and skis; and the sweetest confection of a love affair — all against the back-drop of a suddenly and dramatically changing Continent.
Release Date: March 7, 2014     MPAA Rating: PG-13
Genre(s): Comedy,
Film Review

Wes Anderson has a built-in fan base. From Bottle Rocket to Moonrise Kingdom, Anderson puts his directorial thumbprint all over his movies without ever seeming like he's rehashing his work. He has joined the ranks of filmmakers like Tim Burton and Quentin Tarantino in the fact that his followers will see any and all of his movies on the strength of his reputation alone. Fortunately, he makes consistently good movies, and The Grand Budapest Hotel proves it.
The Grand Budapest Hotel is the story of how a man named Mr. Moustafa (F. Murray Abraham from Amadeus) came to own the titular hotel, as told to a Young Writer (Jude Law from Sherlock Holmes). The film is presented entirely through flashback, beginning with the young Moustafa, nicknamed Zero (The Perfect Game's Tony Revolori), getting hired on as a lobby boy and, eventually, becoming the assistant to the hotel owner, Mr. Gustave (The Invisible Woman's Ralph Fiennes). A longtime customer of the hotel, who also happens to be a close friend of Gustave, dies and leaves him a priceless painting. One of the deceased's family members, a jerk named Dmitri (Predators' Adrien Brody), wants the painting and, therefore, frames Gustave for the murder of his dead relative. Gustave is sent on the run, being chased by both a military policeman (Moonrise Kingdom's Edward Norton) and one of Dmitri's henchmen (Willem Dafoe from John Carter). It is up to Zero and his girlfriend, Agatha (Hanna's Saoirse Ronan), to come up with evidence that will clear Gustave's name.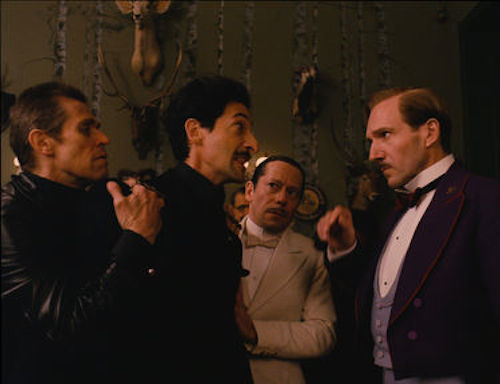 There's not really anything that a review of The Grand Budapest Hotel can say, positive or negative, that will affect Wes Anderson fans' decision to see the movie. Audiences pretty much know what to expect from Wes Anderson, and they will not be disappointed with his newest work. The best way to describe it is to say that it's delightfully quirky, which is a term that applies to pretty much all of Anderson's films. It's a little grimmer than previous films, with a bit more death and carnage, but nothing that is offensive enough to spoil the light and fluffy mood. The story itself is interesting, but nothing special; the fun lies in how Anderson tells his mystery/espionage/chase film hybrid. The script, written by Anderson with a little help from his pal Hugo Guinness (better known for his voice acting on Fantastic Mr. Fox), was inspired by the works of Austrian writer Stefan Zweig. It's not based on any single book or story, just inspired by the man and his words. Zweig was a popular man with friends all over Europe when World War II broke out, and tinges of Zweig can be seen in Gustave, the older Moustafa, and the Young Writer. Basically, Anderson has Stefan Zweig narrate the events of The Grand Budapest Hotel, and it's a fun and good-natured narrative in the face of the tragedy of death and destruction.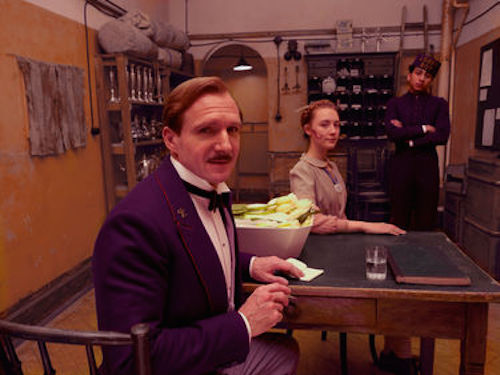 Like Stefan Zweig, Wes Anderson has made a lot of friends throughout his career, and they seem to line up to work with him when he has a project in the pike. Most of the cast are veterans of Anderson films, and several more alumni appear in glorified walk-on roles; actors such as Bill Murray, Owen Wilson, Jeff Goldblum, Bob Balaban, Tilda Swinton, and, of course, Jason Schwartzman. These faces only help to solidify in the viewer's mind that there is no doubt that they are watching a Wes Anderson movie. Anderson has the Hollywood clout to attract names like this, even for tiny roles, and as long as he keeps making movies like The Grand Budapest Hotel, the actors and audiences will keep lining up for him.

For the cinematography on The Grand Budapest Hotel, Wes Anderson made a beeline for his go-to director of photography Robert D. Yeomen, who has not only worked with Anderson on just about everything he's done, but has also shot such hits as Bridesmaids and Dogma. Yeoman knows the Anderson visual style, and he nails it here; the film is loaded with the wide shots, symmetrical framings, and highly distinct color palettes that make Wes Anderson films so unmistakable. Yeoman and Anderson work their meticulously planned and well executed follow shots just like they've been doing them for years. The film manufactures a purposeful artificiality, with large sprawling set pieces and fabricated postcard-esque external shots. There's nothing hugely groundbreaking, but it's all very well done and looks great, and the fact that there can be such a definitive style of filmmaking says a lot about the filmmaker. Anderson and Yeomen do what they do, and they do it well. If the machine isn't broken, don't bother fixing it.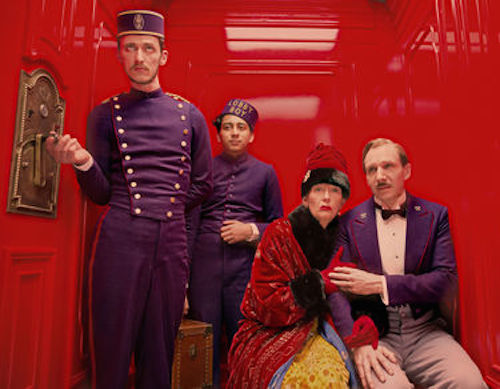 The humor in The Grand Budapest Hotel is precisely the kind of dry, semi-sarcastic comedy that audiences expect from Wes Anderson. The laughs are not belly-busting guffaws, but more like knowing chuckles. Much of the humor relies on the performance of the actors, and they are spot on; the script demands a perfect combination of rapid fire wit, seamless delivery, and slight overacting to make its point, and the cast is in on the joke just enough to sell it. Most of the raw laughs are supplied by Willem Dafoe's character, Jopling. Jopling is a psychotic goon along the lines of No Country for Old Men's Anton Chigurh, and Dafoe plays him perfectly straight so the humor comes from the overuse of the stereotype. In one scene, Jopling leads Gustave and Zero on a chase through the snow. Jopling speeds down the slopes on skis while Gustave and Zero follow on a toboggan. The scene is shown though a combination of overhead and ground level shots, with everything sped up a tad, resulting in an almost slapstick, keystone cops type of sequence. It's a nice change from the verbal comedy that drives the rest of the film, and is the most laugh-out-loud funny section of The Grand Budapest Hotel.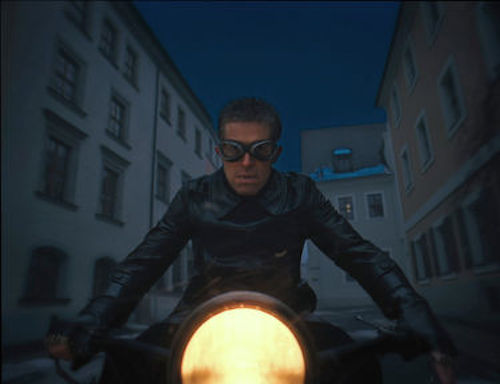 Cast and Crew
Director(s): Wes Anderson
Producer(s):
Screenwriter(s): Wes Anderson
Story: 
Cast: Ralph Fiennes (M. Gustave)F. Murray Abraham (Mr. Moustafa)Mathieu Amalric (Serge X.) Adrien Brody (Dmitri)Willem Dafoe (Jopling)Jeff Goldblum (Deputy Kovacs)Harvey Keitel (Ludwig)Jude Law (Young Writer)Bill Murray (M. Ivan)Edward Norton (Henckels)Jason Schwartzman (M. Jean)
Editor(s):
Cinematographer: Robert D. Yeoman
Production Designer(s):
Costume Designer: 
Casting Director(s): 
Music Score: Alexandre Desplat
Music Performed By: 
Country Of Origin: USA