It Chapter Two Review
The cast is inspired and the story is faithful, but 'It Chapter Two' doesn't quite live up to its potential.
Release Date: September 6, 2019
Twenty-seven years after their first encounter with the terrifying Pennywise, the Losers Club have grown up and moved away, until a devastating phone call brings them back.
Director: Andy Muschietti
Screenwriters: Gary Dauberman, Stephen King
Producers: Roy Lee, Dan Lin, Barbara Muschietti 
Cast: Jessica Chastain (Beverly Marsh), James McAvoy (Bill Denbrough), Bill Hader (Richie Tozier), Isaiah Mustafa (Mike Hanlon), Jay Ryan (Ben Hanscom), James Ransone (Eddie Kaspbrak), Andy Bean (Stanley Uris), Jaeden Martell (Young Bill Denbrough), Wyatt Oleff (Young Stanley Uris), Jack Dylan Grazer (Young Eddie Kaspbrak), Finn Wolfhard (Young Richie Tozier), Sophia Lillis (Young Beverly Marsh), Chosen Jacobs (Young Mike Hanlon), Jeremy Ray Taylor (Young Ben Hanscom), Teach Grant (Henry Bowers), Nicholas Hamilton (Young Henry Bowers), Bill Skarsgard (Pennywise)  
Editor: Jason Ballantine
Cinematographer: Checco Varese
Production Designer: Paul D. Austerberry 
Casting Director: Rich Delia
Music Score: Benjamin Wallfisch
When It was released a couple of years ago, there was never any doubt that there would be a sequel. After all, the 1990 miniseries It was a two-parter, and Stephen King's original book covered both the children's ordeal and the story of them coming together as adults to continue their fight. So, assembling the Loser's Club to once again take on Pennywise the clown in It Chapter Two was a no-brainer.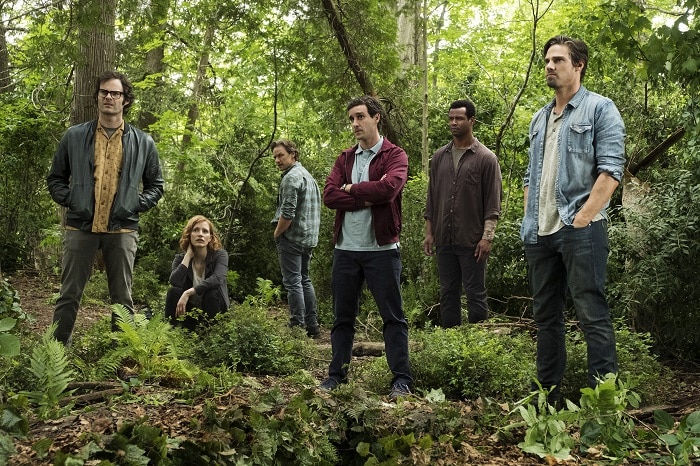 It Chapter Two picks up 27 years after the events of It with the grown up Mike Hanlon (the Old Spice Your Man Could Smell Like guy Isaiah Mustafa) summoning his old friends back to Derry when Pennywise the Dancing Clown (Atomic Blonde's Bill Skarsgård reprising his role from the first movie) shows up again to torment the town. Remembering the blood oath of their childhood, the adult Losers come together to deal with their horrifying adversary once and for all. Their bravery, loyalty, and love for one another are put to the ultimate test as Pennywise once again uses their deepest fears against them.
Like It, It Chapter 2 was directed by Andy Muschietti (Mama), and screenwriter Gary Dauberman (Annabelle, The Nun), who did the lion's share of the writing on the first movie, is also back. The adult story of the Losers embellishes a few things from King's original novel while omitting a few others, but for the most part, it's a fairly faithful adaptation, both in tone and in theme. The childhood wonder is all there, but it's injected with lightning-quick spurts of nightmarish fantasy.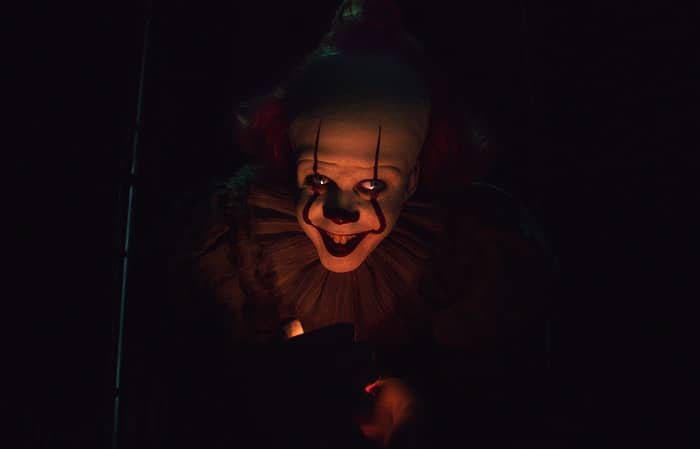 It Chapter 2 is more than just a sequel; it's a pure second part to the story. The continuity is incredible. The town of Derry seems like a snapshot that never changes, and the additional scenes featuring the kids retroactively add depth to the story's first chapter. And the casting of the adult losers is perfect. James McAvoy (Split, Glass) as Bill, James Ransone (Sinister, Tangerine) as Eddie, Jessica Chastain (A Most Violent Year, Crimson Peak) as Beverly, Bill Hader (The Skeleton Twins) as Richie, and Jay Ryan ("Beauty and the Beast") as Ben are all inspired choices that really seem like the adult versions of their child counterparts, both in physical appearance and in behavioral mannerisms. The two parts of It could seamlessly be combined into one movie. One long, five-hour-plus movie.
Which brings us to It Chapter 2's downfall. At 169 minutes, the movie is about an hour too long. A lot of the extraneous information is character building stuff, not completely necessary, but not wasted air either. Where It Chapter 2 loses steam is in its never-ending third act. Seemingly taking a cue from modern superhero movies, the final battle between the Loser's Club and Pennywise takes up nearly a third of the movie, and frankly, it gets long and tedious. And while seeing the heroes in combat with their mortal enemy is initially exciting, the fight quickly winds up repeating itself. What engagement the movie had up to that point goes out the window, right along with the audience's patience.
For fans of It, It Chapter 2 is essential viewing, just to give some closure to the story. Just don't get your hopes up, because it's not nearly as effective as the first part. But then again, the second night of the original mini-series wasn't as good as the first, either. So, it could just be that, when it comes to It, the kids' side of the story is the more compelling chapter.
Although It Chapter 2 does have its horrifying moments (one scene in a funhouse maze of windows comes to mind), they're nothing compared to the scares that were in the first movie. Bill Skarsgård's Pennywise is terrifying, but It Chapter 2 almost shows too much of him; the mystery is gone, and there's only so much fear that can be inspired by a clown with a mouth full of needle-sharp teeth before it completely loses effect and becomes campy. The visions that the adult Losers encounter seem to cross over from fantasy to reality a little too easily as well, so the nightmares aren't as surreal and, therefore, aren't as frightening, either. There's frequent grey area as to what's real and what's imaginary, but instead of being enigmatic and mysterious, it's just plain confusing. And in this case, confusion does not breed fear.