Synopsis: The story of the country-western singer Hank Williams, who in his brief life created one of the greatest bodies of work in American music. The film chronicles his rise to fame and its tragic effect on his health and personal life.
Release Date: April 1, 2016     MPAA Rating: PG-13
Genre(s): Biography, Drama
Film Review

There is little doubt that Hank Williams Sr. is one of the most significant and influential figures in American music. Not only is he enshrined in the Country Music Hall of Fame, the Songwriters Hall of Fame, and the Rock and Roll Hall of Fame, but it seems as if every child he has fathered or grandfathered has gone on to have a successful music career as well. In 1964, a biopic about the legend was made starring George Hamilton called Your Cheatin' Heart, but that was fifty years ago. It's about time for another generation of moviegoers to discover Hank Williams, so now we've got I Saw the Light.
I Saw the Light begins with Hank Williams (Tom Hiddleston, better known as Loki from the Thor movies) at the infancy of his career, playing live radio shows for peanuts while he dreams of playing the Grand Ol' Opry. He's got a tight backing band and a knack for writing catchy songs, but he's also got a less-talented wife, Audrey (Martha Marcy May Marlene's Elizabeth Olsen), who insists on singing duets with him. Hank is torn between his wife and his band, but he soon figures out that he doesn't need either – that he is the one with all of the talent, and he alone can make or break his own fortunes. As he climbs the ladder of musical success, he feels pressure from all sides, and he deals with the stress by indulging in booze and drugs. Hank balances his career with his demons as he continues to do the one thing that he knows how to do – play music.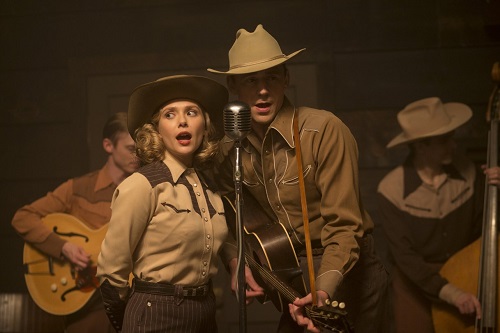 Based on the book "Hank Williams: The Biography" by Colin Escott, George Merritt, and William MacEwen, I Saw the Light was written and directed by Marc Abraham (Flash of Genius). Although Abraham approaches the subject from the point of view of a big fan, he also shows the real Williams, warts and all. The movie claims to be a true story, but it seems a bit unclear as to how much of the narrative is real and how much is embellished for dramatic effect. The biggest flaw in I Saw the Light is that it assumes the viewer comes in knowing quite a bit about Hank Williams' life and career, introducing characters and situations willy-nilly in a way that just seems to think that the audience will already know what's going on. Despite this, it's still a great movie, very well-made and extremely engaging, and it comes off as a portrait of a man who is every bit as sincere as his music, regardless of whether or not the events depicted in the film are entirely true, if that makes any sense.
Further muddling up the authenticity of the film, I Saw the Light seems to have split the camp with Hank Williams' grandkids – granddaughter Holly praises the film in press releases and in interviews, but grandson Hank III trashes it publicly every chance he gets to anyone who will listen. As far as music biographies go, it's one of the better modern ones; it's funny and sad, toe-tapping and heart wrenching, but at the end of the day, it's just good cinema. Whether you're a Hank fan going in or not, you'll be one coming out, if only because of all of the great music in the film.

Tom Hiddleston is one of those actors who can read the phone book and make it sound captivating, and his performance in I Saw the Light is more of the same. Hiddleston gets the mannerisms and the inflections just right to convince the audience that he is a good old southern boy (rather than the British chap that he actually is). He plays to Hank Williams' strengths and flaws, portraying the consummate musical showman just as well as the womanizing, struggling addict. Elizabeth Olsen plays wife Audrey with just enough sass and confidence to be likeable without ever crossing the line into shrew territory. Together, Hiddleston and Olsen display a tense chemistry that is, well, like a sassy confident woman dealing with a struggling womanizer. I Saw the Light is a showcase piece for both Tom Hiddleston and Elizabeth Olsen, and each does exceptionally well with their respective roles.

At the center of any good biography about a legendary musician is, of course, the music itself, and the music in I Saw the Light is terrific. The soundtrack is made up of plenty of songs that the viewer will most likely recognize (if not know by heart), but they may not realize they were written or performed by Hank Williams, songs like "Hey, Good Lookin'," "Move It On Over," and "Your Cheatin' Heart." In a gutsy move, Tom Hiddleston does his own singing in the movie, and after being coached vocally by the film's executive music director (and country music legend in his own right) Rodney Crowell, he sounds great. Of course, the soundtrack is rounded out by a handful of other original artist songs like Earth Kitt's "Santa Baby" and Emmett Miller's "Lovesick Blues," but the real draw is all of the great Hank Williams songs. As expected, I Saw the Light is propelled by its soundtrack, and also as expected, its soundtrack is top-notch.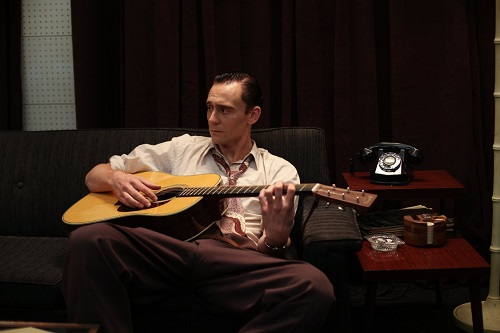 Cast and Crew
Director(s): Marc Abraham
Producer(s): Marc AbrahamAaron L. GilbertBrett RatnerG. Marq Roswell
Screenwriter(s): Marc AbrahamColin EscottGeorge Merritt
Story: William MacEwan
Cast: Tom Hiddleston (Hank Williams)Elizabeth Olsen (Audrey Williams)Bradley Whitford (Fred Rose) Cherry Jones (Lillie Williams)Maddie Hasson (Billie Jean Jones)Wrenn Schmidt (Bobbie Jett)David Krumholtz (James Dolan)Josh Pais (Dore Schary)Wes Langlois (Don Helms – Steel)Joshua Brady (Sammy Pruett – Guitar)Casey Bond (Jerry Rivers – Fiddle)Michael Rinne (Lum York – Bass)
Editor(s): Alan Heim
Cinematographer: Dante Spinotti
Production Designer(s):
Costume Designer: Lahly Poore-Ericson
Casting Director(s): Denise ChamianTracy Kilpatrick
Music Score: Aaron Zigman
Music Performed By: 
Country Of Origin: USA