Whether it's a badge of honor or a sign of disrespect is up for debate, but it seems as if, for better or worse, every reasonably successful horror movie in history gets remade, some more than once. Stephen King adaptations are no different; the superstar author's first three books (Carrie, 'Salem's Lot, and The Shining) have all been made and remade (Carrie has gone through the reboot ringer twice). Now, since the reimagining of It has finally gathered enough steam (and a director and cast) to go into production, it seems like as good a time as any for Cinema Fearité to take a look back at the scariest television miniseries of 1990: Stephen King's It.
It is about a town in Maine (because where else would a Stephen King story be set) that is plagued by a series of child abductions and murders. A group of friends, one of whom has lost his brother to the culprit, discovers that the killings are being committed by an evil shape-shifting clown named Pennywise (Tim Curry from The Rocky Horror Picture Show) who is able to use their fears and phobias against them. The kids band together to vanquish the clown, but are unsure as to whether or not it's really dead, so they make a pact that if it ever comes back, they'll all return to fight him again, hopefully taking him down for good. Years later, with the kids all grown up and scattered across the country, Pennywise returns. The group reunites to finish the job that they started…but are they strong enough to face their worst fears again?
The screenplay for It was written by Lawrence D. Cohen (who also worked on the scripts for the King novels Carrie and The Tommyknockers) and director Tommy Lee Wallace (Halloween III: Season of the Witch). At over 1,100 pages, King's novel is formidably lengthy, so the decision was made to turn it into a two-night mini-series and air it around Thanksgiving on the ABC network. Splitting the narrative in half turned out to be a good choice story-wise, too, as It really is a tale of two movies.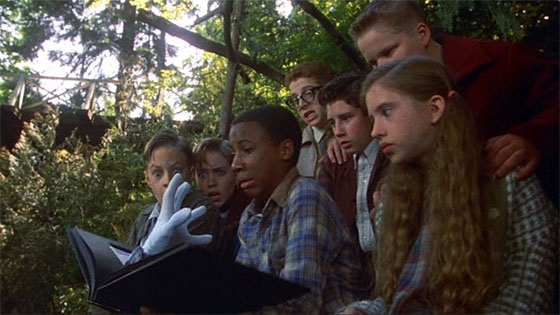 The first half of the movie deals mainly with the characters as children, and it's great. It's got an all-for-one early teenage movie feel to it similar to that found in classics like The Goonies or Stand by Me. Except, in It, the stakes are higher because the kids are up against a killer clown that can take the shape of their deepest, darkest fears, whether that's a giant spider or a teenage werewolf or whatever else scares them. So, basically, the first episode of the two-night program is the kids discovering Pennywise, dealing with the clown trying to lure them into his clutches, and eventually fighting back against the evil being. And the first half ends with one of the most chilling scenes ever shown on television – no spoilers, but it's the perfect transition into the second half of the series.
The second half of It goes off the rails a little bit. It's essentially the same plot as the first half, but the kids are adults and they have come back to their hometown to do battle with their old tormentor again. It's not quite as effective as the first half because the adults act as if they were children. It's probably out of fear, but it comes off as awkward and goofy instead of scared and vulnerable. The adults' arc follows the same basic story as the children's arc, so naturally, it ends up in pretty much the same place.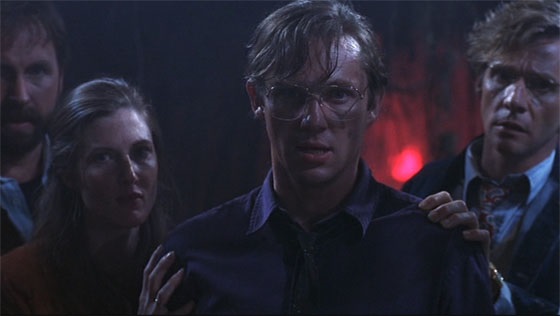 As one might expect from a big network T.V. mini-series, the cast of It is full of big-name stars, even if they're a little flavor-of-the-week for the nineties. The adult actors include television staples like Richard Thomas (aka John-Boy Walton from "The Waltons"), Tim Reid (aka Venus Flytrap from "WKRP in Cincinnati"), John Ritter (aka Jack Tripper from "Three's Company"), and Harry Anderson (aka Judge Harry T. Stone from "Night Court"). The adult cast also features character actors Richard Masur (The Thing, Nightmares), Annette O'Toole (Cat People), and Dennis Christopher (Fade to Black, Blood and Lace). There aren't as many recognizable faces on the kids' side, but fans will recognize Seth Green ("Robot Chicken"), Jonathan Brandis ("SeaQuest 2032"), and Emily Perkins (Ginger Snaps, Extraterrestrial) amongst the gang. It looks outdated by today's standards, but for 1990, the cast of It was full of star power.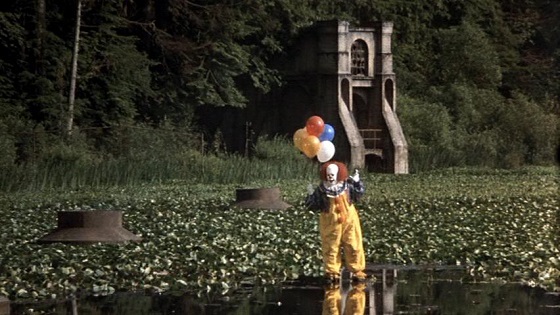 And then there's Tim Curry. Curry's performance as the creepy, conniving clown is what makes It a horror classic. He plays Pennywise as a crazy combination of Bozo and Krusty, with just enough John Wayne Gacy to strip out any and all humor. Between playing Dr. Frank-N-Furter in The Rocky Horror Picture Show and The Lord of Darkness in Legend, it's safe to say that Curry has sunk his teeth into some of the most iconic roles in film history, yet It is still considered a high point for the actor – Curry's charismatically horrifying performance literally sells the movie. There are probably many people today who can trace their coulrophobia directly to Tim Curry's smiling-one-minute-growling-the-next portrayal of Pennywise the Dancing Clown back on television in the early nineties.
Remaking Stephen King's It may seem like a bad idea on paper, but truth be told, there's plenty of room for improvement over the original. It will all come down to whoever fills Tim Curry's oversized shoes as Pennywise the Dancing Clown. Last word was that the role was given to Bill Skarsgård from "Hemlock Grove." For It's sake, let's hope he brings his A-game.