'Mile 22' Review
The latest teaming of Peter Berg and Mark Wahlberg in 'Mile 22' is best forgotten.

Release Date: August 17, 2018
In Mile 22, an elite American intelligence officer, aided by a top-secret tactical command unit, tries to smuggle a mysterious police officer with sensitive information out of the country.
Director: Peter Berg
Screenwriter(s): Lea Carpenter
Producer(s): Peter Berg, Stephen Levinson, Mark Wahlberg
Cast: Mark Wahlberg (James Silva), Lauren Cohan (Alice Kerr), Iko Uwais (Li Noor), John Malkovich (Bishop), Ronda Rousey (Sam Snow), Carlo Alban (William Douglas III), Sam Medina (Axel)
Editor(s): Melissa Lawson Cheung, Colby Parker Jr.
Cinematographer: Jacques Jouffrey
Production Designer: Andrew Menzies
Casting Director(s): Sheila Jaffe
Music Score: Jeff Russo
Director Peter Berg (Lone Survivor, Deepwater Horizon) is at it again. He loves delivering action-packed movies, and Mile 22 is full of so much gunfire, explosions, fights, and the like, you forget there's actually a story behind all the madness occurring on screen. That's a good thing, because Mile 22's script isn't worthy of praise. Unless you're a big fan of expletives, and Mark Wahlberg delivering them in rapid pace.
What story there is in Mile 22 revolves around an elite CIA paramilitary team, headed by Wahlberg's James Silva, who handle what others can't. They're stationed in Indocarr, a fictional city in Southeast Asia where terrorism plots abound (or so it seems). But Overwatch, led by Bishop (Red 2's John Malkovich) and referred to as Mother, is thousands of miles away handling the team's tactical command. When an asset, Li Noor (Iko Uwais from The Raid and its sequel) shows up at the U.S. Embassy with an encrypted drive that supposedly contains the locations of a weapon more powerful than the atomic bomb, everyone obviously wants him to give up the information. He will, for a price: asylum in the United States. That should be easy, but it's not. The city's military, police, and street gangs are all trying to get what Noor has, and they're willing to go to any length to do so. Kill American operatives in broad daylight on a busy street? Not a problem. Send human killing machines into the U.S Embassy to assassinate Noor — totally acceptable. And repercussions don't appear to be an issue.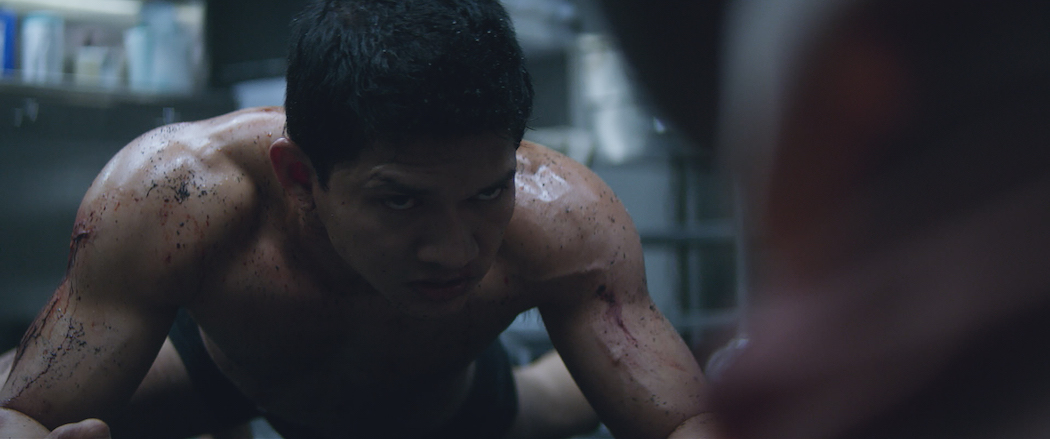 It all boils down to getting Noor safely to an airfield where, upon arrival, he will decrypt the drive as he boards the plane. In case you haven't guessed already, it's 22 miles from the embassy. Silva, Alice ("The Walking Dead"'s Lauren Cohan), Sam (The Hurt Business' Ronda Rousey), and the other team members are up for the task, and Berg creates a spectacle of carnage on the trip. Mile 22 is loud, blood-heavy, and puts its characters through absolute hell. To say their bodies undergo torture is kind. Especially Noor, as Uwais gets to make full use of his hand-to-hand combat skills while protecting himself over and over again. His action-packed scenes just happen to be the best part of Mile 22 as the choreography is done quite well. Your eyes have to work to keep up, and you appreciate the skill it takes to pull off such stunts. When a gun shot lands in someone's skull or a grenade goes boom, the appreciation is lost — it's just another day watching an overtly violent film.
When you strip away the action and expletives, the sad reality is that Mile 22 is boring. The story is somewhat predictable, thanks to the addition of a Russian spy plane, and the stakes never feel all that high. Sure, we want to find the lethal weapon, but we're left to not care as the focus is on the attacks against Noor during the road trip. And for anyone who has ever spent time in Southeast Asia, it's hard to take Mile 22 seriously when there's no traffic on the roads. FYI: Cities in Southeast Asia have horrendous traffic. It also doesn't help that Silva has a personality disorder that causes him to go on long-winded screaming rants. No one wants to listen to it, and the explanation for it — he's a genius with childhood trauma — just doesn't make any sense. Mile 22 needs a stronger hero to get behind, and Cohan's Alice isn't helping the situation with her whining and anger issues that are concerned with her being an absent mother and a trained killer. There's so much eye rolling potential in Mile 22, it hurts to recall watching the film.
Thankfully, you don't have to. Unless you really need mindless action and love Uwais, take a pass on Mile 22. Watch Berg's Lone Survivor or The Raid instead, or catch up on sleep.