Synopsis: Feeling disenchanted with life after retirement, Mitch, a brassy former surgeon, convinces his mild-mannered ex-brother-in-law Colin to take a trip with him to Iceland. The sixty-something pair set off in an attempt to reclaim their youth through Reykjavík nightclubs, trendy spas, adventurous restaurants, and rugged campsites. But they quickly discover that you can't escape yourself, no matter how far you travel.
Release Date: July 11, 2014     MPAA Rating: PG-13
Genre(s): Comedy,
Film Review

One wouldn't think that a movie based solely around a pair of traveling elderly men would be entertaining unless it starred Jack Lemmon and Walter Matthau. While it's not exactly a rip-roaring comedy like Grumpy Old Men, Land Ho! stars a different odd couple and, yes, it's entertaining.
Land Ho! is the story of a retired man named Mitch (Earl Lynn Nelson from Passenger Pigeons) who is planning a trip to Iceland. He invites his ex-brother-in-law, Colin (This is Martin Bonner's Paul Eenhoorn), to join him, and the two men set off. In Iceland, the pair go from hotel to hotel, campsite to campsite, working their way across the country, visiting tourist attractions such as museums by day and hitting nightclubs by night. The men, in the twilight of their lives, are just beginning to find themselves.
Written and Directed by Aaron Katz (Cold Weather) and Martha Stephens (Pilgrim Song), Land Ho! is a pretty simple film. It's a very straightforward story told through competent filmmaking. There are no obvious visual effects. The cast is very bare-bones. There's hardly even any soundtrack in the film, and what music is present is very sparse, used mainly for diegetic purposes or for transitions. Despite all of this, or just maybe because of it, Land Ho! turns out to be a pretty enjoyable film to watch. It's a fun road movie; there's not a whole lot of point to most of what happens, but the meandering journey is exhilarating. There's an unmistakable charm that doesn't need to be ruined by a complicated plot.
Because there is not a whole lot of action in Land Ho!, it's safe to classify it as a character driven drama. The effectiveness of the film hinges entirely on Mitch and Colin, and the two gentlemen rise to the occasion. Every member of the audience will see a little bit of their own grandfather in the endearing traits of at least one of the two men. No matter what the pair are doing, they are always conversing, with Mitch taking the lead, and the results are hilarious and heartbreaking, annoying and amusing. They get along like old friends and bicker like an old married couple. Their characters are revealed in small doses that don't really apply to the rest of the movie as a whole. The governing theme of Land Ho! is one of recapturing lost youth and living for the moment, and it's illustrated through the lives of two gruff but lovable old men. It's simultaneously sad and hopeful, which is an admirable combination. Unless the viewer's heart is three sizes too small, Land Ho! will warm it.

The most instantly impressive element of Land Ho! is the striking visuals. Shot on location in Iceland, the movie functions almost as an impromptu tourism film – the country is so beautiful that only the most introverted of viewers will not want to visit after seeing the film. Cinematographer Andrew Reed (Quiet City) seems to understand this fact, as he shoots much of the movie in wide, open shots, showing the audience every last bit of the scenery. Even the closer shots manage to capture the fresh air and brisk cool of the Icelandic countryside. Of course, there are internal sets and scenes, too, but they're not as visually pleasing as the rolling, snow-capped hills of the externals. Iceland is a perfect backdrop for any movie, but a well-made, minimalistic one like Land Ho! really emphasizes the tranquility and splendor of the country.

There are several supporting players who come in and out of Land Ho!, but the film really belongs to Mitch and Colin, played by Earl Lynn Nelson and Paul Eenhoorn, respectively. The two men have a great back-and-forth chemistry between them, making it seem as if the viewer is on a vacation with their grandfathers. The pair puts forward a cool opposites-attract type of feeling; Nelson's Mitch is the talkative know-it-all while Eenhoorn's Colin plays the sounding board, speaking mostly to encourage Mitch to keep going. There's a very natural vibe to the men's performances, as if the actors were simply given an outline and their conversations were improvised. It's almost as if the two men are playing themselves, with a camera crew tagging along on an Icelandic journey. Nelson and Eenhoorn anchor the film, and Land Ho! wouldn't be the same if either of their roles had been cast differently.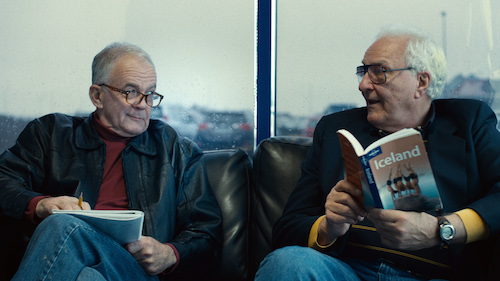 Cast and Crew
Director(s): Aaron Katz
Producer(s):
Screenwriter(s): Aaron KatzMartha Stephens
Story: 
Cast: Paul Eenhoorn (Colin)Earl Lynn Nelson (Mitch)Karrie Crouse (Ellen) Elizabeth McKee (Janet)
Editor(s): Aaron Katz
Cinematographer: Andrew Reed
Production Designer(s):
Costume Designer: 
Casting Director(s): 
Music Score: Keegan DeWitt
Music Performed By: 
Country Of Origin: USA