Synopsis: Director Alexander Payne (Sideways, The Descendants) takes the helm for this black-and-white road-trip drama starring Bruce Dern as a tempestuous Montana father who is convinced he's won a million-dollar magazine sweepstakes, and Will Forte as the son who begrudgingly agrees to drive him to Nebraska to claim his winnings.
Release Date: November 22, 2013     MPAA Rating: PG-13
Genre(s): Drama,
Film Review

In Alexander Payne's Nebraska, star Bruce Dern says very few words but also delivers one of the best performances of the year. Nebraska is understated, matter-of-fact, and absolutely hilarious, but underneath it all is a surprisingly sweet story centered on a son's broken relationship with his alcoholic father.
We meet Bruce Dern's character, the senile Woody Grant, on the side of the road in Billings, Montana. Grant believes that he has won a million dollars through a mail-in sweepstakes, and is headed to Nebraska to claim his prize. The sweepstakes is obviously a sham, everyone from his youngest son David (Will Forte) to his wife Kate (June Squibb) knows it, but Woody doesn't. See, Woody is the type of character they don't make anymore, a man who believes people when they say something and will always lend a helping hand. He's also quite the drinker. Time, and a tour of Vietnam, have changed Woody, turning him into a man of few words with very few wits about him, but he's still driven to collect his million. And so, in an effort to keep his father from wandering off again, and hopefully to bond with him, David agrees to drive Woody to Nebraska.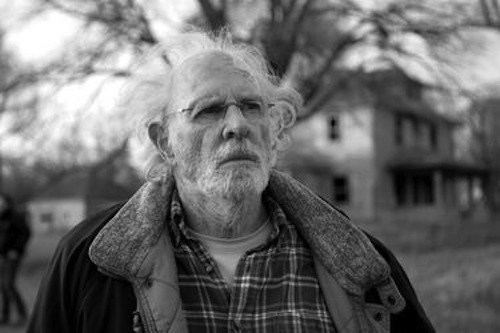 However, as with any good road trip movie, of which this is one of the better ones, Nebraska isn't about the destination but the journey. Along the way, Woody and David spend a considerable amount of time in Woody's hometown of Hawthorne, where we learn more about Woody's past and the colorful folk that he grew up with. There's his old pal Ed Pegram (Stacy Keach), an old flame, Peg (Angela McEwan), and a half dozen or so relatives, each of which is more of a "character" than the next.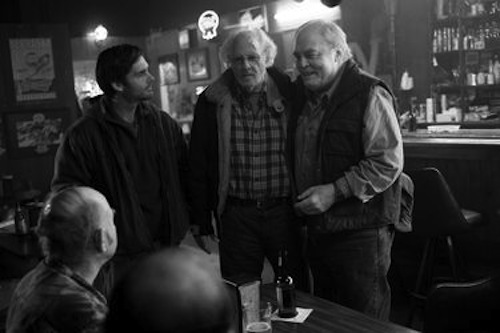 And so, as Woody and Dave embark on their quest, Nebraska becomes more so a portrait of small town life than anything else. The monotony, the hopelessness, and the boredom are all well represented thanks to Bob Nelson's perfect script and Payne's familiarity with the subject matter, having grown up in Nebraska himself. Sure, Nebraska isn't about much, but the conversations are all extremely enjoyable. They may lack the rhythm of a witty, fast-paced comedy, but the matter-of-fact nature to the humor is refreshing. You'll be able to pick out specific traits from nearly every character, whether it's Kate's incessant gossiping or Woody's hopeless musings on marriage, and relate; and you certainly will be laughing consistently throughout.
Nebraska doesn't seek to glorify the small town atmosphere, but recreates it in stunning authenticity. Payne's choice to shoot the film in black and white further reinforces that idea, giving plainness to the palette. But where the film truly shines is in its script and its acting. The film has a very particular sensibility about it, that if it were done wrong could have left it feeling flat and boring. But with this cast and dialogue everything works. Nebraska is easily one of the best films of 2013 – a surprisingly sweet, charming, and hilarious trip down memory lane.

As a film constructed around a lot of conversational scenes, Nebraska needed to rely on the strength of its actors more than most. And luckily, the entire cast is phenomenal. The role players, like Stacy Keach's Ed Pegram, do well to breathe life to the one-note town, which is impressive considering many of them are given very little screen time with which to work. Some actors are seen for less than a minute, but they make an impact.
The most important role player of the bunch is June Squibb as Woody's wife Kate. She's this free-speaking, cranky old housewife who holds nothing but contempt for everyone around her, and it's so much fun to watch her on screen. Occasionally, her performance is over the top, but it still works. While Woody is one-note, Kate is as dynamic as they come, and Squibb nails every layer.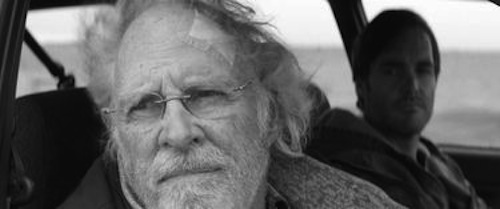 Will Forte helps ground the film as David, the voice of reason who slowly learns his dad is more complex than he lets on. He's expected to play the straight man here, and does so with aplomb. For as much as Bruce Dern steals the show, Forte is the perfect compliment to his performance. But make no mistake: Bruce Dern is the real treat of Nebraska. His Woody Grant is so pitch perfect that it's hard not to be transfixed the entire time he's on screen. From the subtle nuance in his wandering yet confused eyes, to the way he delivers even the most biting sardonic lines, or even the way he snaps in and out of focus in a scene, Dern is excellent.
Cast and Crew
Director(s): Alexander Payne
Producer(s):
Screenwriter(s): Bob Nelson
Story: 
Cast: Bruce Dern (Woody Grant)Will Forte (David Grant)June Squib (Kate Grant) Bob Odenkirk (Ross Grant)Stacy Keach (Ed Pegram)Mary Louise Wilson (Aunt Martha)Rance Howard (Uncle Ray)
Editor(s):
Cinematographer: Phedon Papamichael
Production Designer(s):
Costume Designer: 
Casting Director(s): 
Music Score: Mark Orton
Music Performed By: 
Country Of Origin: USA