Cinema Fearité presents 'Judgment Night'
Cinema Fearite remembers the nineties with rap metal, flying bullets, and Denis Leary.
The last few years, film fans and critics alike have been comparing the similarities between horror and comedy, thanks in part to the success of Jordan Peele's Get Out and John Krasinski's A Quiet Place. But not only have comedy guys been stowing away in horror movies for a long time, it's not just the directors who are in on it; from Robin Williams in One Hour Photo to John Goodman in 10 Cloverfield Lane, from Will Smith in I Am Legend to Courteney Cox in the Scream movies, the talents of comic actors have always translated well to fright flicks. And that's not even mentioning half of the adult cast of the original 1990 version of It. In 1993, stand-up comedian and MTV writer Denis Leary even threw his hat into the ring playing the villain in Judgment Night.
Judgment Night is about a new father named Frank Wyatt (Emilio Estevez from Maximum Overdrive and Nightmares) who plans a much-needed night out with his buddies. His friend Ray (Entourage's Jeremy Piven) borrows a fully loaded R.V. from a work client, and with buddy Mike (Cuba Gooding Jr. from Selma) and brother John (Leatherface's Stephen Dorff) in tow, the guys head off to a boxing match in the city. When they get stuck in traffic on the expressway, Ray decides that he knows a shortcut and navigates the R.V. into a rough neighborhood. The guys stumble upon a dispute between a gang thug named Fallon (Leary) and one of his underlings, and when they accidentally interfere, they wind up squarely in Fallon's crosshairs themselves. The night becomes a desperate run for survival, the guys being chased and hunted by Fallon and his crew until, eventually, they are forced to fight back.
Directed by Stephen Hopkins (A Nightmare on Elm Street 5: The Dream Child, Predator 2) from a script by Lewis Colick (October Sky) that was based on a story by Jere Cunningham (Hunter's Blood), Judgment Night is part shoot-em-up and part stalk-and-walk. It's a tense double-shot of paranoia, with the heroes not only never knowing where or when their hunters will strike but succumbing to the pressure by turning upon one another as well. Between the sneakiness of their pursuers, the shifting loyalties within their own group, and the perceived predatory behavior of the "innocent" bystanders, Frank and the guys have no idea who they can and can not trust. And that's just the mood that Hopkins spends the entire movie feeding.
And at the center of that paranoia and mistrust is Denis Leary's Fallon. He's a ruthless and cunning villain, angry and disturbed to the point of taking out his frustrations on his own goons. He knows the neighborhood, and the people in it, so he's clearly got the home field advantage. He's also a great shit talker, yelling things like "are you guys wearing cologne?  Or is that fear…?" as he strolls down the alley in which he knows his prey is hiding. He even taunts them with the movie's tagline – "don't move…don't whisper…don't even breathe…"
Of course, this is all a setup for the inevitable Frank vs. Fallon confrontation. And it comes, but not before plenty more high-stakes action occurs. Most of the carnage comes in the form of flying bullets, but the hide-and-seek, cat-and-mouse aspect of the plot makes for some suspenseful waiting in between barrages of gunfire. And yes, there is a scene where the guys run from an explosion. Because of course there is. Fans expect nothing less from movies like Judgment Night.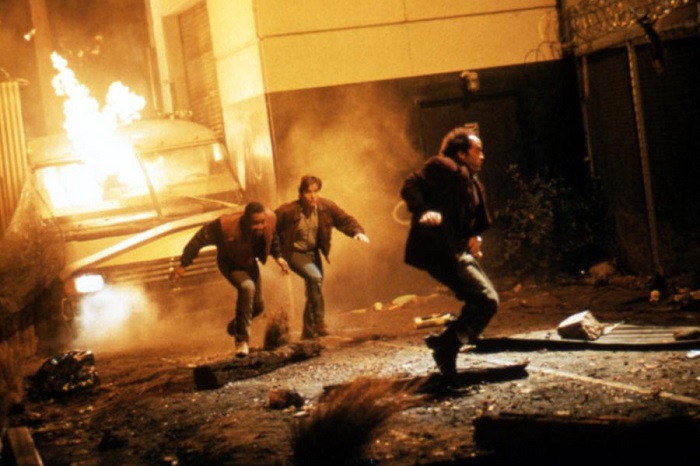 Cinematographer Peter Levy (Lost in Space, Torque) shot pretty much all of Stephen Hopkins' projects, whether they were for movies or television, and he was also cranking the camera for Judgment Night. There's an air of comfortable discomfort in the photography for the film, a slick and easy look to the dirty, grimy subject matter. Levy keeps everything dark and damp, putting the audience right into the slums, sewers, and railyards of the enemy territory. The constant hiding from the bad guys lets Levy play around with some fun De Palma-esque split diopter shots that, quite frankly, are the only way that some of the situations in the film could (or should) be captured on film. From a cinematography standpoint, Judgment Night looks as good as any action horror movie has the right to look.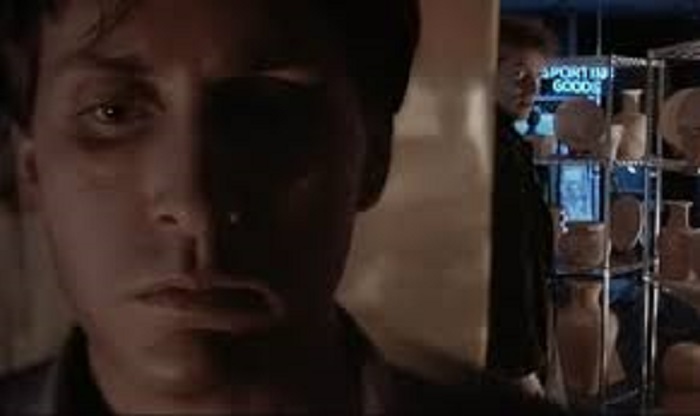 Despite its killer cast, its incendiary action sequences, and its eye-popping cinematography, what Judgment Night is most remembered for is its music, and not just the capable cinematic score by Alan Silvestri (Cat's Eye, What Lies Beneath). The soundtrack features eleven now-legendary collaborations between hip-hop groups and hard rock bands. Highlights include a song called "Fallin'" by Teenage Fanclub and De La Soul (which also prominently features a Tom Petty sample), a medley of songs from the punk band The Exploited performed by Slayer and Ice-T, a soulful jam called "Me, Myself, and My Microphone" by Living Colour and Run-D.M.C, and a fist-pumping anthem called "Just Another Victim" by Helmet and House of Pain (one of whose members, Everlast, portrays one of Fallon's thugs in the film). Blame it or credit it, the soundtrack album to Judgment Night was a groundbreaking concept record which helped pave the way for the rap metal craze that would engulf alternative radio for the rest of the nineties.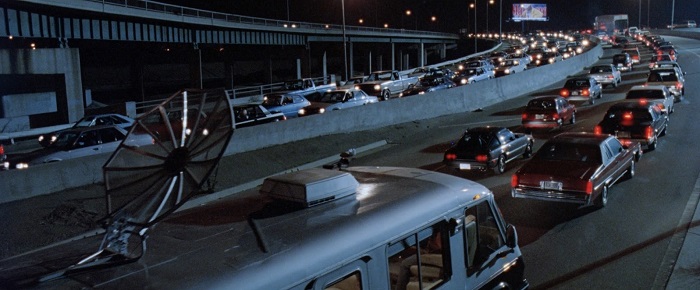 Judgment Night is one of those "oh, yeah!" movies that people only remember when they're reminded of it. And yes, it's very dated, from the aforementioned soundtrack to the payphones and satellite dishes that are shown all over the place in the film. But, retro or not, it holds up as a terrifyingly suspenseful experience. And funnyman Denis Leary is right in the middle of it.