Stephen King has always been a prolific writer, and filmmakers have always loved making movies out of his works, but Hollywood seems to be in the midst of a "Kingaissance" as of late, with the disappointing The Dark Tower releasing this past summer, the terrifying IT opening this weekend, and the "how are they gonna film THAT?" Gerald's Game making its premiere on Netflix at the end of the month. For all of his novels and short stories that have been adapted into movies, King has surprisingly only stepped behind the camera to direct one of them himself – the 1986 technology-run-amok thriller Maximum Overdrive.
Maximum Overdrive is set while the earth is passing through the tail of a comet (as explained by an opening title card). Radiation from the comet's tail causes inanimate objects to come to life and take revenge on the humans who invented and built them. Everything from ATM machines to ice cream trucks seem to be hunting down and killing people. A group of survivors is able to take shelter in a truck stop run by Bubba Hendershot (Pat Hingle from the 90s Batman movies), but the big rigs in the parking lot keep circling, essentially trapping them there. Lucky for them, Hendershot's got an arsenal of military-grade weapons in the basement that seems to have been assembled for just such an occasion, and one of the workers, an ex-con named Bill Robinson (Emilio Estevez from Nightmares), takes the lead on devising a plan to get everyone out. But the longer the humans wait, the more deadly trucks come, and with more trucks, there is less chance for escape.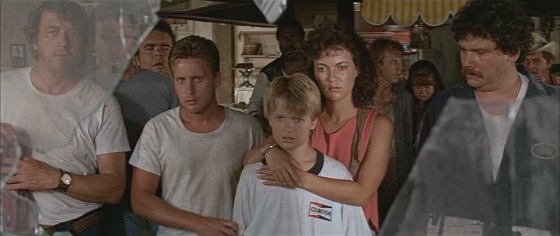 Famously critical of some other director's adaptations of his work, Maximum Overdrive is Stephen King firmly in the driver's seat of his material. He wrote the screenplay himself, basing it upon his own short story "Trucks," so it seems as if what ended up onscreen is a complete Stephen King production. Although set in modern times (or modern for the time), it's a throwback to the old fifties science fiction drive-in movies, sometimes seeming like a long episode of "The Twilight Zone." As such, it walks the line between comedy and horror, but never really committing fully to either.
It's also completely evident that its source is a short story that has been fleshed out to feature length, with typical motion picture timekillers that include an awkwardly shoehorned love story between Bill and a hitchhiker named Brett (What's Eating Gilbert Grape's Laura Harrington), and the lengthy pre-truck stop journey of a newlywed couple (played by Yeardley Smith from "The Simpsons" and John Short from "The Cavanaughs,") who both seem bent on annoying the hell out of each other (and the audience as well). The film is entertaining enough, though; despite the padding, Maximum Overdrive is never dull or boring, even if the audience is laughing at the movie instead of with it most of the time.
King's direction in Maximum Overdrive is interesting. The whole film itself comes off as a tribute to classic Corman-esque B-movies. The premise of the movie as a whole should be scary, as should several of the scenes within it, but the tongue-in-cheek execution makes everything corny. Except the movie still acts as if it's the most horrifying motion picture to ever find its way onto celluloid. Most (if not all) of the cast overacts their parts, speaking and screeching the conveniently on-the-nose dialogue in Shatner-like spurts and spasms in between clunky (yet somehow still impressive) slo-mo stunt work. There's a weird tone that makes the audience wonder how serious the film actually is.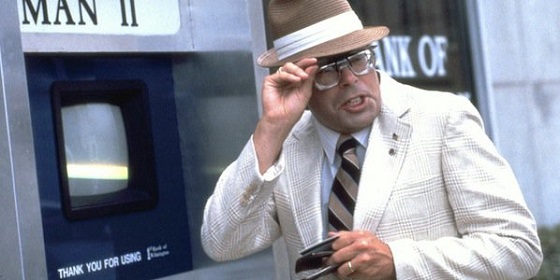 For what it's worth, some of the gags in Maximum Overdrive are played for intentional laughs. The first scene of the film features a man (played by King himself in a director's cameo) lamenting over an ATM machine calling him an "asshole." Another scene features a gas station attendant getting sprayed in the eye with fuel when he looks into a nozzle that has stopped working. Still another scene shows a little league coach pummeled to death by cans of soda that are being shot out of a vending machine. Even the more frightening gags are comical, such as one scene where a waitress is attacked by an electric knife, or another where a lawnmower menacingly stalks a kid on a bicycle. A couple of sequences are truly horrifying – some humans get run down by the semis, and others are shot once a machine gun cart shows up. But even those are made campy by the crazy circumstances. Maximum Overdrive is pure B-movie fun, through and through.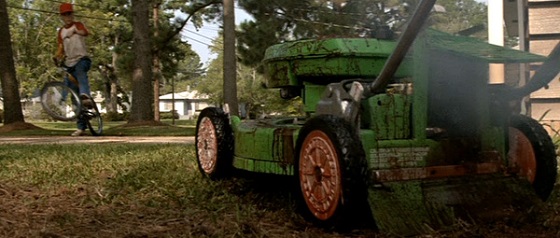 Whether the humor is intentional or not, there are some really fun special effects in Maximum Overdrive. The effects team, led by Jeff Frink (Trick or Treat, K-PAX) and Steve Galich (Waxwork, Real Steel), makes all of the death scenes look pretty gruesome. Frink's special makeup effects include dismembered body parts and exploding heads, and it's all done in that Savini-esque practical eighties horror way. Galich deftly handles the pyrotechnics, which are important to a movie about a group of people with rocket launchers who are fighting a tribe of autonomous big rigs – explosions are both imminent and plentiful. Classic sci-fi post-production visual effects, provided by a team led by Barry Nolan (Cat's Eye, Flash Gordon), round out the more spacey and hi-tech sections of the film.
The iconic image of Maximum Overdrive is the "leader" of the semis, a Happy Toyz delivery truck with the head of Spider-Man arch-enemy The Green Goblin attached to its grill. Giving the lead truck a face lets King avoid having to traverse the pitfalls of having an anonymous antagonist (as is the case with Duel and Pulse) by giving it an identity (like It Follows and Sole Survivor do). The glowing eyes and evil grin of the Happy Toyz truck gives the normally inanimate villain a distinct personality, allowing the audience to be afraid of a specific individual instead of a hunk of faceless metal and plastic. It's a genius move that assigns a face to the entity. Not only that, but it looks cool in a movie trailer.
Rather than use a traditional film composer for Maximum Overdrive, Stephen King got the rock band AC/DC to do the soundtrack. As a longtime fan of the band, King knew that they could deliver a hard rocking, energetic score, and their music does not disappoint. AC/DC wrote three new songs specifically for the movie, including the single "Who Made Who" (a recurring theme in the film's dialogue), and allowed the use of a half dozen more hits like "You Shook Me All Night Long," "Hells Bells," and "For Those About to Rock (We Salute You)." To round things out, the band also wrote and recorded a bunch of guitar-drenched, four-on-the-floor music cues for scene transitions. All of the music in Maximum Overdrive is typical AC/DC – high octane, fully loaded rock and roll – and it goes along with the movie's heavy machinery-running-wild theme very well.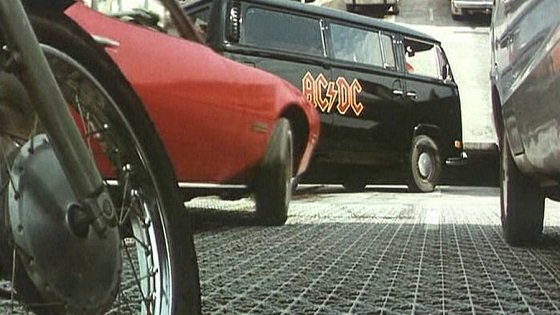 Although dozens upon dozens of Stephen King's books and stories have been made into movies in the years since, Maximum Overdrive remains the writer's only directorial credit, at least so far. He seems to be leaving directing to the directors, and focusing on doing what he does best – writing the stories. At least fans got one crazy movie out of him in Maximum Overdrive.