Last week, in honor of the recent spike in Stephen King movies, Cinema Fearité took a look at King's one and only directorial effort Maximum Overdrive. Well, after the record setting weekend that IT just had, we're doubling down on King. This week, we're going to dive into one of his most disturbing adaptations: 1998's Apt Pupil.
Apt Pupil is about a bright high school boy named Todd Bowden (Bully's Brad Renfro) who is unnaturally obsessed with the Holocaust. Through some amateur sleuthing, he figures out that one of his neighbors, an old man named Arthur Denker (Ian McKellen from all of the Lord of the Rings movies), is in reality an SS Sturmbannführer named Kurt Dussander, now a Nazi war criminal in hiding. Instead of turning the old man in, Todd blackmails him into telling him all about the atrocities of the war. The stories take a mental toll on Todd, causing both his social life and his grades to suffer. But that's nothing compared to the old impulses that the memories drum up in Denker's fragile mind.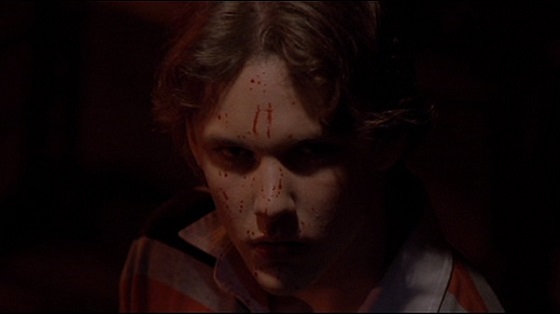 Screenwriter Brandon Boyce (Venom, Wicker Park) adapted Apt Pupil from the Stephen King novella of the same name which appeared in the King collection Different Seasons, a book which also featured the stories upon which The Shawshank Redemption and Stand By Me are based. Although not as "horror" as King's more supernatural works, Apt Pupil is easily the most terrifying of the pieces included in Different Seasons, and director Bryan Singer (X-Men: Apocalypse and X-Men: Days of Future Past, as well as The Usual Suspects) picks that ball up and runs with it, creating a subliminally creepy psychological thriller that is an entirely different kind of scary.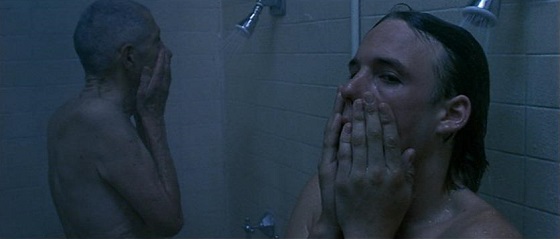 And the reason that Apt Pupil is so scary is because it's so realistic. King is known for his meticulous research, and the attention to detail and casual observances of life is evident in Apt Pupil, particularly in the horrifying facts about (and accounts of) the holocaust. Denker/Dussander pulls no punches when telling Todd about cruel experiments or heartless killings, and the audience gets to hear it all, too. The stories trigger slow descents into madness for both Todd and Denker, subsequently making Apt Pupil an extremely difficult film to watch.
But it's more difficult to stop watching, because the performances of Ian McKellen and Brad Renfro are magnetic. Renfro is astonishing as the sadistic teenager who believes that he has found a golden ticket to hear all of his most gruesome fantasies come to life. McKellen plays the old Nazi with a perfect blend of toughness and vulnerability. The two together form a fragile alliance, one with a balance of power that shifts and tilts as it goes on, with McKellen's Arthur Denker gaining the upper hand on Renfro's Todd as the boy plays his game too long. McKellen and Renfro have a flawless give-and-take chemistry that makes an already good movie great.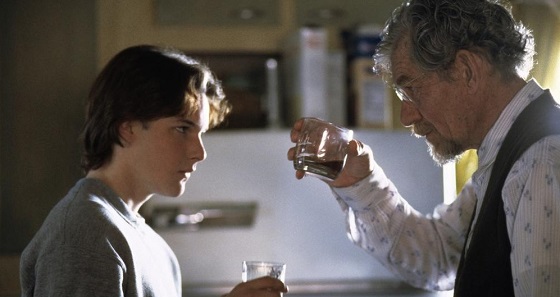 Turning Ian McKellen into a Nazi war criminal took more than just having the master actor perfect his German accent. In the film, Todd compares pictures of Arthur Denker with old war photos of Karl Dussander to make sure his suspicions are correct, and Bryan Singer went to great lengths to make sure that a young McKellen was airbrushed into old WWII SS photos, sometimes even replacing Heinrich Himmler himself in them. Considering that Apt Pupil was made in the mid-nineties, before every kid had a pirated copy of Photoshop installed on the computer in his parents' basement, the effect is astounding.
Like many of Bryan Singer's other movies, the music for Apt Pupil was done by composer John Ottman (who, in addition to scoring Singer's films, also provided music for the modern horror classics Halloween H20: 20 Years Later and Lake Placid). Ottman's score is dynamic and ominous, with barely a hint of melody, so that it sounds a bit like a sick and twisted version of the THX sound. It's abrasive, grating, dissonant…and very effective. And here's a fun fact: John Ottman is also Bryan Singer's editor-of-choice, having cut picture for more of the filmmaker's movies than not (including Apt Pupil). John Ottman appears to be a vital cog in the Bryan Singer moviemaking machine, and for more reasons than just his film scoring skills.
As far as Stephen King adaptations go, Apt Pupil is not as well regarded with horror fans as, say, The Shining or Christine, but that may be because it's not as well known. Apt Pupil is a very different kind of King tale, one that inspires fear through realism. It's one of his darkest and most twisted stories, and the movie brings it to life perfectly.