Synopsis: Based on a true story, sports agent JB Bernstein (Jon Hamm) finds that business has changed and things aren't going well for his career. In a last ditch effort to save his livelihood he concocts a scheme to find baseball's next great pitching ace. Hoping to find a young cricket pitcher he can turn into a major league baseball star, JB travels to India to produce a reality show competition called "The Million Dollar Arm." With the help of cantankerous but eagle-eyed retired baseball scout Ray Poitevint (Alan Arkin), he discovers Dinesh (played by Madhur Mittal from Slumdog Millionaire) and Rinku (played by Suraj Sharma from Life of Pi), two 18-year-old boys who have no idea about playing baseball, yet have a knack for throwing a fastball. Hoping to sign them to major league contracts and make a quick buck, JB brings the boys home to America to train. While the Americans are definitely out of their element in India, the boys, who have never left their rural villages, are equally challenged when they come to the States. As the boys learn the finer points of baseball, JB, with the help of his charming friend Brenda (Lake Bell), learns valuable life lessons about teamwork, commitment and what it means to be a family.
Release Date: May 16, 2014     MPAA Rating: PG-13
Genre(s): Drama, Sports
Film Review

In Million Dollar Arm, Jon Hamm (Friends With Kids) plays once-successful sports agent J.B. Bernstein who is in dire straits. He's the type of guy that measures success based on social status and therefore he is desperate to get himself back into the winners' circle. Unfortunately, all of the winners don't want to sign with his agency.
Bernstein's last best hope manifests in the form of a contest he creates called "Million Dollar Arm," a talent competition of sorts that seeks to find new baseball talent in young Indian cricket players. As you might expect, Bernstein's PR stunt is a success and he returns to the States with two prospects, Dinesh (Madhur Mittal) and Rinku (Suraj Sharma), and their "coach" Amit (Pitobash). And what was once simply a chance for Bernstein to regain his social status soon becomes a social experiment for the sports agent, one that might crack his icy exterior.
Somewhere within the true story of Bernstein and Million Dollar Arm is a compelling fish out of water story about two Indian boys brought to America and taught its most famous past time. What Million Dollar Arm actually ends up being is the type of cookie cutter character drama that resonates on a purely superficial level. It tries to make you feel not with great acting or a compelling story, but because that's how these types of movies are supposed to work. Million Dollar Arm feeds audiences its contrived recipe and hopes that will lead to success.
At the forefront of Million Dollar Arm's failures is the characterization of J.B. Bernstein, who is one of the least likeable characters ever written for a vanilla sports movie. He's the exploitative agent that you expect to see in the antagonist role, and yet he's the protagonist of our movie. Even when Bernstein does come around and sees the error of his ways, as characters of this ilk are wont to do, it feels like yet another contrived story beat. To be fair, Jon Hamm does his best to make Bernstein not feel like the one-note, generic caricature that he is, but his task was too great to overcome the poor writing.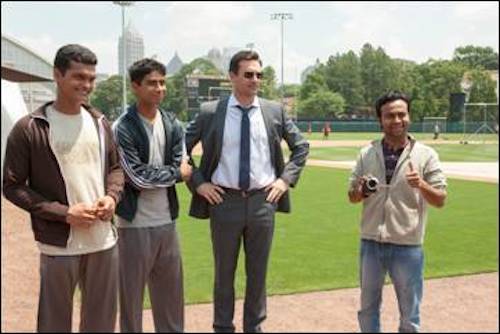 Even without Bernstein, Million Dollar Arm struggles by virtue of its confused pacing. At times it feels like the film is trying to root its story in Bernstein's redemption arc, then it tries to throw in some messages about Indian culture, then it becomes that goofy fish out of water story, before sliding into home with its generic sports movie ending. Million Dollar Arm is acutely aware of its identity, but is unsure how to portray it. It hits some of the notes that you might expect, but muddles them by dabbling in far too many competing storylines, many of which are underserved.
The film's one saving grace is director Craig Gillespie (Fright Night), who, if nothing else, knows how to shoot a sports movie. There are plenty of problem areas in Million Dollar Arm, but it's still undeniably a sports movie, and a well shot one at that. There's drama to the baseball scenes and the film does present a somewhat accurate depiction of conflicting cultures, it's just a shame so many elements end up overshadowing that.
The best way to describe Million Dollar Arm is safe. It toes the line of mediocrity the whole way through, and never has anything poignant or worthwhile to say about…well, about anything. To make matters worse, all of the film's plot points feel motivated by obligation – the events occur simply because that's what typically happens in this type of movie. The mean-spirited lead sees his heart warmed by the humble kids from India, he gets the girl, and everything works out in the end. Does that make the movie uninteresting? No, but it doesn't make for a particularly memorable film either. Million Dollar Arm is the cinematic equivalent of a softball down the middle.

With films like The Station Agent, The Visitor, and Win Win, screenwriter Tom McCarthy proved that he knows how to write a story that has a tremendous amount of heart and also comes from the perspective of an outsider. Granted, his work on those prior films was slightly more mature in nature, but even his script for Pixar's Up, one of the most mature scripts ever produced by Disney, proves that it's possible to reach a wide audience without going mainstream.
With all that in mind, it becomes even more confusing that McCarthy would deliver such a muddled script – one that lacks coherence and is filled with flat characters and cliche story beats. At times Million Dollar Arm does get the right emotion across, and some will see it as an easy crowd pleaser, but its pandering nature only undermines its potential. McCarthy could have done so much more with the material had he chosen to tell the story from the perspective of Dinesh and Rinku, or even if he had shied away from writing a script that's so by-the-numbers. A cast littered with caricatures not characters, and a story that's too confused as to its own identity are just two of Million Dollar Arm's key problems, but they are its biggest.
Cast and Crew
Director(s): Craig Gillespie
Producer(s):
Screenwriter(s): Thomas McCarthy
Story: 
Cast: Jon Hamm (JB)Suraj Sharma (Rinku)Madhur Mittal (Dinesh) Aasif Mandvi (Aash)Lake Bell (Brenda)Alan Arkin (Ray)Bill Paxton (Tom House)
Editor(s): Tatiana S. Riegel
Cinematographer: Gyula Pados
Production Designer(s):
Costume Designer: 
Casting Director(s): 
Music Score: A.R. Rahman
Music Performed By: 
Country Of Origin: USA