This past weekend, the horror world lost yet another one of its icons when writer/producer/director John Fasano passed away at the relatively young age of 52. Fasano's most famous work was done outside of horror, having written the screenplays for Another 48 Hrs. and Universal Soldier: The Return, but he also did solid work within the genre with his script for the modern classic Darkness Falls and the creation of the horror-comedy web show "Woke Up Dead." He broke into the horror scene as a director in 1987 with his first film, now a cult favorite, called Rock 'n' Roll Nightmare.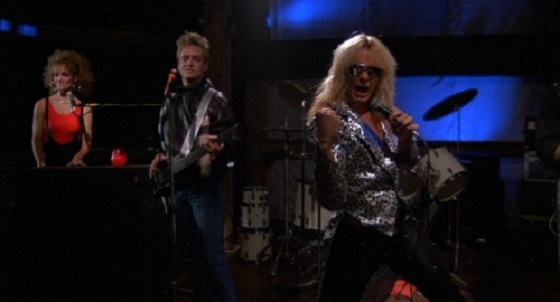 Rock 'n' Roll Nightmare begins with a family being mysteriously abducted by demons from their farmhouse outside of Toronto. Years later, a heavy metal band called The Tritonz move into the farmhouse to write and record their new album – they need one month of seclusion to come up with "ten minutes of new, good material." The group, led by lead singer John Triton (Jon Mikl Thor from Zombie Nightmare), arrives at the location, complete with their wives, girlfriends, and manager, and set up to live in the house and record in the 24 track studio that now resides in the barn. Soon enough, the members of The Tritonz's entourage start to disappear, and John is left alone to deal with the evil forces that have taken his friends, bandmates, and groupies. As the demons' intentions are revealed, it becomes clear that only John Triton can stop them from conquering all of humanity.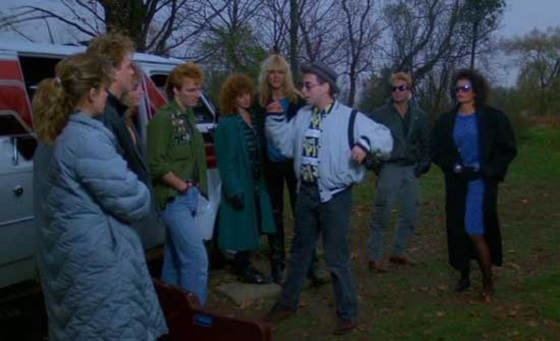 The screenplay for Rock 'n' Roll Nightmare was written by Jon Mikl Thor, seemingly as a placement for his own hard rock music. John Fasano takes Thor's derivative script and injects elements of demonic creature features and classic slasher movies into it, firmly placing the film into the Heavy Metal Horror subgenre next to movies like Trick or Treat and Monster Dog. The film was made on a micro-budget and shot on the quick in Canada with much of the cast and crew made up of Fasano's friends, and the inexperience of the actors combined with the amateurish dialogue makes for some unintentional hilarity. Nevertheless, the cheesiness adds to the brainless fun, and the film is an amazing example of the low-budget schlock for which Canada had become famous in the eighties.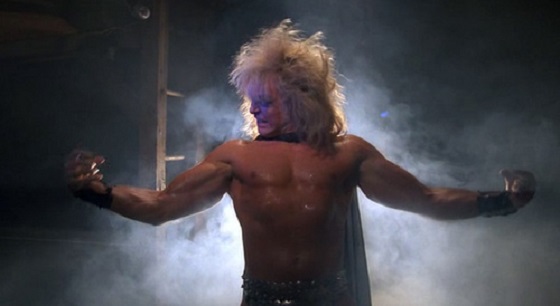 Seeing as how he wrote the script and provided most of the music, it should come as no surprise that Rock 'n' Roll Nightmare comes off as a huge vehicle for Jon Mikl Thor. Thor is a man of many talents; his Wikipedia page lists him as "a bodybuilding champion, actor, songwriter, screenwriter, historian, vocalist, and musician." Thor's character, John Triton, is the focal point of the film. The guy seems to be the only one of the band members with half a brain, even though he utters such awesomely stupid lines as "it sounded like the scream came from down here…you're right, let's go upstairs" and "how are we supposed to rehearse our new album and tour when everybody's running off trying to scratch a seven year itch!" With his imposing physique and flowing blond mane of hair, Thor's character looks almost like a superhero, and he gets to show off his muscles in a climactic showdown with Beelzebub himself. As cheesy as it is, with John Triton fighting in a spiked leather jockstrap and all, the scene really is the most sarcastically epic celluloid wrestling match this side of Rowdy Roddy Piper and Keith David in John Carpenter's They Live. It's an insane amount of fun, and it takes an actor like Jon Mikl Thor to pull it off.
Although they are fairly rudimentary, the special effects in Rock 'n' Roll Nightmare are a lot of fun. They consist mainly of rubber creature effects, both puppets and masks, and are cartoonish in appearance, similar to the monsters in TerrorVision and Sorority Babes in the Slimeball Bowl-O-Rama. Every time the demons kill, they change their appearance, so there are a variety of imps and characters that are brought to life by the puppeteers and actors. The creatures are credited to Fascination Film Effects, but a look at the closing credits of the film reveals that they were actually designed and built by a number of different crew members, including John Fasano himself and a couple of his cast members. In addition to the little monsters and demons, Rock 'n' Roll Nightmare also features some creative puss-and-blood effects designed by Arnold Gargiulo II (Frankenhooker), including a cool little body-horror tribute to David Cronenberg's Videodrome. The effects in Rock 'n' Roll Nightmare are a little silly at times, but they fit the campy vibe of the film perfectly.
Of course, because it's a heavy metal movie, Rock 'n' Roll Nightmare has a kick-ass soundtrack. The songs are all performed by Jon Mikl Thor, and the music is credited to him, despite having been written by himself and a variety of other people. The tunes are classic metal anthems with titles like "We Live to Rock" and "We Accept the Challenge," and are both belted out by the band in rehearsal and played on every radio and stereo in the house, which implies that The Tritonz listen to their own records whenever they're not rocking out in person. The incidental music for the film, also credited to Thor in the opening credits but attributed to Adam Malin and Philip Gallo in the end credits, is heavily synthesized and moog oriented, drawing heavy influence from the electronic scores of movies like Night of the Creeps and The Shining. There's always some kind of music playing in Rock 'n Roll Nightmare, just as it should be in a Heavy Metal Horror Film.
John Fasano would go on to have more mainstream success as a writer, but what horror fans will always remember him for is his directorial work. No one could do schlock and roll quite like Fasano and, in the horror genre, that's saying something. He leaves behind a small legacy of films for his fans to enjoy, including Black Roses, The Jitters, and, of course, Rock 'n' Roll Nightmare.