Synopsis: Having spent her twenties comfortably inert, 28 year old Megan (Keira Knightley) reaches a crisis when she finds herself squarely in adulthood with no career prospects, no particular motivation to pursue any and no one to relate to, including her high school boyfriend (Mark Webber). When he proposes, Megan panics and given an opportunity to escape – at least temporarily – she hides out in the home of her new friend, 16-year-old Annika (Chloe Grace Moretz) and Annika's world-weary single dad (Sam Rockwell).
Release Date: October 24, 2014     MPAA Rating: PG-13
Genre(s): Comedy, Drama
Film Review

Laggies is the story of a twenty-something woman named Megan (Keira Knightley from Seeking a Friend for the End of the World) who, while trying to figure out what she wants to do with her life, finds herself drifting away from her friends. At the wedding of one of these friends, Megan's longtime boyfriend, Anthony (Mark Webber from Scott Pilgrim vs. the World), asks her to marry him. This event coupled with her catching her father with a woman who is not her mother causes Megan to freak out and leave the wedding. While running, she meets a teenager named Annika (Carrie's Chloe Grace Moretz) who asks her to buy alcohol for her and her friends. Megan does, and then hangs out with the kids for the rest of the night. Megan goes home to Anthony, but avoids the subject of his proposal by saying that she is leaving town to attend a self-help seminar for a week. Instead, she stays at Annika's house, where she meets Annika's lawyer father, Craig (Moon's Sam Rockwell). Craig is, of course, concerned that his high school-aged daughter is hanging out with a woman who is older, but eventually he and Megan become friends. Megan continues to try and sort out her life and love problems, but she soon begins to have feelings for Craig that throw a monkey wrench into the works.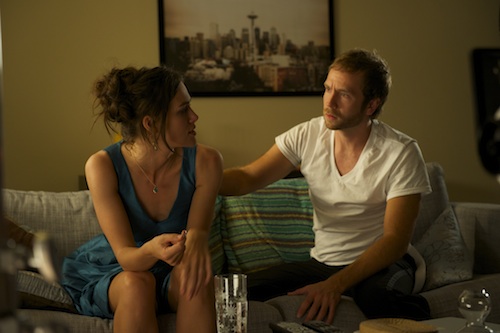 Laggies was directed by Lynn Shelton (Your Sister's Sister) from a script by first-time screenwriter Andrea Seigel. It's a pretty straightforward script, part coming-of-age story and part teen-angst drama, feeling genuinely like an adolescent film even though the main character is well into her twenties. It matches all of the story beats and plot points of a typical romantic comedy, but there's more there – the narrative just seems a little smarter. The friendship between Megan and Annika results in a worlds-colliding kind of thing that is really interesting to watch, even when it gets annoyingly predictable. Director Shelton is able to coax relatable performances out of the cast, so the audience feels something for them. There really isn't any external conflict, so there's no blatant antagonist, but the film nevertheless delivers plenty of drama. It's mostly characters struggling with their inner feelings, but it's entertaining. Nothing too deep, just an existential crisis or two. Laggies is a good little movie. There's just one thing that Shelton and Seigel got wrong.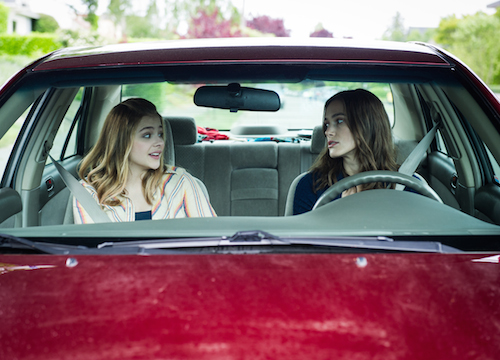 The biggest problem with Laggies is one that can be seen coming from a mile away. From the very first night that Megan stays at Annika's house and meets Craig, the audience knows that there will be romantic tension between the two. Of course, it wouldn't be a romantic comedy if the pair didn't hook up, but their eventual union feels completely forced and uncomfortable – and not just because Craig is Megan's friend's father. Up until the point when the romantic subplot is introduced, Laggies is enjoyable and engaging. After Megan and Craig have their moment, the film is still good, but it feels cheap and foreseeable. It feels a little less indie, like it caved into what a studio thinks that audiences would want to see. Except they're wrong. For Megan and Craig to be drinking buddies is fine, for them to be make-out partners, not so much. While the forced romance doesn't ruin Laggies, it doesn't make it any stronger, either…and without it, at least it would have kept the audience guessing about something.

Keira Knightley is a mixed bag. In dramatic roles, she is iffy; in the best case scenarios, she's mediocre (Anna Karenina), while in the worst she's unwatchable (A Dangerous Method). Comedy is a different story, as she was charmingly persuasive in Seeking a Friend for the End of the World. In Laggies, Knightley is once again in her element. Her portrayal of Megan captures all of the angst and confusion that a member of Generation Y would feel as they face an uncertain future – she nails that nagging sense of impending failure, yet still does it with enough comic sensibility to keep the mood light. Although the role is hardly a stretch for the actress, Chloe Grace Moretz plays well opposite Knightley as the insecure teenager who still manages to know it all. Sam Rockwell pulls off the roll of Annika's father very well, with just the right combination of sarcasm and sincerity, letting the cracks in his parental armor show while still trying to be the tough guy. Laggies basically boils down to the relationships between these three characters, and all three actors do well, both individually and as an ensemble.

The style of comedy in Laggies isn't going to bust any guts, but there are still a handful of laughs to be had. The humor is much more subliminal and subtle, the type of humor that takes a second or two to sink in. There's very little physical comedy or slapstick in the film, with most of the laughs coming from the witty script and the comedic timing of the cast. That works well for what it is, but it's not a movie that's non-stop floor-rolling. It's a more plot based narrative, so the air between jokes actually benefits the film in a bigger way. Laggies has its moments, but the story is put before the gags. And it's fine that way.
Cast and Crew
Director(s): Lynn Shelton
Producer(s):
Screenwriter(s): Andrei Seigel
Story: 
Cast: Keira Knightley (Megan)Chloe Grace Moretz (Annika)Sam Rockwell (Craig) Mark Webber (Anthony)Ellie Kemper (Allison)Gretchen Mol (Bethany)Jeff Garlin (Ed)
Editor(s): Nat Sanders
Cinematographer: Benjamin Kasulke
Production Designer(s):
Costume Designer: 
Casting Director(s): 
Music Score: Benjamin Gibbard
Music Performed By: 
Country Of Origin: USA