Synopsis: England, 1899. When young doctor Edward Newgate (Jim Sturgess) arrives at Stonehearst Asylum in search of an apprenticeship, he is warmly welcomed by superintendent Dr. Lamb (Ben Kingsley) and a mesmerizing woman named Eliza Graves (Kate Beckinsale). Edward is intrigued by Lamb's modern methods of treating the insane…until a series of unusual events leads him to make a horrifying discovery, exposing Lamb's utopia and pushing Edward to the limits of his conscience.
Release Date: October 24, 2014     MPAA Rating: PG-13
Genre(s): Thriller, Mystery
Film Review

Welcome to Stonehearst Asylum, a movie that opens with a crazed woman being put on display for a room full of medical students in order to understand a common ailment of the 1800s, hysteria. The prescribed medicine for an ailment such as hysteria, heroine. Welcome to late-1800s medicine, it only gets better.
Stonehearst Asylum is not going to be about curing her, in case you thought this was somehow a typical medical thriller taking place in an asylum. Oh no, Stonehearst Asylum is about inmates taking over the asylum they have called home for years. It is, in the face of madness, putting madness on free display for all to witness what happens. It is, as Brendan Gleeson's (The Grand Seduction) character points out to his medical students, a movie in which you should "believe nothing of what you hear, one half what you see."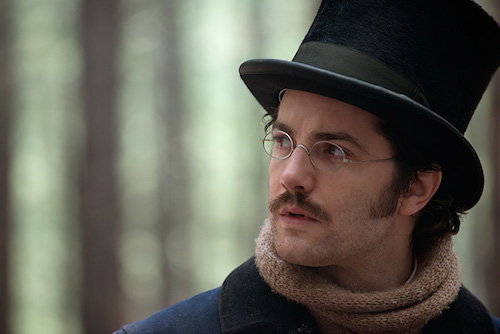 In a monolith of a castle far away from the populated area of London, is Stonehearst Asylum. As night falls so does the dense fog surrounding the castle and its grounds, creating an eerie presence at which to arrive. Arrive is exactly what Dr. Edward Newgate (Jim Sturgess) does, and behind the gates of Stonehearst Asylum is where he shall encounter an experiment, unlike anything he has seen before.
At first glance it appears that the inmates of Stonehearst Asylum have a fantastic life–they are allowed to roam free in the asylum and are under very little restraint. Medicine is rarely used to control them, and the torture devices so popular in asylum's have since been deemed improper forms of therapy. But something is not quite right at the asylum.
The doctor in charge, Dr. Lamb (Ben Kingsley from Iron Man 3) has a wicked temper, and the groundskeeper, Mickey Finn (David Thewlis) is not quite right at first, and third glance. The beautiful Eliza Graves (Kate Beckinsale from Total Recall) plays the piano so well it could move you to tears; one touch from another though will send her into a fit. There is no denying she is a patient, nor does Dr. Lamb keep that fact from Dr. Newgate, but the entire truth is not divulged, either.
Only with time, and the required snooping, does Dr. Newgate discover exactly what is going on at Stonehearst Asylum, and it is up to him whether to join the charade or put a stop to the assumed madness.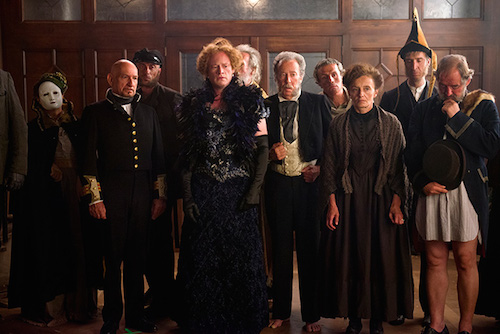 There is an unmistakable familiarity to Stonehearst Asylum. A consistent feeling from start-to-finish that you have seen this picture before and the events that will enfold shall neither surprise or annoy. This could be because it is adapted from an Edgar Allan Poe short story, "The System of Doctor Tarr and Professor Fether" and therefore having read the short story it all comes flooding back to you when displayed onscreen.
For those who have not read the short story, the familiarity will undeniably exist just as much. Ben Kingsley (Dr. Lamb) has played this character before, in another movie, another time period, and with the same near-camp result. You've witnessed Kate Beckinsale get dolled up in period garb, her hair tied back and make-up applied with a perfect hand, only to show greater strength than a woman in such clothing should, and quickly shift to possessing fear and insecurities.
It is not surprising to see Michael Caine (The Dark Knight Rises) playing a role below his stature, as it has become a common occurrence in the last decade, if not longer. As for Jim Sturgess, he appears to live out his acting career always playing a role that requires him to have a gentile, nearly-feminine approach (see Upside Down or One Day ); the result being Jim Sturgess playing Jim Sturgess whenever he appears onscreen.
Stonehearst Asylum is not exactly typecasting the actors by hiring them to play roles they clearly have experience with, but it is not helping to break anyone out of such a station.
The story itself will undoubtedly intrigue the viewer with the consistent suspense of wondering whether the experiment will all come crumbling down and the inmates breaking free. It will also provoke discussion, as the methods employed seem far more humane than standard practice. There is no reason for a cure, according to Dr. Lamb, as it is only finding acceptance that the inmates may be on their way to a healthier existence.
Sure, it may sound crazy, but it all does make you question how the other in society, the outcast, the moral abuser, is treated. Keeping with the aforementioned would have made for a much more interesting movie, but Stonehearst Asylum had to throw in a twist worthy of eye-rolling–romance.
Yes, it is important given the twist at the end. Yes, it does make complete sense and if you are keen enough to catch the signals early on you know it is coming. Yes, you can easily accept this is how the movie should end, given what has occurred. Yes, it did need to be there. No, it does not forgive the filmmakers for making it so ridiculously melodramatic.
Stonehearst Asylum passes the time without complaint, even as the theatrics employed become more and more baffling with each twist and turn, or discovered secret. It does not live up to the work it is based upon, nor does it add anything new to cinema. Then again, you can't help but enjoy yourself while watching Stonehearst Asylum and emphasize with the inmates and their plight–even as some grow more gentile and others give in to the unhinged temptations. It is the constant want to understand, to seek answers, that implores you to finish the movie where the inmates may know something far more profound than their doctors.

Stonehearst Asylum is directed by Brad Anderson, who has spent the majority of his time since his unforgettable indie The Machinist directing TV shows such as "Fringe" and "The Killing," until taking the helm of 2013's The Call. For all of the ways The Call was a convoluted mess, consistently stumbling over itself and creating ridiculous situations made to shock the viewer–without great success–Stonehearst Asylum makes sense and follows a solid plot foundation throughout.
There is no mistaking the script needed a greater amount of polish, with many of the lines being far too lyrical in their delivery; like two people musing on life instead of enacting a mystery-thriller. That error in delivery can be faulted with Anderson's direction. A clear want to place Stonehearst Asylum directly into the time and place at which it occurs, the year 1899, calls for a change in mannerism, tone, and sentence structure; slang in 1899 was not the same as 2014.
But the manner in which Edward babbles like a lovesick puppy and born-again-healer, or Lamb overacts his doctor-ness with grand monologues and angry outbursts, cannot be taken as a serious portrayal of such a character in 1899, even if they were mad. Even Michael Caine cannot save his scenes with the talent we know he possesses, as his lines are spoken as if they've come out of a soap opera when he beckons for help. Everyone is acting like the written character in Stonehearst Asylum, they have not become that character.
There is one exception, David Thewlis' (The Lady) Mickey Finn. If there is one character to actually fear in Stonehearst Asylum, Thewlis' Finn makes the top of the list. The manner in which he leers at the other inmates casually promotes his insanity while acting nearly sane, he is aware that not all is what it seems with Dr. Edward Newgate, making him all together frightening.
To be able to move between sanity and insanity, to be a murderer who is clear-headed until overcome with the need to kill, who can draw a crowd of laughter only to have everyone trembling a second later, takes skill. Thewlis delivers the much-needed seriousness Stonehearst Asylum is missing from its other characters.

There is one thing missing from Stonehearst Asylum's film description, the use of the word "horror" when signalling its genre. The genre's thriller, suspense, mystery, and romance could even be thrown in there for sport, but horror, no.
Stonehearst Asylum is not a horror movie, and except for one or two tense areas of suspense, and a ghost-memory that pops up near the end, there is nothing scary to be found in the movie. You do get darkly lit hallways, mist-covered grounds, and a great deal of anger mingled with the occasional violent act. These instances do not produce fright, they merely create a sadness around the place that is Stonehearst Asylum.
The inhabitants provoke empathy on the part of the viewer, when they are not being portrayed with excess clamour. Stonehearst Asylum will undoubtedly keep you curious as to what is coming next, especially when it includes barbaric treatment machines–that are still used in similar form today, mind you, and that is scary–but you cannot expect to jump out of your seat or let out a muffled scream. Stonehearst Asylum is not a horror movie; accept that and you'll enjoy it a great deal more than expected.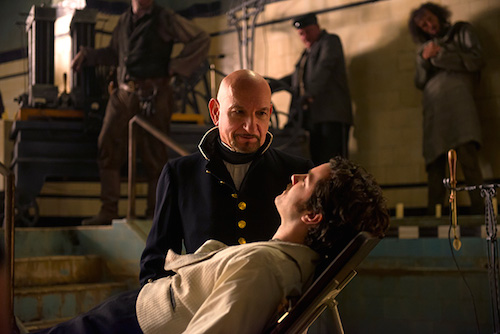 Cast and Crew
Director(s): Brad Anderson
Screenwriter(s): Joe Gangemi
Cast: Kate Beckinsale (Eliza Graves), Michael Caine (Dr. Salt), Brendan Gleeson (The Allenist), Jim Sturgess (Edward Newgate), Ben Kingsley (Silas Lamb), David Thewlis (Mickey Finn), Jason Flemyng (Swanwick), Sophie Kennedy Clark (Millie)
Editor(s): Brian Gates
Cinematographer: Tom Yatsko
Music Score: John Debney
Country Of Origin: USA