Synopsis: Lee Daniel's The Butler is set against the tumultuous political backdrop of 20th century America. Academy Award nominated director Lee Daniels' (Precious) epic drama tells the story of fictional White House butler Cecil Gaines (Forest Whitaker), who serves during seven
presidential administrations between 1957 and 1986.
Release Date: August 16, 2013     MPAA Rating: PG-13
Genre(s): Biography, Drama
Film Review

The most important thing to know when watching Lee Daniels' The Butler ("The Butler") is that its NOT AN ENTIRELY TRUE STORY. The screenplay was inspired by Wil Haygood's 2008 Washington Post article "A Butler Served Well by This Election," about former White House butler Eugene Allen, but its been dramatized, hollywoodized, and downright conjured up into a melodramatic historiography of 20th Century America; primarily the Civil Rights Movement. The Butler is not a bad film; quite the opposite, actually, as its a very interesting watch to see the Civil Rights movement played out through the eyes of a father and his son. Lee Daniels takes huge liberties though to grab your attention and make the butler appear to be more than a man proud of the station in life he has achieved and that which he has given his family. While also maintaining that he does not understand the younger generation and the uproar in politics over the Civil Rights movement.
Beginning in Macon, Georgia, circa 1926, we are introduced to Cecil's childhood on a plantation cotton farm. Slavery has been abolished, but the treatment of Black's is still abhorrent in this area of the country. Cecil is given an opportunity when tragedy strikes his family to become a "house nigger." It is here where he will learn how to set a table properly and to exist in a room by not existing at all. These skills will give him the means to move up in life, at first working at a fine hotel in Washington D.C. and later, in a twist of fate over a conversation of politics in the hotel bar, to becoming one of the White House butler's. From Dwight D. Eisenhower to Ronald Reagan, Cecil Gaines (Forest Whitaker) will serve each and every one as their butler. Cecil also has a family, his wife Gloria (Oprah Winfrey) and two sons, Louis (David Oyelowo) and Charlie (Elijah Kelley). Through his home-life and time spent in the White House, Cecil's story unfolds just as the Civil Rights movement does over decades of time. There is family strife, as Cecil is not interested in the Civil Rights movement but his oldest son Louis is, and heartbreak as his marriage struggles due to the commitment he has to his position and the tragedy that will befall his youngest in Vietnam. The Butler chronicles history by juxtaposing life in the White House during key points in history and life at home for Cecil's family who will be touched by everything that happens.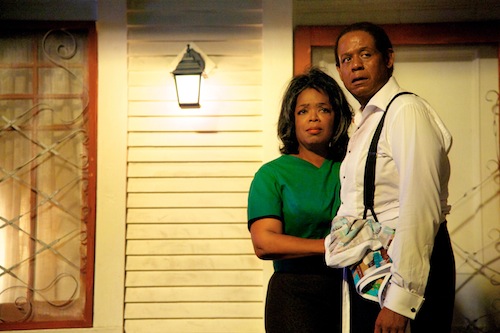 It is the occurrence of politics and Cecil's family life constantly overlapping that makes The Butler a formally manufactured piece of filmmaking. Each piece of the story is constructed as to not provoke discussion but to guarantee empathy and atypical discourse on the matters at hand. A viewer is not given the opportunity to think for themselves or establish empathy with characters because everything has been planned out so specifically and without any room for deviation. The Butler may be an interesting story to watch unfold but its not one you can connect with on any level aside from the true-facts that are presented in history. The familial drama is engaging, but the real treat is seeing well-known actors play their hand at being President. Robin Williams as Dwight D. Eisenhower, John Cusack as Richard Nixon, James Marsden as John F. Kennedy and Minka Kelly as Jackie Kennedy, plus Alan Rickman as Ronald Reagan and a less-than-attractive Liev Schreiber as Lyndon B. Johnson. Each actor gets to have fun with the quirks of each President, be them good or bad, and Cecil is there to witness it all. He tells Kennedy how many pills he takes in a day, listens to Nixon swear he will never resign, and assists Johnson with his infuriating constipation. These snippets of the film are more entertaining than the vast majority of secondary storylines, including that of his son Louis as a fighter for civil rights. Its only when the movie decides to make Cecil a key part in political decisions that the glimmer fades. You cannot be expected to willingly buy into what Lee Daniels is selling when he makes Cecil a political figure in white gloves carrying the evening's tea. Its too far of a stretch because you're not ignorant to the inner workings of politics.
Alas, The Butler is still a movie worth watching because it does paint an adequate portrait of the struggles of a Black family with varying views during the Civil Rights movement. Cecil and his sons are from two very different generations and have lived very different lives. Watching the clash of generations, even when silent and reserved as Cecil's character is depicted, is worthy of your time. As is seeing all of the great performances scattered throughout the film, including Cuba Gooding Jr. as fellow butler Carter Wilson and Oprah Winfrey as Gloria Gaines–two performances that are sure to be acknowledged come awards season. The Butler manages to be a good movie because of the sensationalized subtle style Lee Daniels creates around American history. It may not be perfect, but there is merit hidden within; you just have to get past the melodramatic nonsense.

If you asked Lee Daniel's The Butler's screenwriter Danny Strong who influenced all of the great political decisions in the 20th Century his answer would undoubtedly be, the butler. Because this is what we, as viewers, are led to believe in The Butler. It is this obvious impression being pushed upon you that diminishes the authenticity of butler Cecil Gaines (Forest Whitaker) story. It would be wonderful to believe that our main character Cecil convinced President John F. Kennedy to call for equal rights amongst all citizens after learning about Cecil's sons life trials in the Freedom Riders. Or that President Ronald Reagan gave Cecil the okay to demand equal wages for Black White House Staff members to his superior; a man who had denied them this for years. The Butler paints Cecil Gaines as the man responsible in one way or another for every achievement in race relations, equality, and the like from President Eisenhower to President Reagan's terms in office. Its preposterous to say the least, because Cecil is not a political figure, nor does he even understand what is happening in the world during his lifetime. A man set-against speaking out, Cecil is the last person who should be giving advice to any political figure. He maintains, until a very old age, that he is happy with his current station.
A man of his generation, growing up in Macon, Georgia on a cotton farm during the 1920s, Cecil was happy to be free of a post-slavery plantation life that ruined his mother and killed his father. Danny Strong never gives Cecil his own voice, he merely uses him as a vessel to portray the going-on's in America during his lifetime. That is the downside of The Butler, it tells a historiography that is blindsided. It only displays what a third-party wants to show you, and not a larger picture outside the confines of Cecil's world. This damages the film as a whole because Cecil's life is so incredibly contrived in order to fit perfectly, like a piece of a puzzle, into the Civil Rights movement.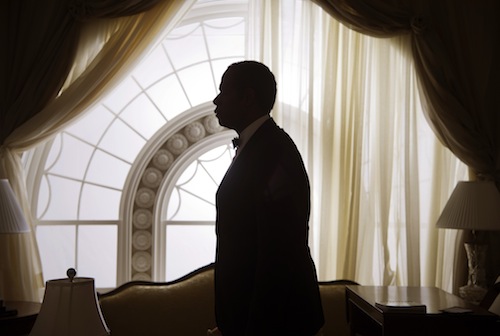 For a lover of history, like myself, the movie can be quite infuriating as we watch Cecil's life mimic everything going on during a specific time in history. He has a son, who goes to Vietnam willingly, only to be killed. His eldest son is a Freedom Rider, a supporter of Martin Luther King–and one of his right-hand-men it appears– and then of course becomes a Black Panther after King's death. Its all so manufactured at times you cannot even believe what you're witnessing is meant to be seen as truth. That is what must be remembered at all times: this is not truth, its fiction, and The Butler is nothing more than a Hollywood movie that aims to display American history through one man's vision. What is real and what is falsified is very clear-cut to anyone who can see beyond the fantasticized story of Cecil Gaines.
The parts of the film that stand-out, where the writing becomes more than a means to tell history from a dissuaded perspective, is when Cecil is at home. Or, when his family and friends, like his wife Gloria (Oprah Winfrey), are profiled more in depth. The Butler gives more depth of character to everyone but Cecil. Its not until the end that Cecil's character changes; where a real arc is established, and by then its too late to care what happens to him. You have been invested in every other character as they revolve around Cecil than rooted in him. The Butler relies on Cecil to tell the story but its the supporting characters that develop it, provoke emotion, and keep you interested in what is to happen next.
Cast and Crew
Director(s): Lee Daniels
Producer(s):
Screenwriter(s): Danny Strong
Story: 
Cast: Forest Whitaker (Cecil Gaines)Oprah Winfrey (Gloria Gaines)Mariah Carey (Hattie Pearl) Alex Pettyfer (Thomas Westfall)David Banner (Earl Gaines)David Oyelowo (Louis Gaines)Terrence Howard (Howard)Cuba Gooding Jr. (Carter Wilson)Lenny Kravitz (James Holloway)Robin Williams (Dwight D. Eisenhower)John Cusack (Richard Nixon)James Marsden (John F. Kennedy)
Editor(s): Minka Kelly (Jackie Kennedy)
Cinematographer: Joe Klotz
Production Designer(s):
Costume Designer: 
Casting Director(s): Tim Galvin
Music Score: 
Music Performed By: 
Country Of Origin: USA