When most people think about classic horror writers, two names usually come immediately to mind: Edgar Allan Poe and H.P. Lovecraft. But there is a third name that deserves to be there. The prolific French writer Guy de Maupassant had every bit as much imagination and talent as Poe and Lovecraft. There just haven't been enough movie adaptations of Maupassant's work for him to have gained household name status. There have been some Maupassant movies, however – the best known being the 1963 chiller Diary of a Madman.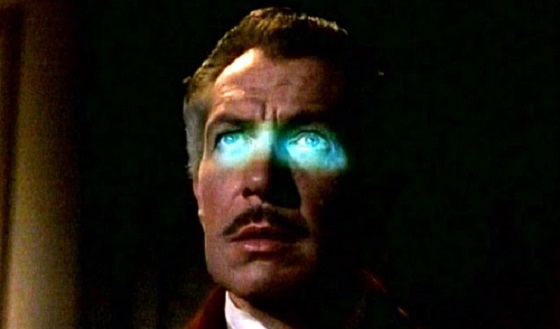 Diary of a Madman stars the inimitable Vincent Price (House of Wax, The Fly) as Magistrate Simon Cordier, a judge who meets with a condemned prisoner named Louis Girot (The Bat's Harvey Stephens). Girot tells Simon that he is possessed by La Horla, a spirit which he blames for his crimes. Simon laughs it off, but after his meeting, La Horla becomes attached to him. Almost immediately, he begins to hear eerie voices in his head. Fearing for his sanity, Simon takes up his old hobby of sculpting. He hires a model to pose for him, a lovely woman named Odette Mallotte (Nancy Kovack from Jason and the Argonauts) with whom he begins to develop a romantic relationship. Unfortunately, La Horla continues to haunt Simon and push him closer to murder. But, is La Horla to blame for his psychotic urges, or is the spirit just the vivid hallucination of a mentally unstable man?
Although screenwriter Robert E. Kent (The Werewolf, Twice-Told Tales) threw a handful of Guy de Maupassant's short story plot elements into Diary of a Madman, the bulk of the script was based upon Maupassant's short story "La Horla." It's a somewhat loose adaptation, with director Reginald Le Borg (The Black Sleep, The Mummy's Ghost) trading in the seriousness and somberness of the original story for more of a campy and corny vibe. And Le Borg picked the perfect actor for the starring role.
There's a reason why Vincent Price is a horror legend. Throughout his career, he was able to be taken seriously as a performer in movies like Witchfinder General and Shock, yet still kept his tongue firmly in his cheek by making fun gimmicky flicks like The Tingler and House on Haunted Hill. Price was much more than simply an actor; he became a pop culture icon who transcended the horror genre, allowing him to showcase his sardonic sense of humor in mainstream outlets such as "The Muppet Show" and "The Hollywood Squares." His performance in Diary of a Madman is the perfect combination of Shakespeare and Schlock, a frightening portrait of a man who's questioning his sanity while still winking at the camera and twisting his moustache. Diary of a Madman is essentially a one-man tour-de-force for Price, and he chews the hell out of the scenery. No one could have done it better.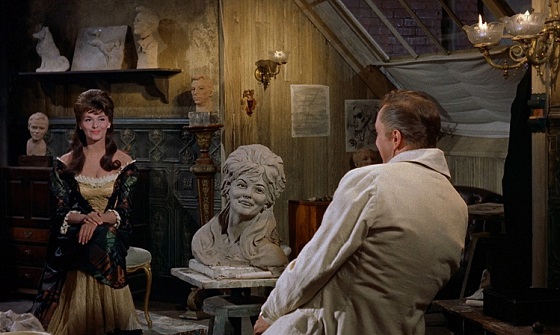 In literary circles, Maupassant is considered a master of the short story form, and the writer has somewhere in the neighborhood of 300 works to his credit. His tales were often set during wartime, and they usually dealt with ordinary people wrapped up in extraordinary situations; think of him as a nineteenth-century Rod Serling. Like many of Maupassant's tales, Diary of a Madman (or "La Horla," as the case may be) walks a straight and steady line between the paranormal supernaturalism of Lovecraft and the psychological horror of Poe.
Like many of the classic horror films of the 1960s, Diary of a Madman was shot in stunning Technicolor, providing it with plenty of bright and brilliant primary colors to contrast with the dark and brooding shadows. Cinematographer Ellis W. Carter (The Monolith Monsters, The Mole People) carefully and meticulously paints with light, creating images that, although obviously artificial, fit in perfectly with the creepy, crawly mood of the script. Carter's photography gives Diary of a Madman a look that is somewhere between a Hammer Horror picture and a William Castle production.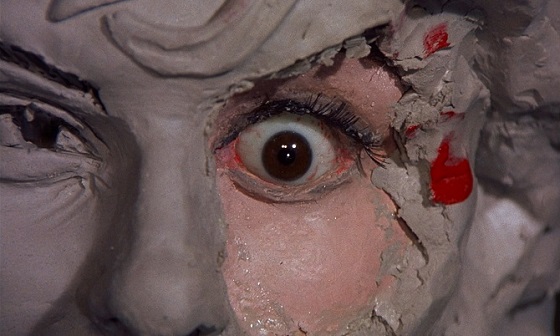 Carter's cinematography goes hand-in-hand with the special effects work of Norman Breedlove (The Unknown Terror, The Amazing Colossal Man). The effects in Diary of a Madman are all mostly simple camera and lighting tricks enhanced by a little bit of post-production rotoscoping. Breedlove and Carter bring the spirit of La Horla to the screen with everything from stop-motion clay modeling to magicians mirror illusions. La Horla's favorite trick is telekinesis, and the entity's spectral presence is illustrated by some Haunted Mansion-like levitating objects and, most entertainingly, a self-filling grave. The trademark effect in the film, however, is the glowing strip of green light that appears across Simon's eyes as he is being tormented by La Horla (courtesy of the aforementioned rotoscoping). The effects in Diary of a Madman are, for the most part, simple parlor tricks, but they sure are fun to watch.
While Poe and Lovecraft are endlessly celebrated, Guy de Maupassant is generally only brought up in French literature classes. And if it weren't for Diary of a Madman, he would be even more of a third wheel in the annals of horror lore.